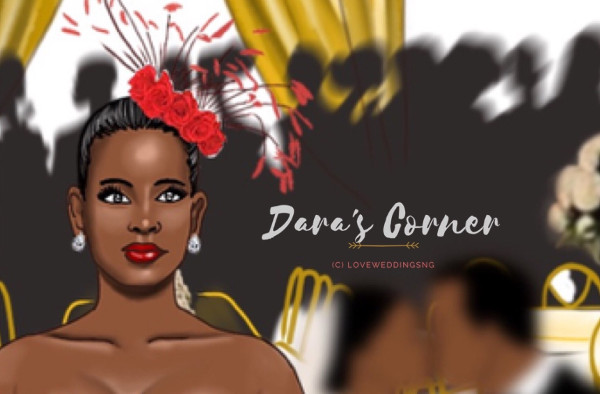 I'm back!!! Yes, Dara is back!! Thank you for all the love last week and major shout out to the amazing Lean Kid for my makeover. I look HOOOOOTTTTT!!! if I do say so myself. If this is your first time reading one of my short stories, welcome! I share a short story on LoveWeddingsNG every Sunday so bookmark this link to make sure you don't miss my next story.
Anyways, I'm here to gist you about Christmas, the most wonderful time of the year. A time of joy, peace and love. Last Christmas was very special to me because my parents celebrated their 30th wedding anniversary. Three solid decades of being and staying together sure calls for celebration. In the presence of God, family and friends my parents renewed their vows to each other to continue the journey they started thirty years ago. I felt a rush of feelings I cannot explain.
I stood on the steps leading to the church waiting for my parents to arrive; the harmattan wind sweeping softly across my face. My parents arrived just in time. My mother alighted the vehicle first. She looked beautiful in her white dress. My father wore a tux and looked dapper. My mother would not stop smiling while my father, on the other hand desperately controlled his emotions. I observed how he held his permanent smile holding his lips in place.
It was time! My sister – Abeke, her husband – Orezi, my brother – Dayo and I stood in line ready to walk in. Dayo and Orezi wore tuxedos just like my father. Abeke and I wore identical red dresses. My aunt Tolu and uncle Tunde retained their positions as chief bridesmaid and best man. Keno (Abeke & Orezi's daughter) tagged along glued to my left hip.
Trust my parents to never miss an opportunity to pick asoebi. My mother's asoebi ladies dominated the premises with their gold gele's while other family members wore green. My father comes from a large family; my mother on the other hand, only has a younger sister.
Sitting there, seeing my parents exchange their vows tingled my heart. Their love and commitment withstood all the rocky times. Who would have thought my father could be so romantic. I swear I saw a tear forming from the corner of his eye but he quickly mopped it up with his handkerchief.
The church service was wonderful. After the service, my aunt Beatrice tapped me on the shoulder. "Dara let's speak outside" she whispered in my ear. I already knew what this talk was going to be all about but I followed her anyway. Who am I to protest! Aunt Beatrice is my father's elder sister and she's one of those "aunt's"
And so the talk started
Aunt Beatrice: Dara dear. The ceremony was wonderful
Dara: [smiles and nods in agreement]
Aunt Beatrice: It is sad though that you are still unmarried [placing her hand on my shoulder]. Are you sure you are not waiting for that boy that disgraced you what's his name again?
Dara: [I know Aunt Beatrice remembered his name but I told her anyway] Femi
Aunt Beatrice: Right! That idiot, stupid boy, awon time wasters oshi. In fact, walk with me [as she led the way]
I had no other choice than to follow. She took me to her car and instructed the driver to drive to the venue of the reception. This was the longest ride of my life. After a section of prayers with her Pastor on phone and strings of advice, we finally arrived at our destination. I could not wait to get down.
Dara: I heard all you said Aunty. Thank you very much
She then handed me two books by the same author. The first book was titled: "Nine reasons you are unmarried". Why Nine, the author should have just added one more reason to make it ten, I thought to myself. The other book was titled "Building A Godly Home." I looked up at her,  smiled and thanked her.
Aunt Beatrice: Don't just thank me. Read them. The others I have been giving you since; I hope you have been reading them. It will help you. You are not on social media, abi are you? I wonder what you use your phone for, this Dara. I would have been sharing daily quotes and bible verses with you to enrich your spirit. Its ok anyway
Aunt Beatrice was right. I never have time to read all the books she had given me in the past and that'll be the same story for these two books she has added to my growing collection. She was wrong about social media though. I am on every social media platform you can think of – Snapchat, Instagram, etc. Aunt Beatrice just doesn't know I blocked her for obvious reasons.
The reception venue was decorated to match the yuletide season. There were mini Christmas trees in almost every corner of the hall. The hall was very beautiful and well lit. A tall Christmas tree served as the back drop for photos. This was a special request from my father; the man loves Christmas trees.
I told my mother while she changed to her buba that we had to take a family portrait before the day ends. I was nineteen years old the last time we had a family photo taken. And that picture, my God!!! Horrible isn't even the right word to describe the way I look in it. My sister and I had a fight a few minutes before and my mother gave me a dirty slap for being immature. Long story short, I decided to frown my face in the picture. Everyone was smiling except me. My parents did not care, they still enlarged the picture, put it in a frame and hung it up on the wall in the living room for all to see.
While everyone was chatting away and eating, my mother made sure she paraded me around introducing me to eligible bachelors present. She really should have just placed a "Single and Searching" tag on my neck. I stepped outside for a moment to call my friend Jessica. After several failed attempts to reach her (Naija network wahala), I gave up and walked back into the reception hall just in time to listen to my brother giving a speech about my parents.
I stood to listen. The crowd laughed at his jokes about my parents. I laughed too. I wondered where mum and dad were though as their seats at the high table were vacant.
"Excuse me! " I heard someone say and turned around to see who it was. She was pretty; I could not help but notice she was wearing a similar red dress to the one Abeke and I had on. She was a light skinned version of me but about a foot taller.
"Where is Mr Mabadeje the celebrant?" she asked. I wondered why this girl was asking for my dad. I turned to search for my father and he suddenly appeared behind me.
"I see you have met Dara." My Dad said counting his words.
"Dara this is Tope, your sister. I will explain later"
"What?" I said in shock.
"Tope wants me to formally introduce her to you all." Beads of sweat formed on my fathers forehead.
"I am going to find your mother, I don't want her to hear it from someone else" My dad looked like a drenched cat.
"Come with me Dara, please" he asked
I followed him mindlessly with my mouth still wide open from the news I had just heard. Abeke sensed something was wrong and joined the train.
"Is something wrong, Dara" she asked. I nodded and kept moving while she followed.
We found my mum giving orders to the caterers. She was sweating lightly. She looked at us like we were stray puppies.
"Why are you people here?" my mother asked.
My brother joined us saying "The MC needs both of you" Dayo said referring to my parents.
I looked at my mother with so much pity. This will definitely break her. "Well! What is it" my mother asked impatiently.
My father had his arms akimbo. He looked like he was searching for words to say.
"Is the talk about that lady in red over there?" my mother asked calmly.
"You knew?" my dad and I said in unison. While Abeke and Dayo, obviously lost asked "Knew what?"
"I always knew you had a child somewhere" she said as she scanned our shocked faces. "It's old news to me".
My father made a move towards my mom but she stopped him.
"All these years, I waited for you to come clean but you didn't" she said as tears welled up in her eyes.
"I am just really mad you did not give me the benefit of doubt."
The only thing my father kept saying was "I am sorry".
My mother looked at us (my siblings and I) and said "Apparently you have an elder sister; her name is Tope. She and Dara were born two months apart. I am not expecting you to jump into it immediately, but you could at least try."
The three of us stood there trying to digest the news.
My mother wiped her tears. "Lets go, our guests will be wondering where we are"
My parents were asked to take the stage and dance to Sade Adu's song – By your side. I watched both of them dance in awe. I wondered how they lived together with such a secret. I thought of how my mother must have felt the entire time she waited for my father to tell her the truth. It must have been tough.
As the party rounded up, my mother called for the family portrait. We stood in front of the giant Christmas tree. To our surprise, my mother beckoned Tope and asked her to join the picture. When Tope cautiously joined us, my mother smiled at her saying "Welcome to the family."
Tope smiled back "Thank you ma". My mother's open heart to Tope warmed my heart. We all smiled for the camera although we were all filled with hurt and uncertainty, we smiled anyway because it wasn't something we had to figure out now. Actually, its something we might not need to figure out at all. The two people concerned seemed to have it all figured out so what really was our own?
As we smiled for another shot, I knew everything was going to fall in place eventually because when two people stay together, it's not because they forget, it's because they choose to forgive.
Oh by the way, I can say our family portrait was picture perfect this time.
See you next Sunday.
Xoxo
'Dara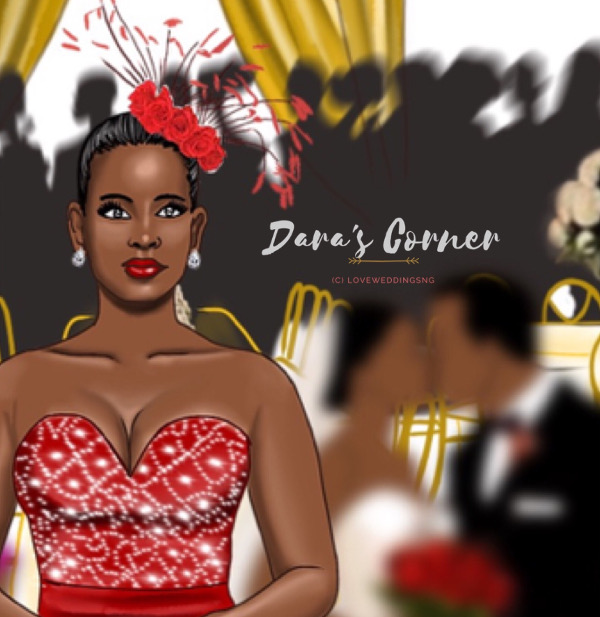 Dara is a fictitious name and character created for LoveWeddingsNG. This column is not a depiction of real life events. Names, characters, places and incidents and incidents are products of the author's imagination. Any resemblance to actual events or persons is entirely coincidental. 🙂