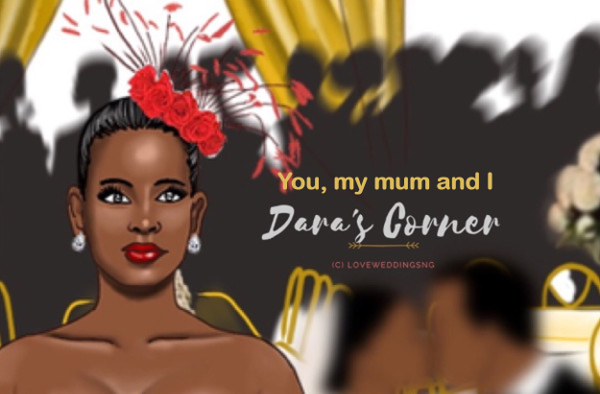 Funmi came visiting. I sure could not wait for her to give me the gist of what went down at #TheAdebanjosUnion.
Dara: Funmi you attended the #TheAdebanjosUnion, yes?
Funmi: Preye and I attended (as she received the tray of drinks from me)
Dara: Well, how did it go with Jide's mother and all?
Funmi: You knew about Jide being a mommy's boy and all?
Dara: Of course! Everyone knows, except you perhaps.
Funmi: Well, that day three people got married (laughing). I pity the girl.
Funmi: She chose him. Hopefully, she's fully aware of what she signed up for. (shrugging)
Funmi: Noooo.
Funmi hit me and I quickly moved. Funmi is one of those people who will hit, slap and abuse you with her hands when she's telling an interesting story. I quickly tossed her a throw pillow; that pillow will take all the hits today not me. Funmi noticed what I did and laughed 
Funmi: They got married in his mothers church. The mother insisted on her pastor leading the ceremony and conducting the vows.
Dara: His father died when he was five and since then, mother and son have been inseparable. They sleep on the same bed. His mother pretty much makes all the decisions for him.
Funmi: Do you know his mother walked the bride down the aisle.
Dara: Why! (I said louder than expected) What about her family members. Her Dad?
Funmi: Trust me. I asked the chief bridesmaid. The lady told me that, Jide insisted that he wanted his mother to walk his bride down the aisle.
Dara: But why?
Funmi: He said he wanted to see the two most important women in his life walk down the aisle together
Dara: (clapping her hands) Na wa o! How convenient. I guess that's Jide for you. Any little thing "let me ask mom first" (mimicking Jide's deep voice)
Funmi: At the reception, the mother joined them to cut the wedding cake. At first, it was just the couple not until Jide grabbed the mic and said "Would my sweet mother please join in the cutting of the cake" (hitting the pillow as she shook her head)
Dara: Ahhh! What about the brides family?
Funmi: Absolutely nothing. The one that shocked me the most was when she joined them for the couples first dance. While they danced, she stood at the side crying. Jide then asked her to join them. The three of them danced together.
Dara: That's odd!
Funmi: Preye and I just kept watching the drama unfold; to say we were all surprised is an understatement. I personally would not take it. The poor bride! It was obvious she did not like what was going on but she had to keep up appearance.
Dara: Hmm na wa 0.
Funmi: She bought them a car as a wedding gift. After the ceremony, the mother occupied the front seat while the bride was in the passengers seat. And off they went to his mothers house. I learnt a building was adjoined for the couple to live in. We all know how that will play out.
Funmi: Na dem sabi. But how come you know so much about the Adebanjo's though. (gulping her drink)
Dara: That's because we almost dated. We got close for about a month and I realised saying Yes to him would mean dating two people, He and his mother.
Funmi: You sure dodged a bullet there, Dara
Dara: (laughing) You never can tell. It may have been the perfect marriage but I guess, we'll never know
Funmi: There is no such thing as a perfect marriage, Dara. Wake up!
See you next Sunday.
Xoxo
'Dara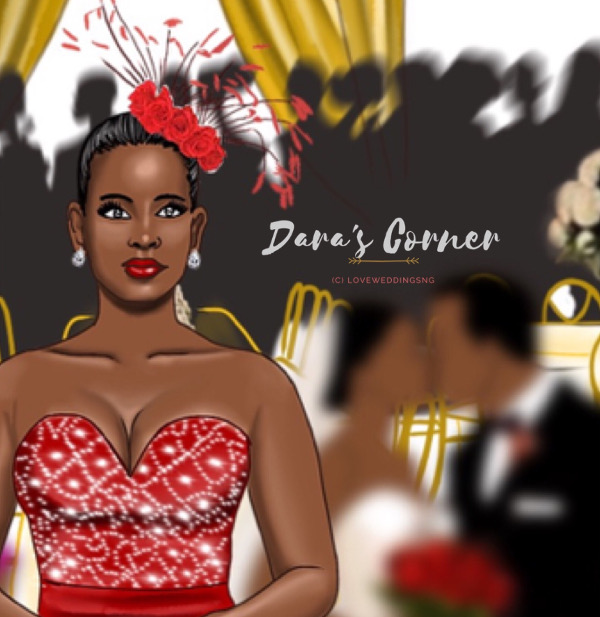 Dara is a fictitious name and character created for LoveWeddingsNG. This column is not a depiction of real life events. Names, characters, places and incidents and incidents are products of the author's imagination. Any resemblance to actual events or persons is entirely coincidental. 🙂