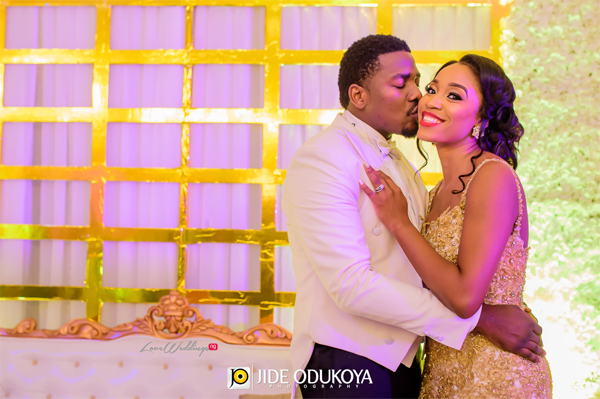 Uyi and Ahmed had a grand enchanted themed wedding; so grand that they had two wedding planners – IPC Events & Frankies Events. Their wedding looked so luxurious and looked fit for royalty; here are just a couple of things we loved from #ForeverAHMUYours18.
Enjoy!
Their love story and proposal in the air: According to the bride, Uyi and as published on BellaNaija, here's how the couple met and how Ahmed proposed while they were on a helicopter tour
We met in 2012 through a mutual friend. He texted me on BBM saying he has this friend that is looking for a good girl to settle with and I was like, "ahh me, good girl?" Lol well, we exchanged BBM pins, we got talking. At that time, he was based in Canada and I was based in Nigeria. We really did not chat much.

Fast forward to December of 2012, I was back in Lagos from university and I got chatting with our mutual friend and he told me, "oh Ahmed is in town". Ahmed and I decided to meet. He invited me to his house. When I got there, he opened the door and I saw this tall, handsome guy wearing brown native. Oh, by the way, I love a guy in native. I immediately said to myself, "THIS IS MY HUSBAND!" I remember texting my friend Roseline and telling her, "omg I just met my husband."

The holiday ended and I went back to school and he went back to Canada and we managed to keep in touch. We dated on and off for six years. The distance affected it and other personal issues. Last year, he invited me to Canada. He had invited me many times before that but I had declined. Last year, I decided to accept the invitation. That trip made a BIG difference because we had not seen each other in years. Long story short, he proposed in July last year. It has been a roller coaster but now we are here!
The Proposal
On one of my trips to Toronto, we went on a bus tour to see the city, but the tour was long and exhausting so we decided to get down and go shopping lol. We later decided to go on a Helicopter tour so we could really see the view of the city of Toronto. The next morning, we decided to go to the Helicopter tour company, we got there but they were not working as the pilots were off on Tuesdays. We both decided that on my next trip, we would come back.

My next trip was a month later in July. Ahmed had already booked the Helicopter tour before I arrived and was scheduled for the 2nd of July 2017. We were also planning for a yacht party as that weekend was also Caribana Weekend.

On the 2nd after church, we went back home to pick up more drinks for the party. I noticed he changed his blazer with the excuse that the other one did not look nice. It actually did fit him very well. I later found out that the previous blazer was showing the ring box so he had to change it.

When we got to the Helicopter tour location, we were briefed on the usual safety precautions. The moment we got on the Helicopter, Ahmed kept telling the Pilot to inform us when we are on our way back. I actually felt that was normal.

In the sky, he started saying some romantic words and I clearly remember not even paying attention. I was just like, bobo yi the cloud is making you romantic lol. He kept talking but I could not hear what he was saying as my headphones were not placed properly. I finally heard him say, "You know you remind me of my mum and I have learnt to know what love is since I reconnected with you". He had never told me that before. That was when I had to turn to him because the statements were getting deep.

I immediately turned and I first thing I saw was his teary eyes; at that point, I knew something was up. The next thing I saw was Ahmed putting his hands in his blazer pocket and bringing out the box. At that point, I blanked out!

I looked out the window but we weren't on the ground yet as I wanted to JUMP! I could not hear anything again as I was not expecting this so soon. He asked me to marry him, I accepted and couldn't wait to get off the Helicopter so I could run. We both got off and the Helicopter crew started congratulating us and taking pictures. I was still in shock. We got back to our hotel in the city to change for the yacht party … The party was OUR engagement party.

Best Day Ever!
The bridesmaids & groomsmen's invites and gifts: The groomsmen proposal cards designed by R'ADE Designs PH was a clean tuxedo style card.
On the wedding day, the bridesmaids and groomsmen got gift boxes by The Gift Fairy NG. The bridesmaids got white and gold vanity gift boxes with built in mirrors; we think these are great as they can be reused to store jewellery. The groomsmen had cuban cigars
Uyi's bridal robe stood out for all the right reasons. There was no confusing who the bride was.
Uyi's Transformer Wedding dress: The bride's gown by Nigerian bridal designer, April by Kunbi transformed into 4 different styles right before her guests. From a ball dress to mermaid dress, we witnessed the same dress with different Straps and fits. Check it out!
Look 1
Look 2
Look 3
The decor was stunning: Nwandos Signature Events SLAAAYYYYEEDD the enchanted theme.
The table setting: According to one of the planners, IPC Events, the groom wanted his guests from out of town (Canada) to feel like they were in a restaurant, with four course meals and a dinner set up and that's exactly what they had. The table was set so those that wanted tea, coffee or pepper soup felt at home.
Their Grand Wedding Cake: The cake was so grand they had to cut it with a sword. The cake from #ForeverAHMUYours18 was 8 feets tall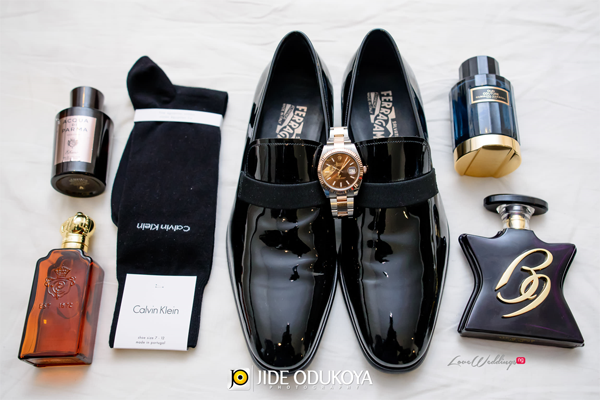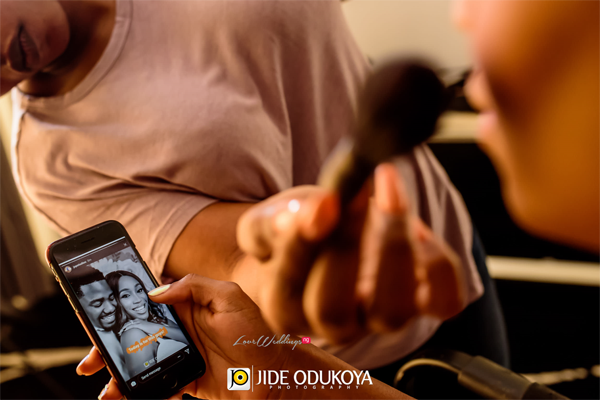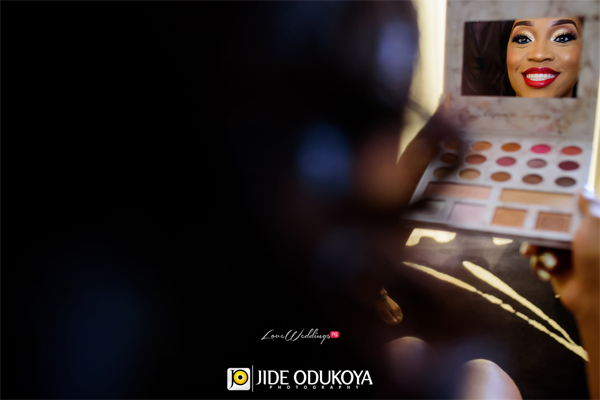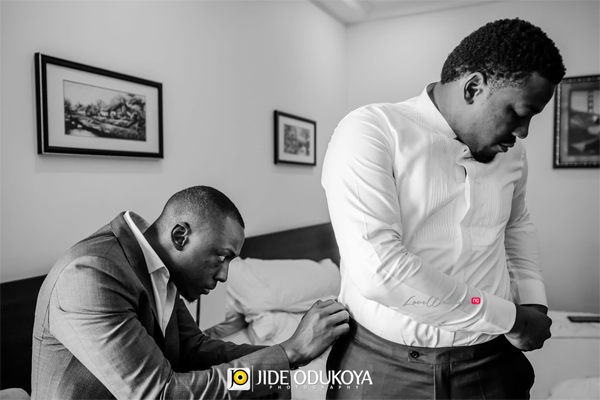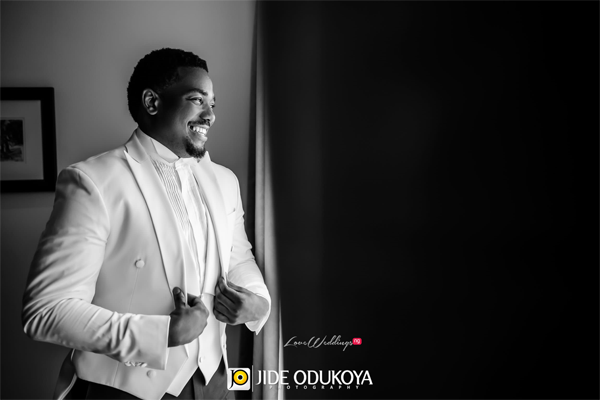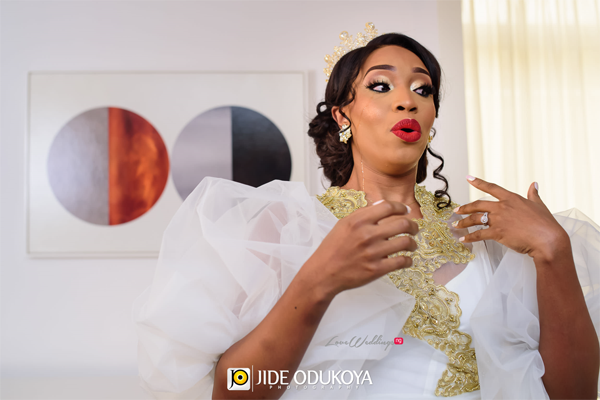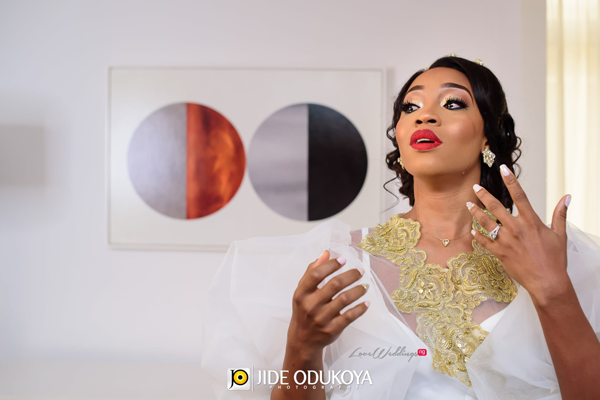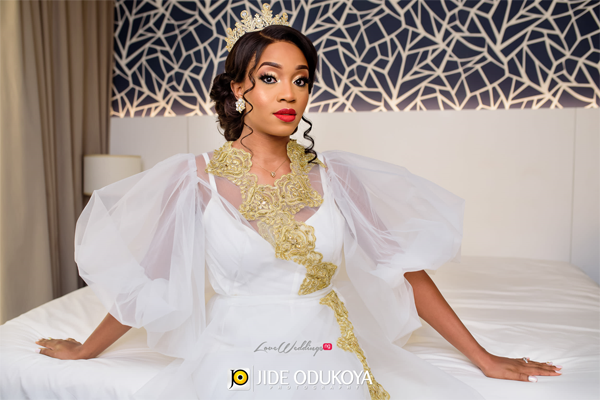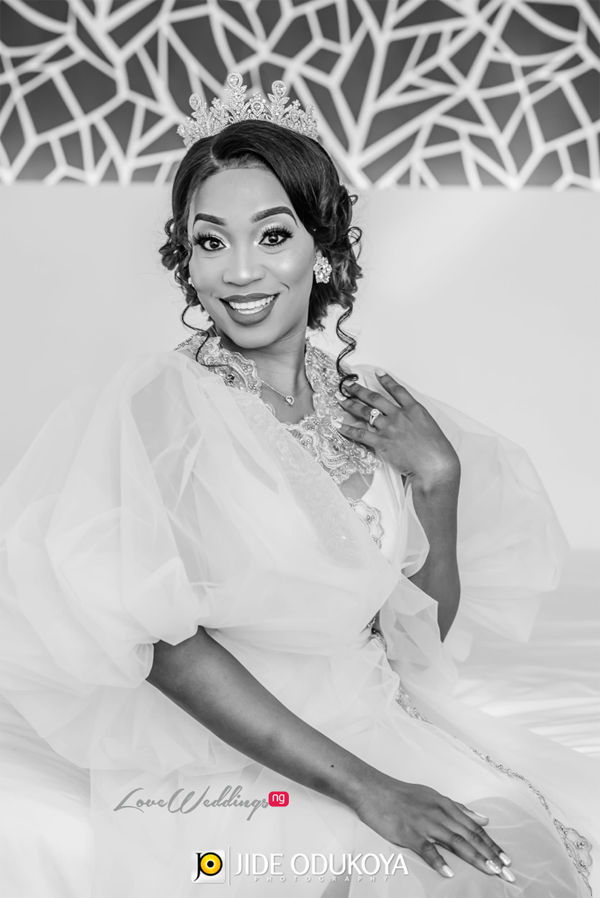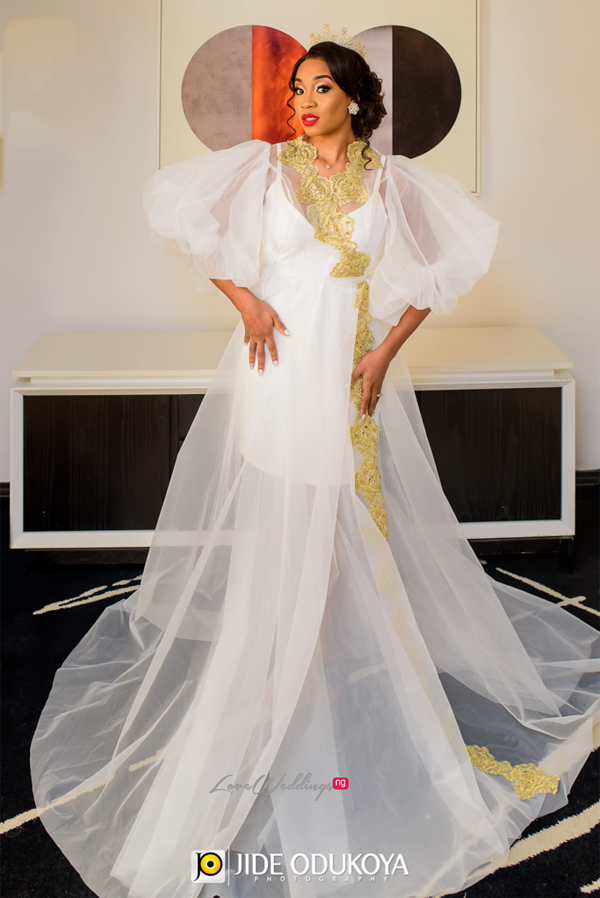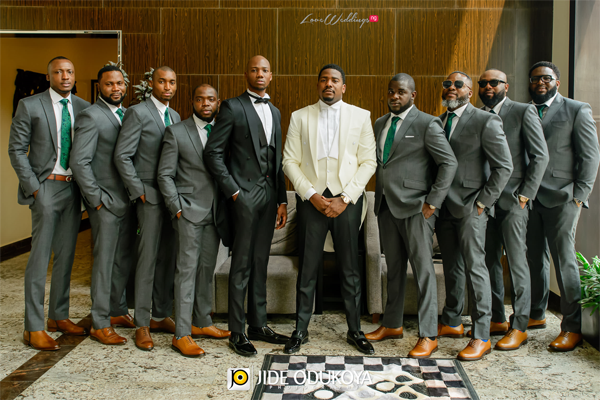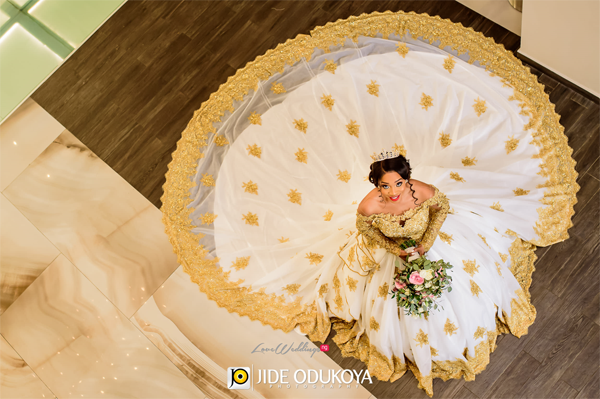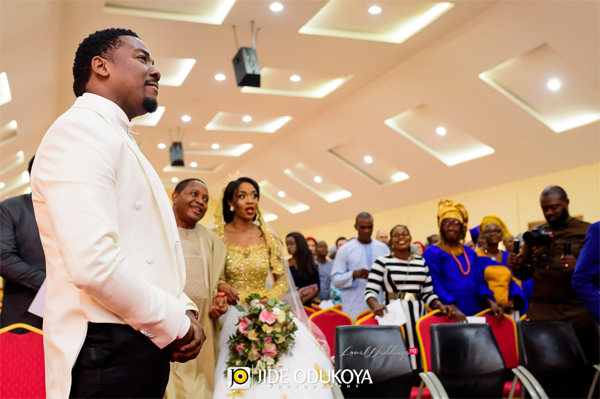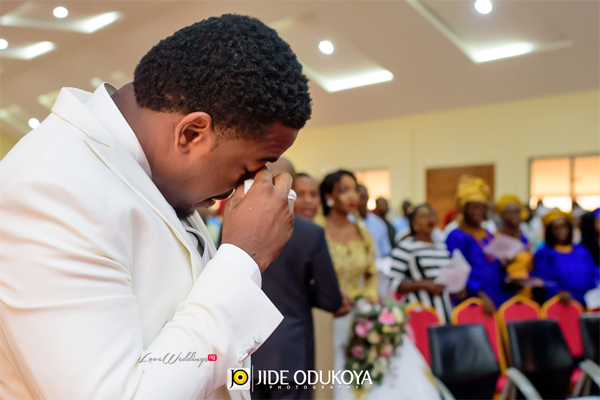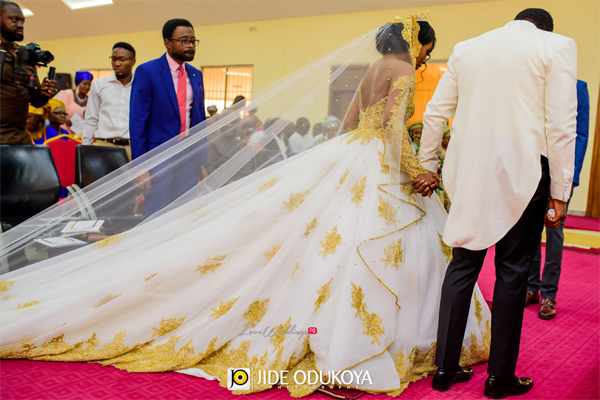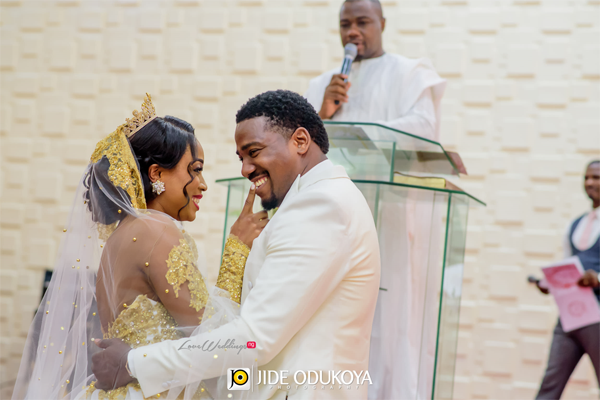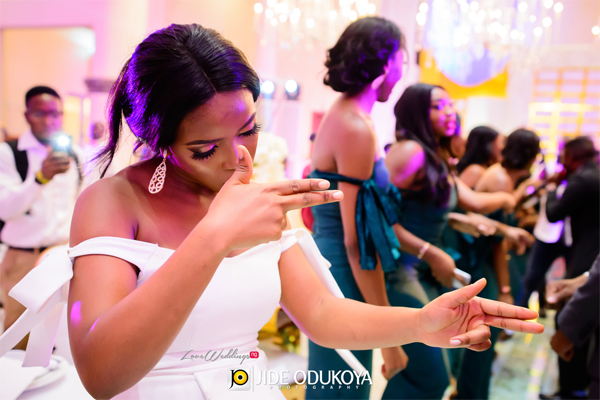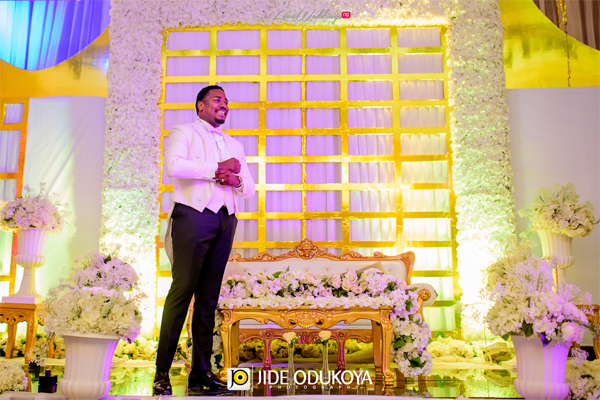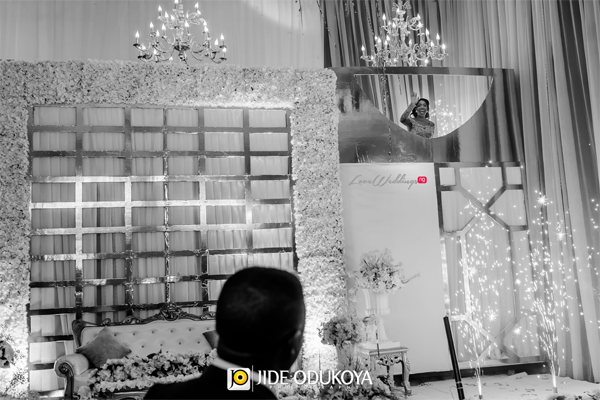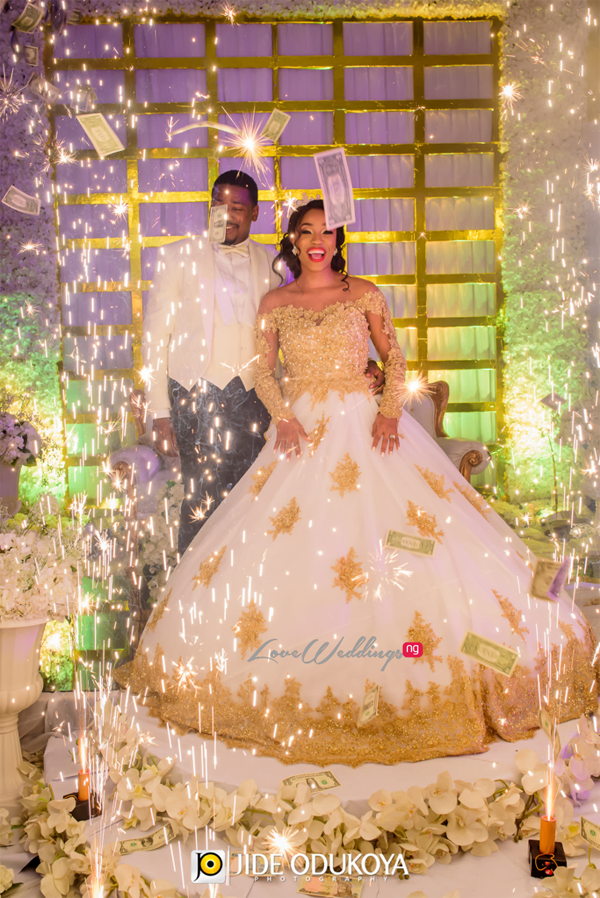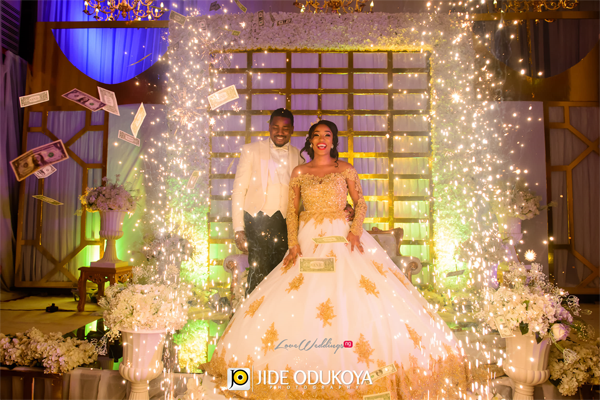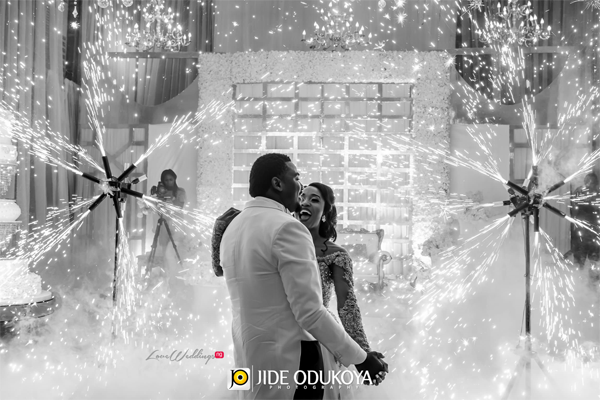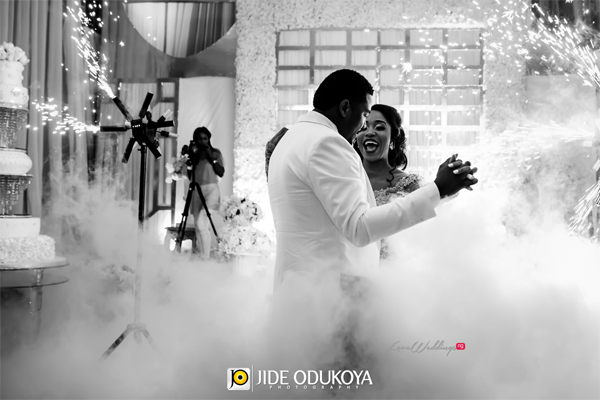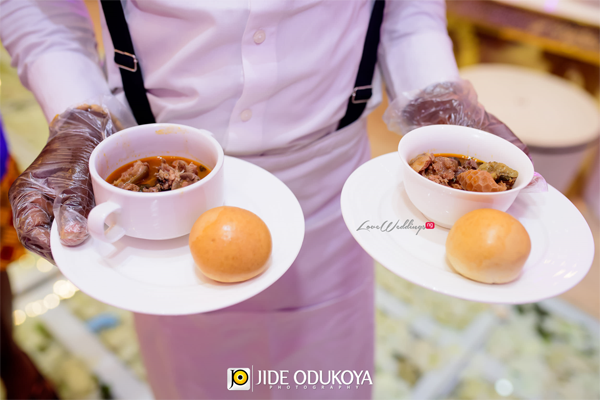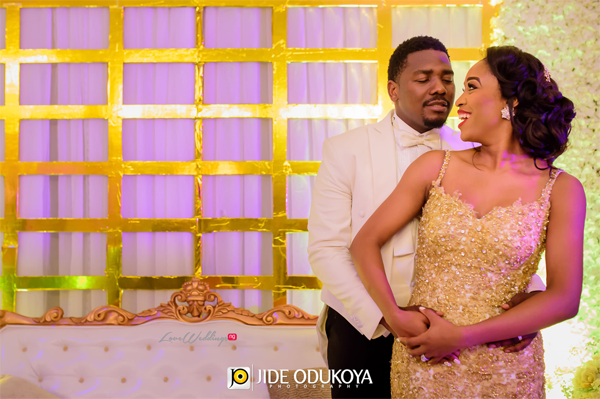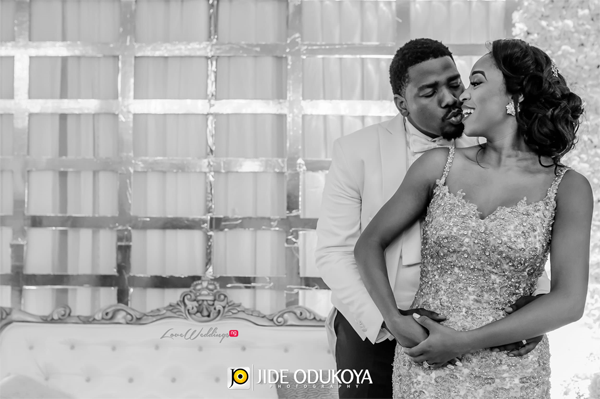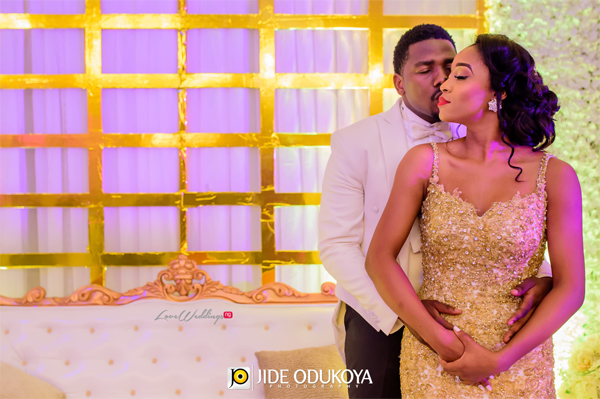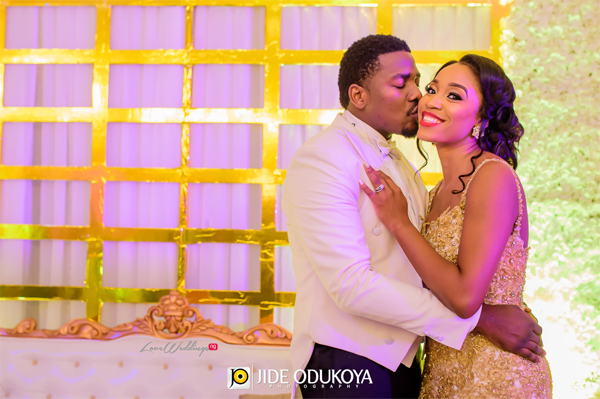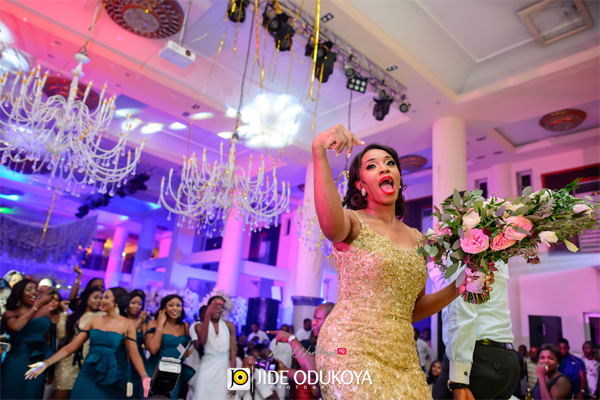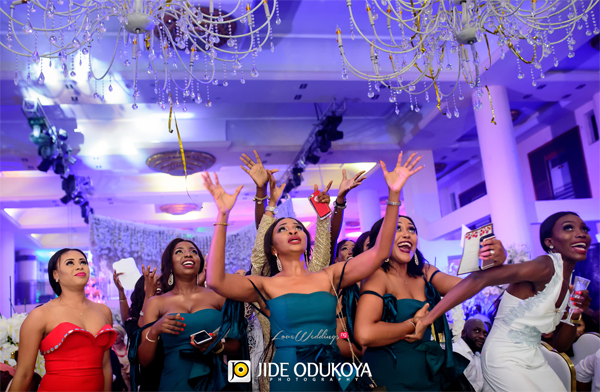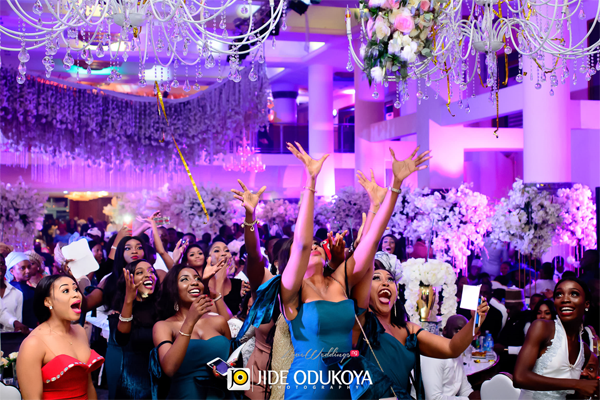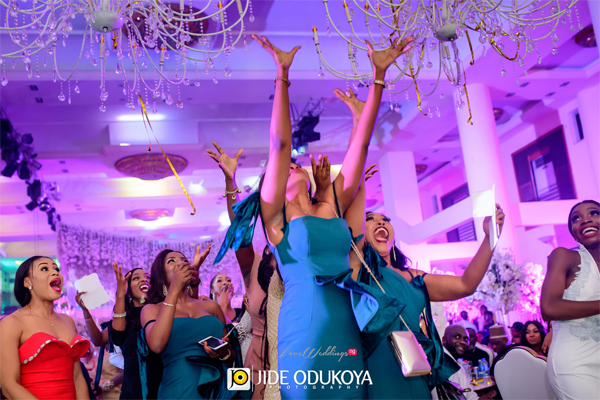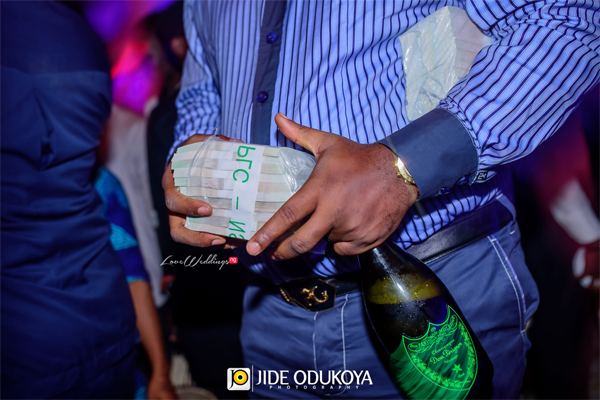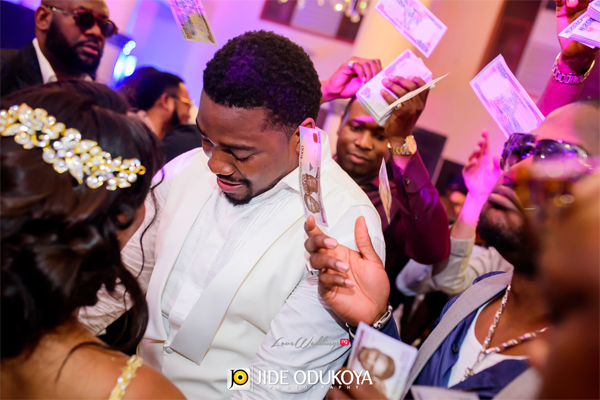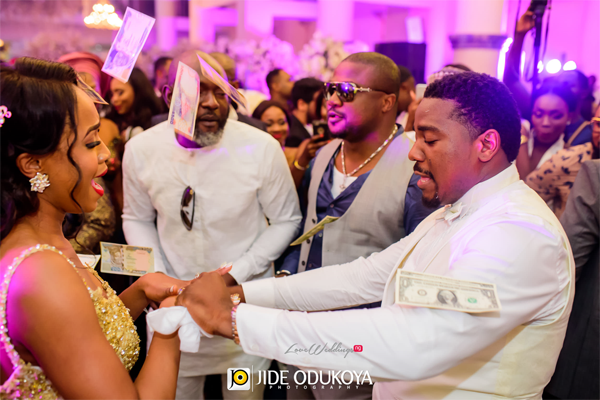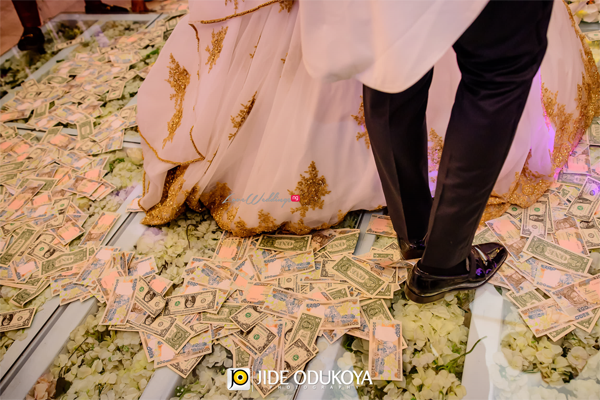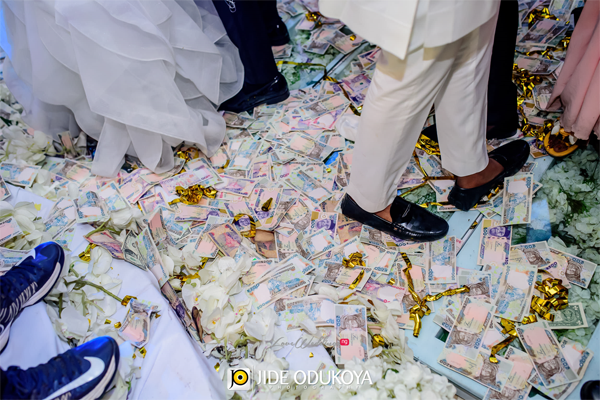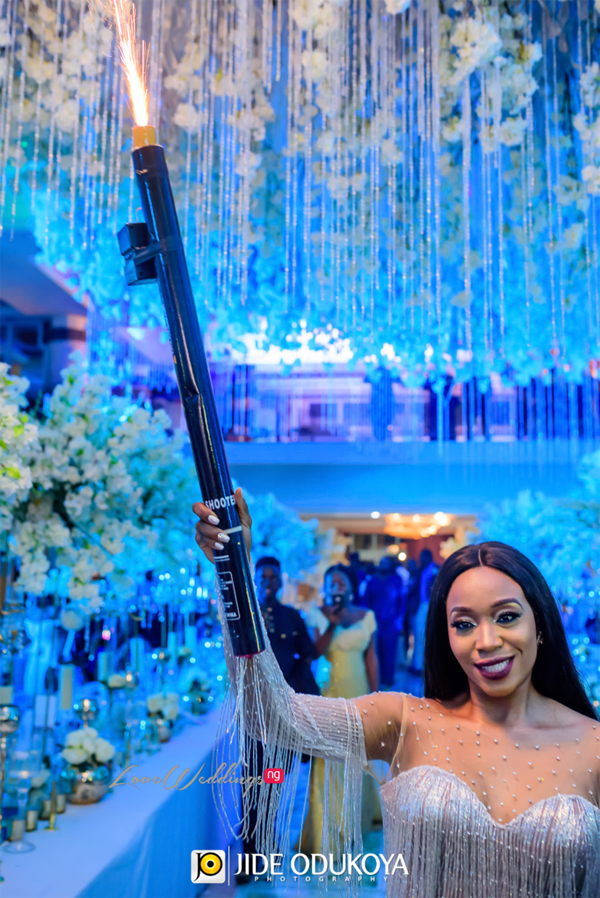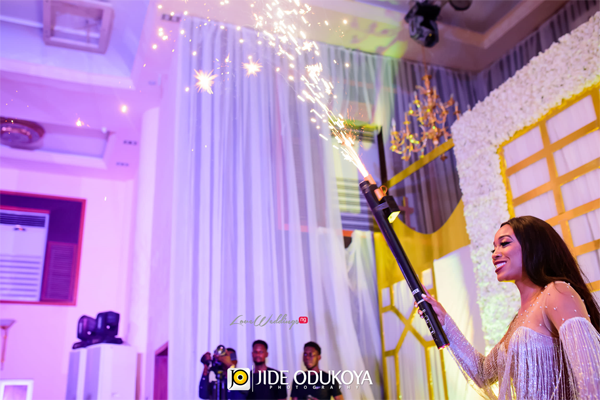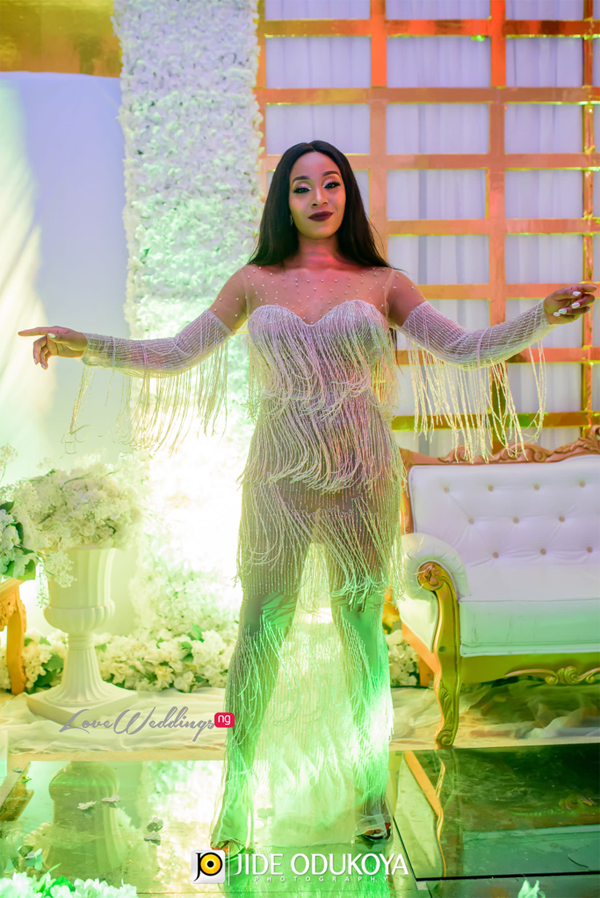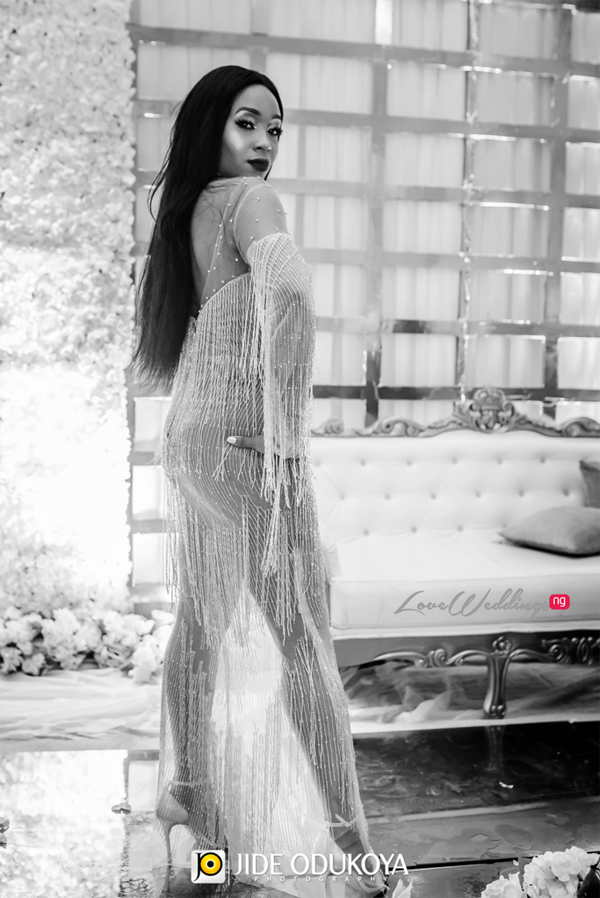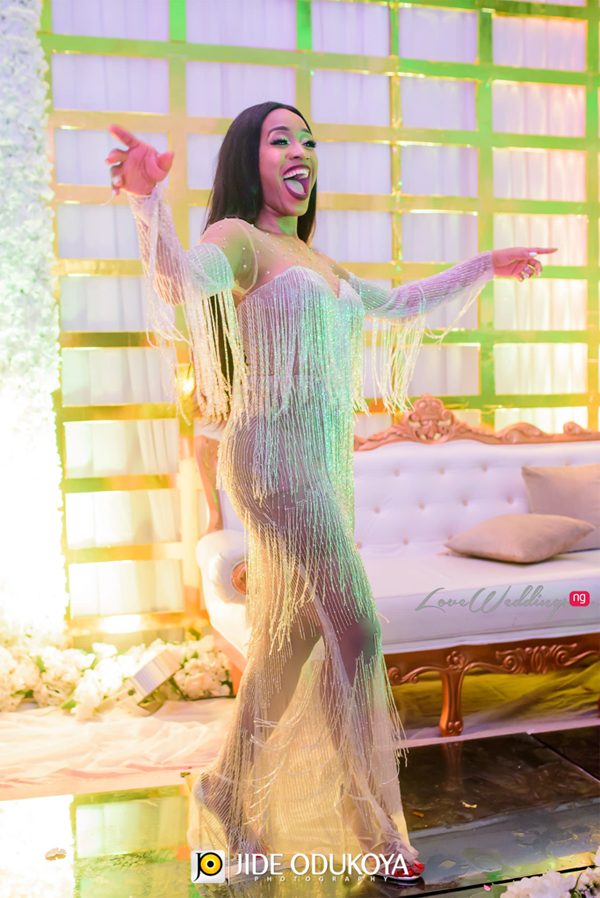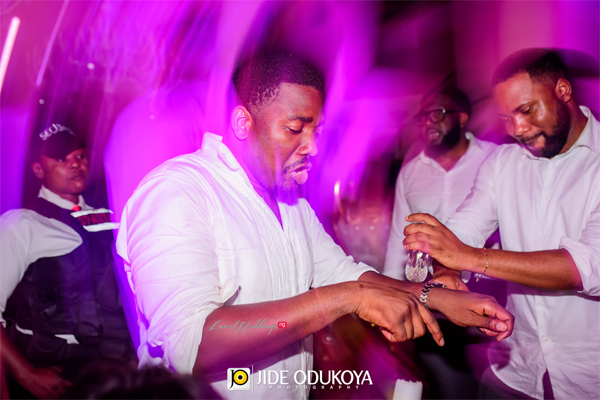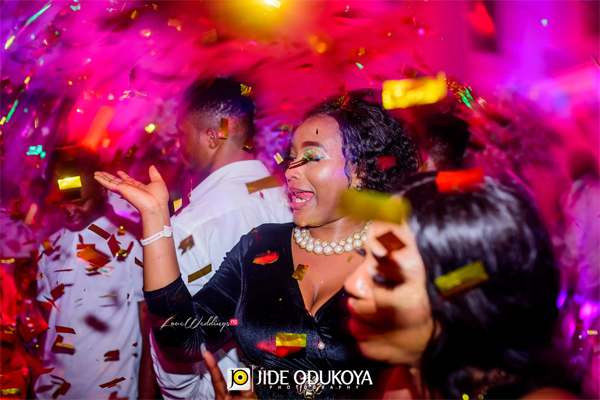 Vendors
Planner: IPC Events & Frankies Events
Photography: Jide Odukoya Studios (JOP Studios)
Wedding dress: April by Kunbi
Bride's second dress: Tope FnR
Bride's makeup: Faces by Labisi
Bride's Hair: Tobbies Touch
Decor: Nwandos Signature Events
Food / Table setting: Beyond Tastee Catering
Rentals: Rental Express NG | Naftalia Party Rentals | TRO Rentals
Hall: Lekki Colliseum
Prints: Kellas World Graphics & Print
Bouquet: Love Bug Florist