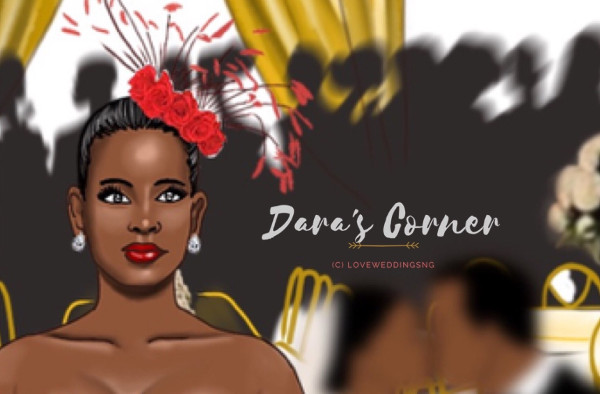 If this is your first time reading one of my short stories, welcome! I'm Dara and I share a short story on LoveWeddingsNG every Sunday so bookmark this link to make sure you don't miss my next story. This week, I'll gist you about little brides and why they are forever cute.
"Dara, I'd need your little niece on my bridal party. I'd love her to be my little bride. You know we are both team light skin so we'll look amazing together."
Funmi spoke about my little niece Keno (Abeke & Orezi's daughter) like she was an angel. If only she knew, Keno is cute but she she has her naughty moments. I did not protest anyway, I basked in the glory of being the aunt of this cute light skinned angel who Funmi wanted on her bridal train. I thought, how hard can it be, as soon as I see Keno, we'll come up with a winning strategy to make her behave and sit still throughout the ceremony. And her mum, Abeke will be at the wedding too so I can hand her back if she starts misbehaving. Easy
Funmi and Uchenna's big day was here finally. Abeke bailed on me last minute so I was left to deal with Keno all by myself. This was not the plan! One of those moments, I wished I had a manual for dealing with three year old's.
Anyways, I sat on the second row with the other asoebi ladies just so I could keep an eye on Keno throughout the ceremony and most especially, keep eye contact when she walks in.
"All rise", a voice announced in church and the organist immediately started playing the instrumental version of Beyonce's Ave Maria. The mood was perfect. Everyone in the congregation rose and looked eagerly towards the door at the end of the aisle.
The bridesmaids walked in, looking absolutely stunning in gorgeous white dresses; they looked like they had definitely been styled by a professional bridal stylist. The dresses had different necklines, which suited each bridesmaid perfectly; all their dresses were slightly different but still looked amazing together. They lined up in front of the pulpit and matched the perfectly formed line of groomsmen on the opposite side.
It was time! There was a brief pause and the music switched to Johnny Gill's 'You for me' 
Keno stood in front of Funmi and her dad and started walking down the aisle with a little basket. She looked adorable! Everyone smiled as she walked past each row; you could see everyone trying to take a picture or capture the moment for the 'Gram or Snapchat. Keno's dress was from Monbebe Lagos;, her hair was styled in a perfect bun adorned with flowers. And she smiled as she walked down; it looked as though she was stealing Funmi's moment.
Funmi looked dashing in her ball gown; her hair was also styled in a bun like Keno's but she wore a tiara. She looked like she was floating down the aisle as she walked in with her dad – their steps co-ordinated. She smiled but you could see she was trying hard to hold back her tears of joy. She held on to her father's hand tightly.
I soaked in the beautiful scene and said a little prayer for myself and for my wedding in advance. I was midway into my silent prayer when I noticed Keno's smile turn into an uncomfortable frown. She was pouting! I knew she was about to throw a tantrum so I stepped out of the pew slightly and smiled at her. It did the trick – she smiled again but started walking towards me. I thought 'Oh no! and just pointed towards the altar and she calmly continued her walk down the aisle.
We all took our seats and the service started. The Pastor started sharing a sermon titled 'Reasons why people get married' or something along those lines; I wasn't really paying attention because I could see Keno was becoming restless. She pulled on her dress and removed the flowers from her hair. In what felt like a second, she started crying; I silently prayed for the ground to open up and swallow me. I immediately asked one of the aso ebi ladies if I could switch seats with her so I ended up sitting right behind Keno. It didn't make a difference.
The ring bearer, David sat quietly and just watched Keno crying. I thought 'Better pikin', why can't this girl be like him. When I realised she wasn't stopping, I quickly took her out to pacify her. She asked for chocolate. What did I care as long as she remained calm. We went to a little kiosk close to the church and I got a bar of chocolate, opened up the wrap and handed it over while I collected my change.
It literally only took seconds for the guy to hand me the change. I looked down and Keno had chocolate stains all over her perfect white dress. She looked up innocently and pointed at the mess she had made on her dress and said "Dirty, aunty". I was 'shook', confused and stressed out. I grabbed the chocolate bar, took her hand and we walked back to the church. Thankfully, the bathroom was okay and had hand wash, etc. I took off her dress and tried to wash off the parts she had stained. It didn't all go off but at least it didn't look as bad as it did a few minutes ago.
We got back into the church just in time for the exchange of marital vows. Funmi desperately tried to control the tears that threatened to fall but her voice betrayed her every time; it was cute to watch. She said "I do" to the priest's questions promising to "have and to hold from this day forward; for better or worse…. [you know the drill].
I gently mopped off tears from the side of my eyes and just enjoyed the moment . Keno turned to me frowning; I just pointed at the altar and told her to look forward. She obeyed and I continued enjoying the 'happily ever after' moment that was playing out in front of me. Everyone clapped; some screamed when the Pastor said 'You may kiss the bride'. They had a cute first kiss and sounds of 'awwwwwww' filled the room.
Keno looked at me again for the second time and I opened up both my palms and asked what the problem was. She said; "Poo poo aunty" She was already on her feet holding up her dress with beads of sweat forming on her forehead. I quickly carried her up; muttering my apologies to those who cared to listen and rushed outside.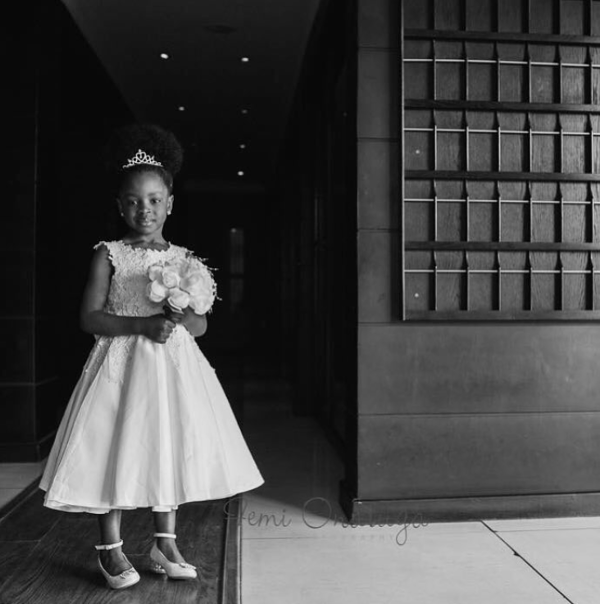 Thankfully, I already knew where the toilet was, thanks to the chocolate stain saga earlier. I quickly took of her dress and placed it safely away from harm's way – we could not afford another disaster. Keno clung to me while she relieved herself.
"Aunty" she said after a few seconds.  I asked "are you done already?" the surprise evident in my voice. She nodded and stared at me blankly. I thought to myself "this little girl is quite annoying. She just urinated" so I  I stooped so we were both staring at each other face to face. I asked "I thought you wanted to poo poo, how come you just wee weeed" She just kept looking at me with her big brown eyes wide open.
I knew she didn't have an answer for me after she stared at me for long enough so I quietly dressed her up after we washed our hands and we left the toilet. We returned on time for the thanksgiving part of the ceremony. I quickly placed Keno in her original seat and gave Funmi an apologetic smile for Keno's disappearance. She just smiled back and continued dancing. I don't think she even noticed all the drama
I was thankful when we got to the reception venue in one piece without Keno acting up. The turn up was real! From the minute the couple stepped into the hall, it seemed as though we skipped the entire usual reception program and headed straight to "Dance! dance! dance!" Keno and David had a dance off and for a moment I was a proud aunty to this naughty girl. Their dance off ended abruptly when she shoved David because he got more cheers when he danced.
After we danced for a bit, we all took our seats while the rest of the program continued. Keno climbed on my lap, rested her head on my chest and off she was to dreamland.
Staring at her sleep so soundly, I could not even get mad at this girl because she looked so innoncent. A couple of guests stopped by our table to say how adorable she was. And off course, we had the I2K (I too know's) who said things like "your little girl looks nothing like you. She must look like her dad" or "how old is your lovely daughter".
I eventually got tired of just sitting there while others got down low on the dance floor. I nudged Keno to wake up but she did not budge. There goes my good time! I thought. Keno only woke up when the party was over crying and asking for her mommy. Seriously! Her mother that left her with me all day! Her dad came to pick her up shortly after so all was well.
After the wedding, I got to see 1 minute clips on Instagram and I could not help but give thumbs up to the cinematographer. Everything looked perfect. One of the clips showed scenes of Keno walking in with Funmi and her dad, a little bit of the vows and scenes of them walking out. No one would have guessed all the drama that happened in between. To everyone who watched that video, the little bride Keno was adorable.
Remind me never to agree to such arrangement again.
See you next Sunday.
Xoxo
'Dara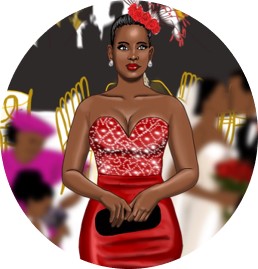 Dara is a fictitious name and character created for LoveWeddingsNG. This column is not a depiction of real life events. Names, characters, places and incidents and incidents are products of the author's imagination. Any resemblance to actual events or persons is entirely coincidental. 🙂