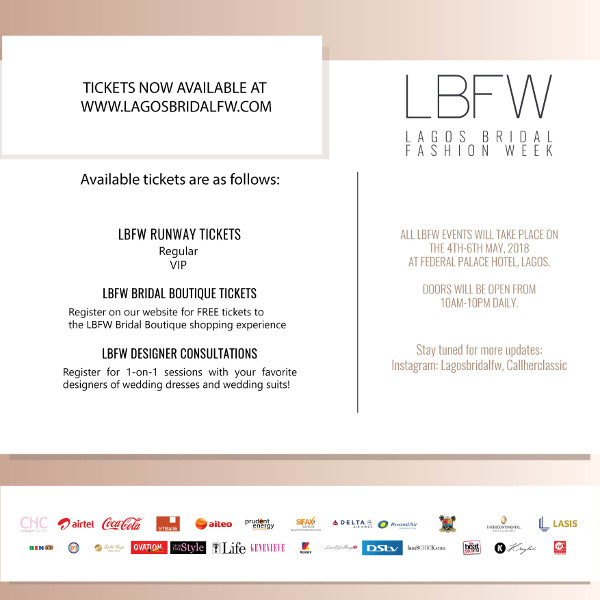 You can now purchase your tickets to attend the Lagos Bridal Fashion Week – the ultimate destination for bridal fashion!
We invite you, your friends and family to experience this innovative and awe-inspiring event. The atmosphere will be buzzing daily from 10 am till 10 pm. Be surrounded by interactive displays from a selection of the best global wedding suppliers and bridal designers.
What to look forward to at #LagosBFW2018
Designer installations by Andrea Iyamah, April by Kunbi and Mai Atafo
Runway shows featuring designers from Africa, UK, and USA. Check out the daily schedule
The Bridal Boutique featuring exhibitions, pop-up stores retailing bridal fashion items and private consultation rooms with your favorite local and international designers
Masterclass sessions with industry experts
One on one consultations with international bridal fashion designers. Book a consultation now
Tickets for the runway shows, which will be held from the 4th to the 6th of May, 2018 at the Balmoral Convention Centre, Federal Palace Hotel, can be purchased online here.
Regular tickets cost N3000 per day and N8000 for all 3 days. VIP tickets cost N10,000 per day.
Log on to www.lagosbridalfw.com for more information
About Lagos Bridal Fashion Week
Lagos Bridal Fashion Week is organised by Call Her Classic agency and proudly sponsored by Airtel, CocaCola, GTBank, Aiteo, Prudent Energy, SAHCOL, Delta Airlines, RwandAir.
Media Partners: LoveWeddings NG, Aisle Perfect, BEN TV, Classic FM 97.3, BellaNaija Weddings, Guardian Life, Genevieve Magazine, Konbini, Multichoice Nigeria, Ovation, Schick Magazine, The Beat FM 99.9, WFM 91.7.
Buy Tickets: https://lagosbridalfw.com/buy-tickets/
For Exhibition Enquiries: exhibitors@lagosbridalfw.com
For Press Enquiries: press@lagosbridalfw.com
Follow @lagosbridalfw on Instagram