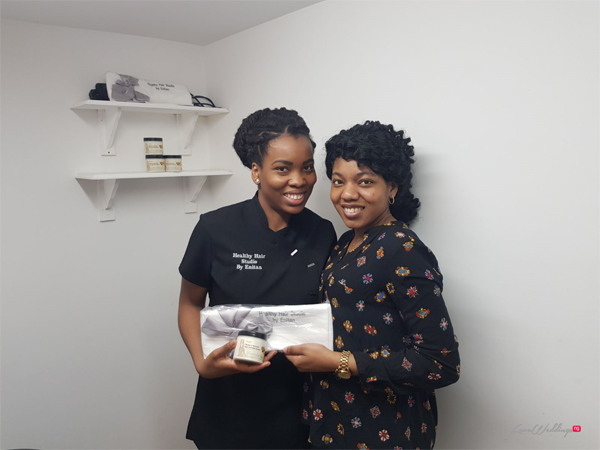 Hair loss, especially after your wedding, isn't the usual topic we write about on LoveWeddingsNG. We caught up with Chioma, former bride, founder and creative director of Studio-Chi Design House. Chioma got married in May 2016 and everything was beautiful until her hair started to fall out.
Read her experience on how she dealt with hair loss while planning her Nigerian wedding and more importantly how a consultation session with Eniagdee turned things around.
Enjoy!
I've had a love-hate relationship with my hair but it's always been faithful to me, faithfully stubborn. I permed my hair for years and no one realized it was permed. Someone in Heaven was very particular about how I was supposed to look. No matter how strong the relaxer was or how hot the comb was, it refused to entirely straighten or stay straight. I cannot count the number of times hairdressers have huddled over my head and looked at me as if I had a problem I did not disclose!
They'd rinse it to off to find my hair defiant and triumphantly mocking. They would then attempt to remedy my hair by blow-drying and straightening it. My hair has a personality. It has always insisted on never leaving my head and that worked well for me because I didn't have the time to spend forever catering to it.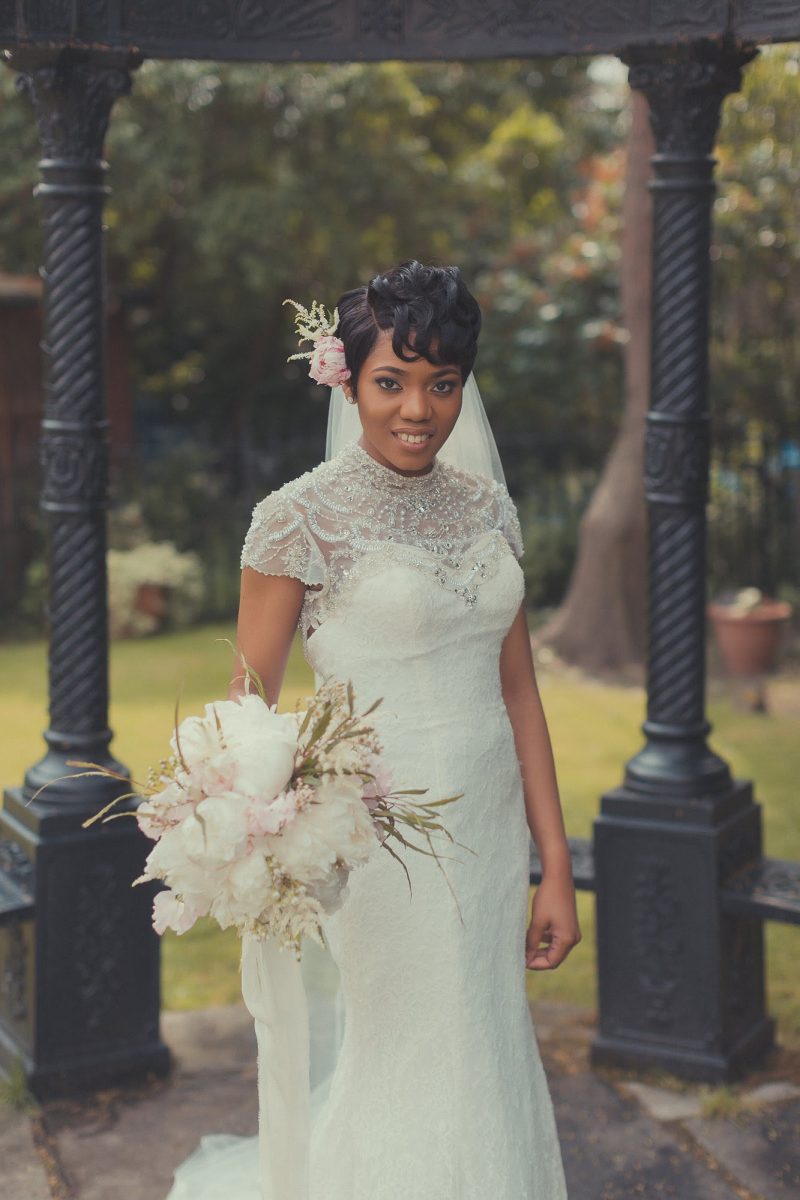 Then a Nigerian wedding happened! My wedding day was the best day of my life.
Marriage? One of the best decisions I ever made.
But the year and a half before the wedding were some of the most challenging days of my life. I noticed I started to lose more hair on wash days than usual. I blamed manipulation and my styles. When I combed it, I would lose handfuls so I blamed the combs. I stopped using combs. Then I'd run my hands through my hair and have remnants in my hand.
By the time I was about to get married, the hairdressers were advising me to take out my hairstyle the week after the wedding and do something. But I washed it and it seemed to have bounced back. Till it bounced off the table, onto the floor and out the window into the trash. It started to get much more concerning when I was at the church office and re-did my ponytail.
Someone happened to walk by and saw the amount of hair on the floor. In the sweet way that people do with a huge smile but alarmed eyes, I heard 'this is really not normal'. I looked down at the floor and realized I needed a dustpan and brush to sweep the hair off the floor. I inhaled and exhaled.
I looked over my hair purchases and accepted that this was more than protective measures, wig caps, and silk pillows. My black hair was capable of cracking and I didn't know it. My parents are in their late 50's and 60's and their heads are still full of hair. Turned out no one told me stress trumps DNA. DNA may mean you keep your hair but doesn't guarantee it will grow. My hair hadn't added to its length in years and I was loosing what I had. I was losing my hair.
I had been getting away with it because my strands were thick. On the outside, it still looked ok; good even. But the middle of my head had half the length of the sides, and my edges were praying after services after everyone had gone home. My edges were so short they couldn't even be braided. They had abdicated. I deal with brides 6 days of the week and having spoken to countless brides, I quickly realized it was a common problem. I was not the only bride to have experienced hair loss before or after my wedding. I was just one of the few who hadn't owned up to it.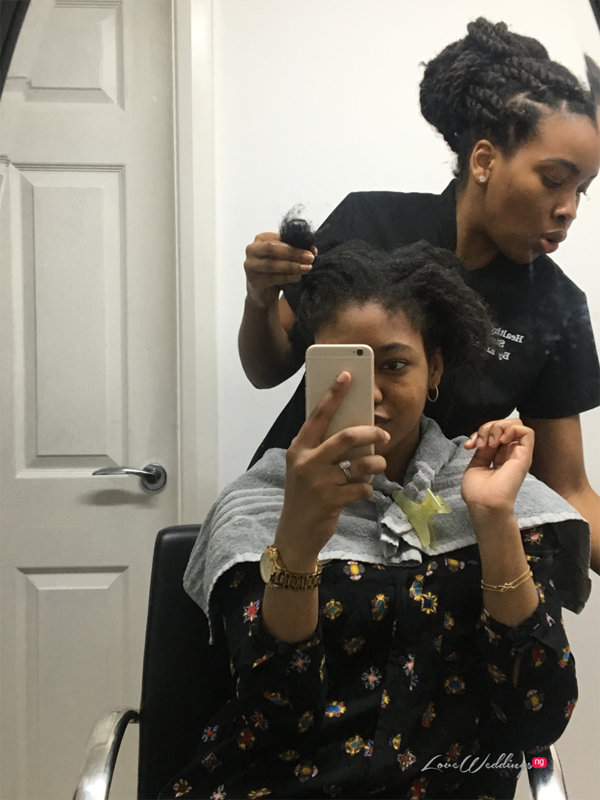 I had come across Eniagdee on Instagram but I was tired of motivational hair guru's. When YouTube was still a secret 8 years ago, I was there watching tutorials and buying from description boxes. I was pretty sure I knew what my hair required and needed. I had spent years hoping my hair would have curls not coils and been disappointed. Then when I finally loved my hair, it started to drop out. I'd seen her posts and watched her Instagram stories. Fine, she wasn't just another hair content creator.
Ok, so she was a qualified hair specialist. She knew the science, the biology, and the know how. My sister-in-law upon hearing I wanted to get out the rescue boat (Titanic style) was kind enough to pay for it. To be honest, at that point I had given up on my hair. I figured if it didn't work out well….at least it wouldn't be my money. Pshhhh…
It wasn't that I hated my hair. I'd just grown to accept and love my hair the way it was. I wasn't trying to be given false hope of length by anyone. But I saw her before and after photographs and I was intrigued. I tried to book an appointment with her; then I realized she was booked up every day for three months? So at that point, I'm that person who realizes they should want something if everybody else has realized they needed it too. I was excited about my appointment.
I turned up rather excited on my day off. Super excited! She was running to time, and ready clipboard and pen ready. I had had my hair in cornrows for weeks so it was an entire birds nest but she didn't judge. I liked her already; then she started testing strands of my hair.
After a long time talking through my hair history, Eniagdee began to draw some conclusions. She chronicled where I had gone right. Ok, there was not much right with the number of wrongs in my mix. It struck me as I sat there that I had never heard this information before. I realized as I sat in that seat that most of the information I knew was actually a culmination of YouTube advice, two minute Instagram videos and old wives tales passed down from generation to generation as fact. My hair was dying because I didn't know how to bring it to life. I was skeptical. Her tailor-made regime for me was a lot less fuss than I was used to and much less expensive products. Telling me that spending less time and less money would grow my hair? Now I've never used 10 products. I have a busy lifestyle. But to hear that I was using the wrong ones was news to me.
The most shocking part was the hair I lost. She untangled my hair, washed, conditioned and styled it. I lost a sixth of the hair I would normally lose, if that. Turns out I really didn't know what I was doing with my hair. But on reflection, I realized that most of us don't know what we are doing with our hair. Then add stress to the mix, we are fortunate to keep any of it! If I repeated some of the information she told me, most would shoot it down as heresy but this information is now growing my hair. My edges are coming back and I'm not sweeping my floors as often. I've got more Netflix time than ever before.
Tell us what she told you?
No! Book her yourself. 🙂