Nigerian celebrities came out in full style force at the Filmhouse IMAX Cinema for the premiere of Oceans 8 in Lagos. The "MET Gala" themed event saw the likes of Osas Ajibade, Miss Vimbai, Ini Dima Okojie, Shaffy Bello, Jemima Osunde, Toke Makinwa and more slay the red carpet in aisle worthy fashion inspiration.
This photo of a bride and her bridesmaids carrying the groom shot by BigH Studios did the social media rounds this week. Some thought it was cute; others warned the bride to tell her friends to leave her husband's legs alone. We don't understand what the fuss is all about but see the picture for yourself.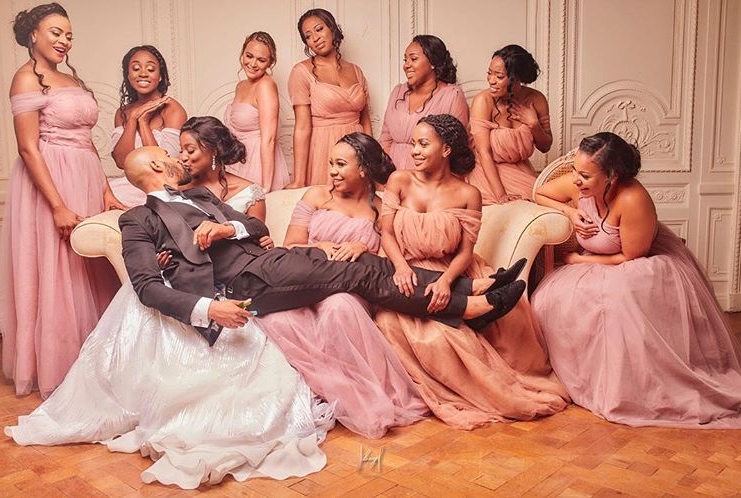 Nigerian celebrity blogger, Noble Igwe and his wife, Chioma marked their second wedding anniversary last week. Noble shared a cute message on his page on Instagram

TWO Two Amazing Years. Two Amazing Years of Friendship. Two Amazing Years of Love. Two Amazing Years of joy. Two Ladies,All Mine. Two Million pack of cards,Blind folded I'll pick you. I shine because of you. It's Been Two years but your love feels like a lifetime. Love you like I love Oxford Cabin Biscuits soaked in milk.

A post shared by Noble Igwe (@noble_igwe) on Jun 11, 2018 at 2:28am PDT
Actress, Tonto Dikeh celebrated her 33rd birthday party in Lagos and looked like a bride in her birthday outfit. Check on it!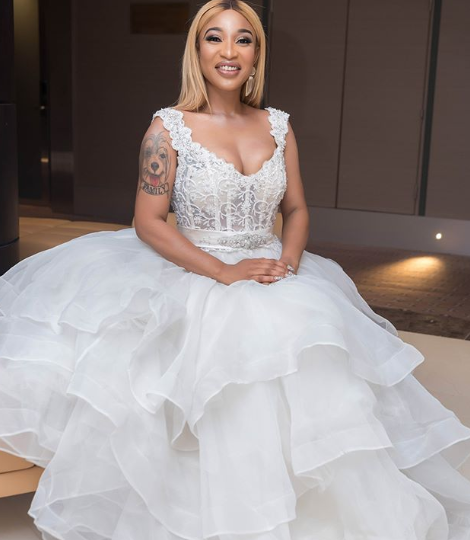 According to numerous online reports, a Nigerian lady, Adaobi Joevita shared pictures on Facebook from her older aunt's wedding with a message titled 'Delay is not Denial'

Adaobi Joevita shared on #Facebook Delay is not denial.. Of a truth it can be delayed but can never be denied Looking at my aunty, many will say that she is too old and can never marry again Now I want to encourage someone here I don't know what you are passing through and what is it you have been praying God for, you have prayed and it seems God has turned a deaf ear to your prayer Nothing is moving well in your life Your mates have this and that and they are doing well in whatever they are doing My dear I want to encourage you this morning Heaven has heard your prayers already and it remains the manifestation Even if the whole world sees it as an impossible case I want to assure you that there is a man called the Impossibility specialist and in his book #Imposible is Nothing He is the God of the 11th hour The protocol breaker Jehova overdo and he is not partial He said that if he can provide for the birds of the air, what about us that he created in his own image and likeness If he did it for Sarah, Issac, Hannah, Ruth, Solomon, David, Esther, Job etc You own case is not different Never give up #LoveWeddingsNG #LWNGWeddingNews #LWNGHotWeddingNews

A post shared by Nigerian Wedding Website (@loveweddingsng) on Jun 13, 2018 at 9:55am PDT
According to Catch News, Paris Hilton and Chris Zylka will televise their luxurious wedding, after being inundated with offers from networks. Paris reportedly told E! News: 'We've been getting a lot of calls and a lot of offers from different networks". The couple met eight years ago at an Oscars party at Chateau Marmont but didn't start dating until 2016, finally making it official on social media in February 2017.
Paris previously told DailyMailTV that she had picked her 'Disney inspired', custom-made wedding gown, calling it 'iconic' and adding: 'I can't wait for everyone to see!' She also revealed she will wear a different dress for the reception by Moschino creative director and designer Jeremy Scott.
Nollywood actress and producer, Omoni Oboli looked like a stunning bride on the cover of TW Magazine's latest issue. We love everything from her hair, makeup to the outfits.
People Magazine announced that Ariana Grande and Pete Davidson are engaged. They shared the news on Instagram; see the post below;

Surprise! ? #ArianaGrande and #PeteDavidson are engaged. Click the link in our bio to read about their whirlwind romance that started just several weeks ago! ? |#Regram @arianagrande

A post shared by People Magazine (@people) on Jun 11, 2018 at 1:11pm PDT
Newlyweds, Meghan Markle & Prince Harry attended the wedding of Princess Diana's niece last week. The couple wore matching outfits as they watched Celia McCorquodale tie the knot with George Woodhouse in Lincolnshire over the weekend, just four weeks after their own very high-profile nuptials.
According to Elle, Stella McCartney is about to release 46 replicas of Meghan Markle's royal wedding reception dress in lily white and onyx black. According to The Telegraph, the dresses will be priced at £3,500 each (approximately $4,649) as part of McCartney's Made With Love capsule collection
Still on royal wedding news, next in line for a royal wedding is Princess Eugenie, the daughter of Prince Andrew and Sarah, the Duchess of York. The royal will be saying I Do to Jack Brooksbank on the 12th of October, 2018 at St. George's Chapel in Windsor.
That's it for this week. See you next week for more news weekly updates.