Last week was packed with anniversaries, engagements, wedding news and more! So let's get right into it. The Jacobs are 33 years strong and counting; Tony Umez & his wife, Patsy Ogochukwu celebrated their 19th wedding anniversary; Peter Okoye (PSquare) & Lola Omotayo -Okoye; Akpororo & his wife; Serena Williams & Alex Ohanian also celebrated their anniversaries. Hailey Baldwin is Mrs Bieber!
We have a long post today so let's dive into last week's news like this photo from #TheBewz2018's pre-wedding shoot by Awgzz.
Did you miss Ololade's grand entrance with her aso–ebi ladies at her #LOAkation18 traditional wedding. The bride and her girls arrived in a boat. Check it out below;
Nollywood veterans and couple, Joke and Olu Jacobs celebrated their 33rd wedding anniversary. In a post on Instagram, Joke Silva – Jacobs captioned a photo "33years and counting… for all we are and all we have achieved… so far… thank you, Lord. It's all by Your Grace. Happy Wedding anniversary Oludotun Baiyewun ??King of my Heart?". We love their love!
Still on anniversaries, three appears to be the magic number this week. Nigerian comedian, Akpororo and his wife celebrated their third wedding anniversary last week. He shared the post below on his page on Instagram
Nollywood actor, Tony Umez also celebrated his 19th wedding anniversary with his wife, Patsy Ogochukwu. The actor serenaded his wife singing Tosin Martin's Olo Mi, one of our favourite Nigerian love songs.
Can you believe it's already been a year since Serena Williams & Alexis Ohanian got married! Happy first anniversary to the couple!
We told you last week was full of anniversaries! We have more. Peter Okoye from PSquare and his wife, Lola Omotayo – Okoye celebrated their 5th wedding anniversary on the 17th of November 2018. According to Peter, they have been together for over 16 years but married for 5 years. He shared a two-part heartfelt message to Lola on Instagram
Remember Cara De le Vingne's outfit to the royal wedding! She was one of our best-dressed guests at Princess Eugenie & Jack Brooksbank's royal wedding. Did you know she had to take permission from the bride to wear a suit to her wedding? According to News.com.au, Cara sent a text to Princess Eugenie and she replied saying 'Of course, I expected nothing else from you!' The royal protocol strongly suggests the dress code for women at royal weddings is a modest day dress and a hat. Cara wore a three-piece suit complete with tails, a top hat and a toothpick.
Bollywood couple, Deepika Padukone and Ranveer Singh are married! According to The Times of India, the couple had a destination wedding in Lake Como, Italy. Deepika shared photos from their wedding on Instagram on the 15th of November, 2018.
We love a bride with a sense of humour. Nigerian wedding photographer, Akintayotimi shared this photo with this really hilarious story, which we've titled 'A Thousand Reasons Why I Love You in Cash' on Instagram last week. We were in stitches!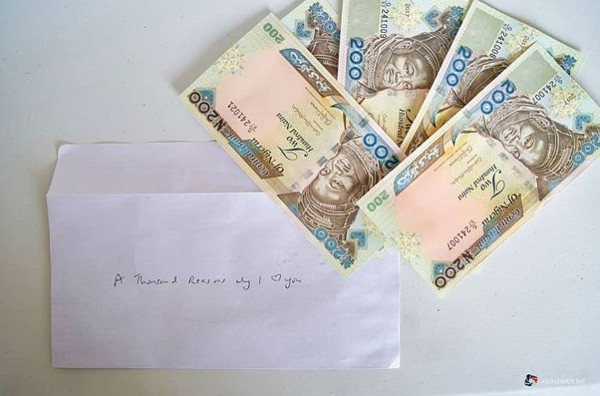 Sooooooooo, on this fateful day, I'm in the room with the bridesmaids documenting the getting ready proceedings when an usher comes in with Gift baskets for all the bridesmaids. They were all elated but because they were still getting their makeup done, no one could really open their gift bags except one fine geh like that. .

She goes through her gift bag and as usual there's a lot of " Awwwws", "omgssssss", "this is so sweet", you know women na. At the bottom of the pile she then sees a Letter captioned " A Thousand Reasons Why I love you " … Instantly she goes nuts, – omg guys she wrote me a Letter, she begins to march on the same spot, waving the letter on the air like she just didn't care, other bridesmaids began to gather around, Oya open it na, madam favourite bridesmaid, let's see what the reasons are.

At this point as a sharp shooter I'm ready for water works and tons of emotions from everyone. Slowly and gently Madam favourite bridesmaid opens the letter, Lo and Behold, it was 1000 naira inside in 200's. ????? mahn my knees were weak, ???? Fam!!! Fam!!! Fam!!! I gave up, I went outside to laugh for like 5mins before I could shoot again.

In case you're still not sure if Hailey Baldwin and Justin Bieber are married. Well, here's all the confirmation you need. When the Instagram handle gets updated, you know its REAL! Hailey's bio now states 'Hailey Rhode Bieber'. Congrats Justin & Hailey.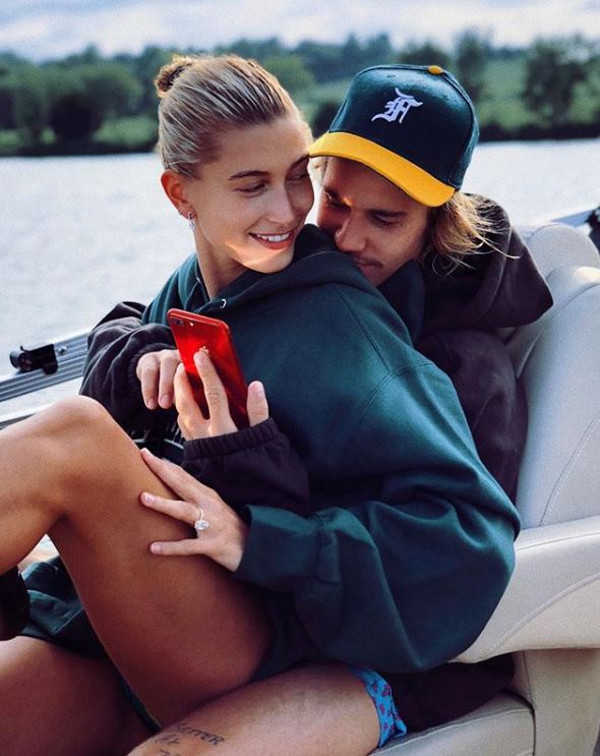 According to Punch NG, Intan Syari lost her fiancé, Rio Nanda Pratama, in the Lion air crash on the 28th of October. He was reportedly heading home for the wedding after attending a conference for work. On the day they were supposed to get married (the 11th of November 2018), she shared images of herself in her wedding outfit on Instagram.
Singer, Lamboginny is engaged! The musician asked his girlfriend, Taccara Rae to marry him recently and shared the news on Instagram. Taccara Rae is a fast rising acrtress and she featured in his video for 'Give me Love'. Congratulations #LingandLamb!
Actress, Zoe Kravitz is engaged! She first announced her engagement to actor, Karl Glusman in her Rolling Stone cover story last month by saying "Oh yeah, I'm engaged. I haven't told anyone yet – I mean, I haven't told the world. I want to keep it private." However, on the 12th of November, 2018 she uploaded a photo of her and Karl from the premiere of her latest movie, Fantastic Beasts: The Crimes of Grindelwald with the caption "♥️ ? ♥️"
Toni Braxton told E! News she will be married before the end of 2018. Toni, we're ready whenever you and Birdman are, We can't wait to see how beautiful you both look on your big day!