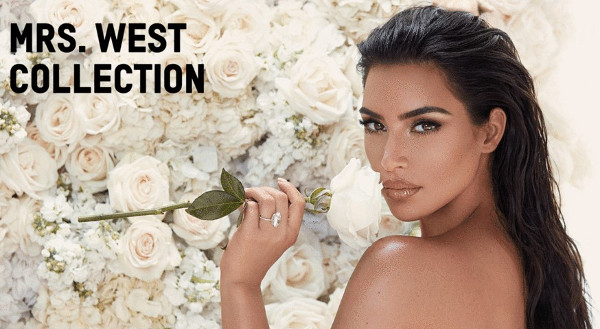 Kim Kardashian announced the launch of her brand new bridal makeup collection tagged 'Mrs. West'. According to Kim, the collection is inspired by the makeup look Makeup by Mario created on her actual wedding day. The collection launched earlier today on Friday, the 24th of May 2019. 
The Mrs. West collection features "a 6-pan eyeshadow palette with shade names like PLEEEASE MARRY MEEE!!!, May 24, Just Married, Mrs. West and more references to her wedding to Kanye West five years ago.
The makeup collection also features a pink nude Love lipstick, a warm nude Love lip liner, a blushing nude Soulmate gloss, a champagne gold Forever highlighter and a mid-tone pink Flower wall blush.
When we checked the KKWbeauty.com website, a number of products were already sold out so well done Kim.