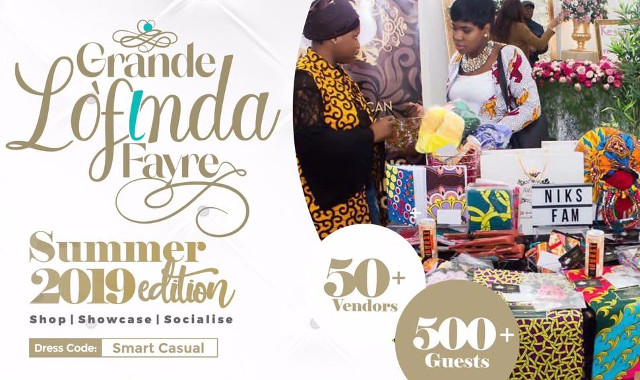 The Summer 2019 edition of GrandeLòfindaFayre (GLF) is set to hold on the 10th of August 2019 at the Ark Royal Venue, Lea Valley Leisure Complex, Meridian Way, Lower Edmonton, N9 0AR. The fayre, which will feature talks, exhibitions, a runway showcase and more, is scheduled to kick off at 11 a.m. and close at 6 p.m. According to the organisers of the event,
With over 50 Businesses showcasing their products and services and over 500 Guests expected throughout the day, this special event offers an exciting time of shopping, networking, giveaways, games and all-round summer fun."
The event will also feature keynote speakers such as accountant Mr. Bidemi Arowolo of Nathan Arrow and lifestyle enthusiast Ms. Maria of Do Better Everyday who will be speaking about how the audience can improve themselves, their businesses and their lifestyle.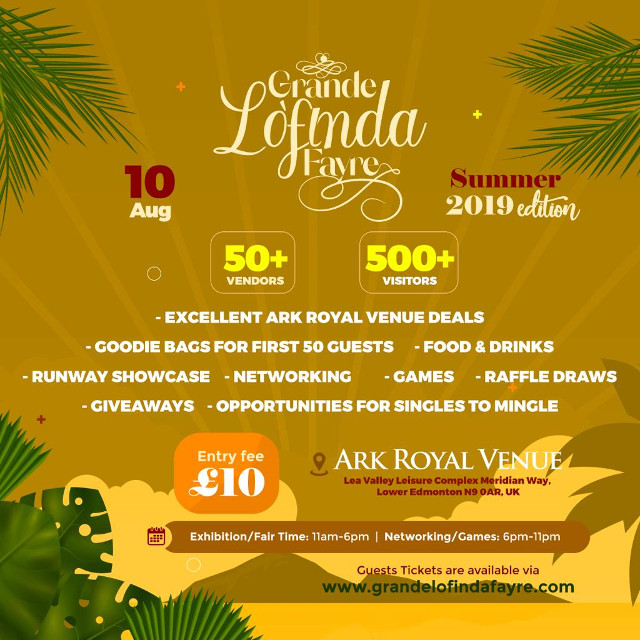 GLF presents the perfect opportunity for business owners to make new contacts, increase their exposure, grow their network and get connected to more of the right clients. So if you're interested in exhibiting and booking a stand, get in touch with the organisers ASAP
Tickets to the event cost £10 and you can get your tickets here.
For sponsorship and marketing opportunities, send a mail to hello@grandelofindafayre.com
GrandeLòfindaFayre (GLF) is sponsored by Lòfinda, GrandeMémoireEvents, LoveWeddingsNG, YANGA TV!, Ark Royal Venue, MrandMrsLapel, Bizzy Bees Cupcakes, MC Adey, Mo Sounds & Events, FunFactorbyFF, SlickPhotography, Neostratz, Dreamwish Films, KehOlaleye, and Wedding Kloset.
About GrandeLòfindaFayre
GrandeLòfindaFayre (GLF) is the UK's biggest multicultural marketplace and wedding exhibition show. GLF was created to provide powerful networking opportunities for UK based African, Caribbean and Asian owned businesses in the fashion, beauty and wedding industry. GrandeLòfindaFayre hosts two events annually – a Winter Wedding Exhibition and Summer Marketplace/Networking event.
---
LoveWeddingsNG is a media sponsor for GrandeLòfindaFayre Summer 2019