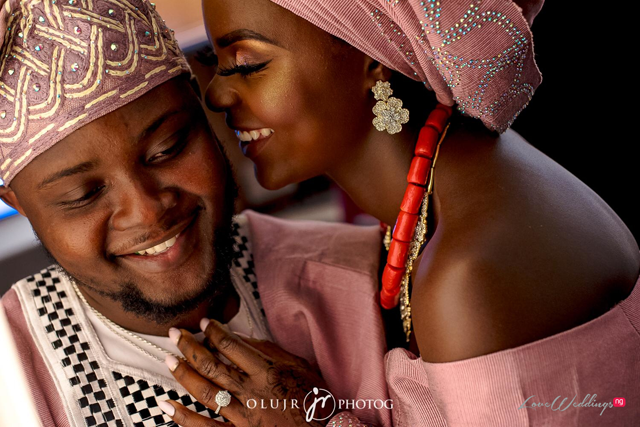 Monsurat (Mausi) and Abdallah Mohammed (AJ) got married on the 6th of September 2019 in Chicago. Their #MoDallah2019 wouldn't have been possible without the intervention of Mausi's friend, Patricia who thought they'll be a perfect match for each other. He sent her a text asking her to come downstairs; her friends persuaded her to go and the rest is history.
It's time for another love story on LoveWeddingsNG. Enjoy!
How I met him
It was 2009 and we were in college; my dear friends and I were conversing as usual. This particular conversation was about dating. Then a friend named Patricia (Patty) said: "Mausi, I know a guy you will like and he is also Muslim". I took her seriously. Every time I was in her apartment, she would indirectly talk about this guy. Then came the annual ACA reggae party and Patricia had invited this guy she claims is perfect for me.

While we were getting ready for the party; on our way out… There he was, Abdallah Mohammed. I was always a shy person and so was he, so there was not much of a conversation between us. We were introduced, then we went our separate ways to the party. All night, I knew I was the center of his attention which put me in deep thought the whole night.

The next day / the aftermath of a good night. It was very early in the morning when I got a text message from a random number saying "I am downstairs". I instantly called Patricia to confirm if she gave my number to him and she did. My friends convinced me to go down to talk to him… I went down that day and the rest is history.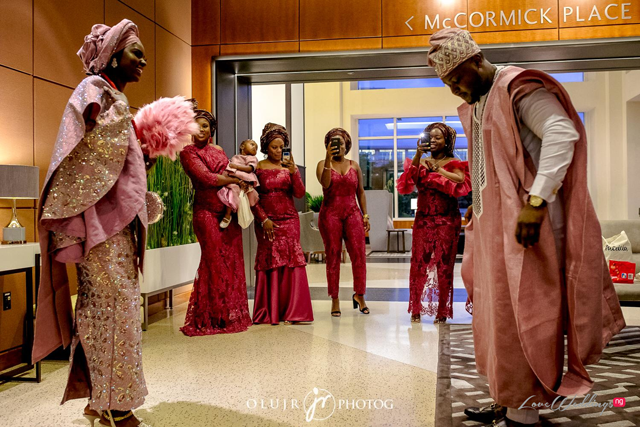 How I met her
It was way back when Skype was really the best way to video chat or have any form of communication. As usual, I would video chat with my friend Patricia just to catch up and just converse about life. Fast forward to the conversation we had about Monsurat Okesanjo… she was like "I have a Muslim friend I think you would like", so typical me was like "yeah whatever".

Monsurat lived above her in the same apartment building at U of I. Somehow, Patricia managed to convince Monsurat to come downstairs and talk to this stranger via Skype, and that's when I started putting my game on her lol!!. It felt just so right talking to her for that brief moment. After that day, I would be on her Twitter page stalking her and we would chat on there or via Skype.

The first time I was going to meet her face to face was during the annual ACA reggae party. I went down to her school at Urbana-Champaign and I was in a two-piece suit. Looking back now… all I could do is laugh and ask myself what in the hell was I thinking. Patricia told me to come over to their apartment and then guess who was there when the door opened? That beautiful girl I had been talking to on Twitter and Skype with her aviator glasses. I would never forget those glasses and her leather jacket.

When I first got there, Patricia had to do the most with this encounter… she even made us take a photo before the party. Till this day, that was one of the best days of my life. I really enjoyed being with her and dancing with her all night. Before the end of the night, I got her number from Patricia.

The next morning felt like our fire had been refueled with more gas because I drove to her apartment with my boy Gordon. When I got there, I let her know that I was downstairs. We talked briefly and then I left. I remember texting her every morning after that. We would talk throughout the day and all the time. We have been stuck together ever since then even when the world frowned on us.

We have been together through the ups and downs and I would continue to love her like a bad kid loves breaking shit.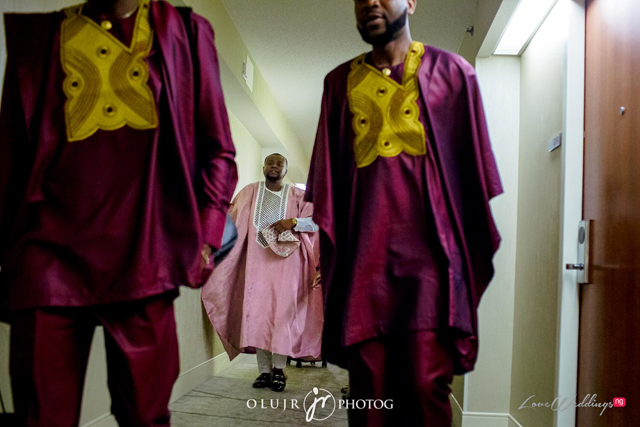 The Proposal
How he proposed (her version)
Before AJ proposed, we had always discussed marriage and how we will someday get married. After 6 years of dating, both in and out of school then finally finishing our first degrees; I knew it was coming. We had gone ring shopping together years, months, weeks, days prior. We looked at various rings and even talked about what we would want for our wedding someday.

It was the year 2016, this year AJ asked for us to celebrate our birthdays together as our birthdays are only one month apart. I had suspected something because AJ does not like birthday dinners. Although I suspected AJ would propose, I couldn't find a ring so I thought maybe I was wrong and this wasn't it.

We worked together to gather our close friends to celebrate with us over dinner. Then on Saturday, the 23rd of July 2016, we were at dinner with our close friends and it was time to cut the cake. I knew something strange was going on but I wasn't sure what. Everyone, including AJ, was acting soo strange. My brother, cousins, friends, and everyone that never shows up to anything were present lol. Then I got butterflies in my stomach, becoming very nervous. I was thinking "AJis too shy to do this here, in front of all these people".

Then it happened, my best friend, soulmate, love of my life was on his knee asking me to marry him with the ring I fell in love with months prior. So, of course, I said YESSSS!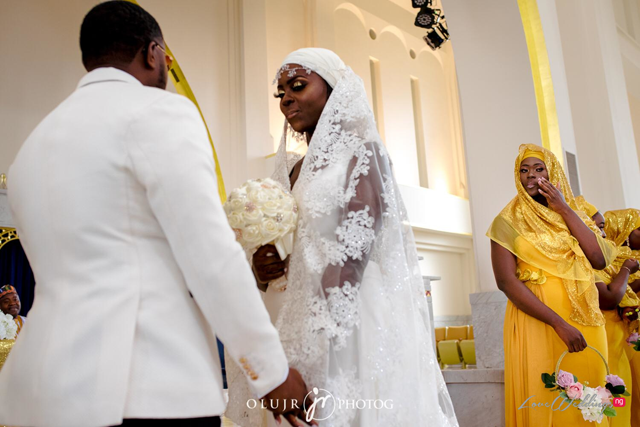 How I proposed to her (his version)
It was a Saturday, the 26th of March, 2016… we had decided to go to the mall as usual, but for some reason that day, we decided to go into a jewelry store just to look at rings and check our ring sizes. I had no intentions of getting Monsurat a ring that day, even though marrying her was always in mind.

The first ring she tried on that day caught both of our eyes and immediately I thought to myself "this is it and I have to come back to get it". We asked the employee: "how much is it" and the price she gave was so high that it was easy to convince Mausi that she was not going to get that ring.

The whole car ride home, weeks and months later, Mausi was talking about this ring; I kept telling her "it's too expensive, I cannot afford that". She was so sad because the employee at the ring jewelry store had told us, the ring was specially made and it was the only one made. Monsurat just knew that ring would be gone and she wouldn't have it.

Fast forward a couples of months later, I went back to that jewelry store, I walked straight to that ring (which was still there) and I told the lady this is what I wanted. She remembered me and was like: "do you want to look at anything else?". Before she was even done the speaking, I said "NO". So, I got the ring and I wanted to find a way to propose because I was scared she (Monsurat) was going to find the ring or somehow have a feeling of something.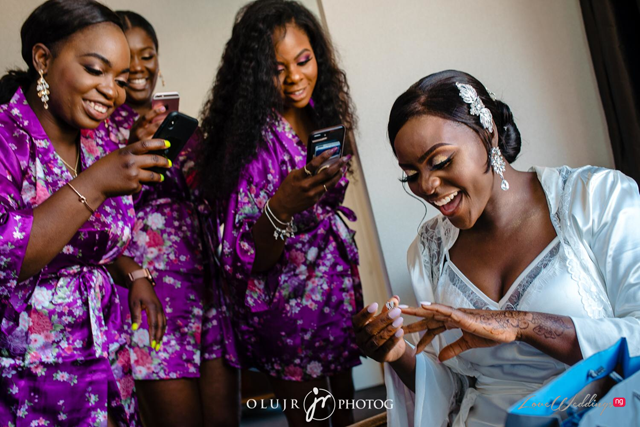 My graduation was coming up in May, so I was planning to do it then, but she got so suspicious something was gonna go down so I cancelled that idea. I wanted to get her good with the surprise because it's so hard to surprise "Investigator Mausi".

A few months later, we were planning on taking a trip to Punta Cana in the Dominican Republic and I had planned to propose then but I knew she would want most of her friends and family there, so I had to come up with another plan because they were not going on the trip.

A month later, the idea came; I told her "let's celebrate our birthdays on the same day this year since it's only about a month apart". She suspected something and was like "we've never celebrated our birthdays on the same day so why all of a sudden this year do you want to do this". It was hard because she knows I do not care too much about celebrating my birthday. So, my response was "I think we should do something different this year".

The day before, I was really nervous; I told our friends it's going down tomorrow! I didn't have the ring in my possession, I had given it to my cousin, as I didn't want all that hard work to go to waste knowing Monsurat.

The proposal was supposed to take place on the rooftop of ZED 45 but Mother Nature did not agree with my idea and it started to rain after people made their appearance on "African Time". Lucky enough the staff there were nice enough to open their wine cellar. We proceeded to cut the cake and it was time to make a wish and blow out the candles; that's when I said "all I really want for my birthday is a YES", then I went down on one knee and asked her "Would you marry me" and of course she said "YES" lol. I was really relieved from all the anxiety and till today, this was one of the best days of my life!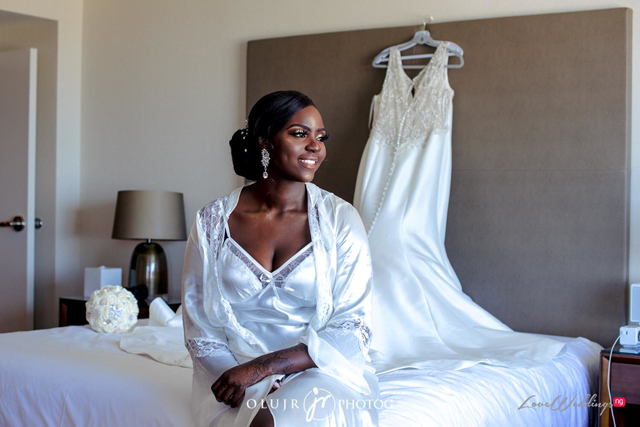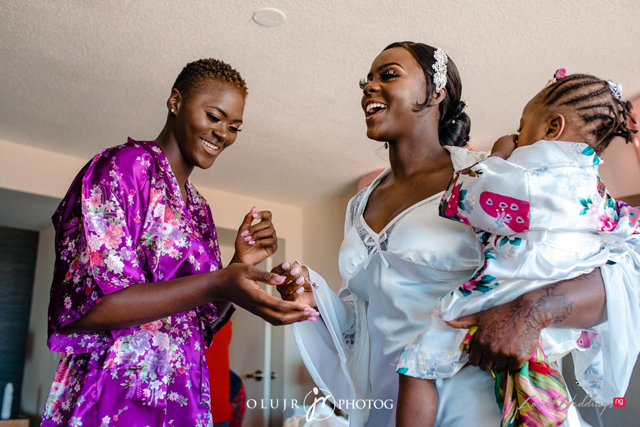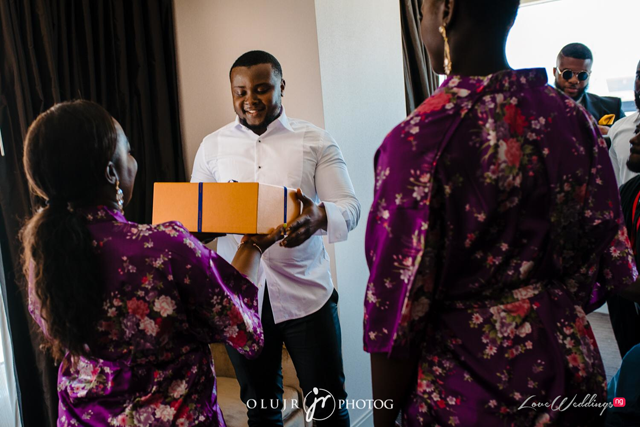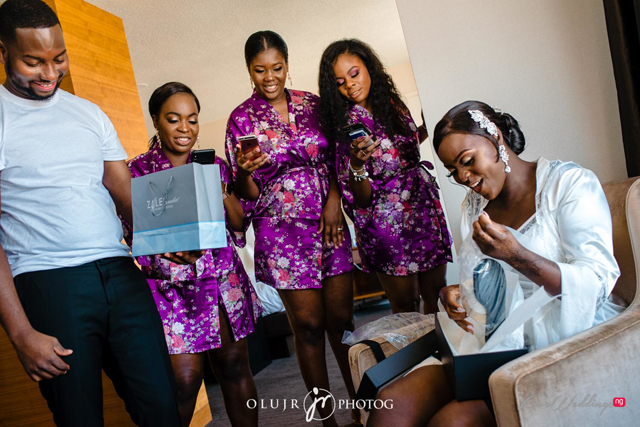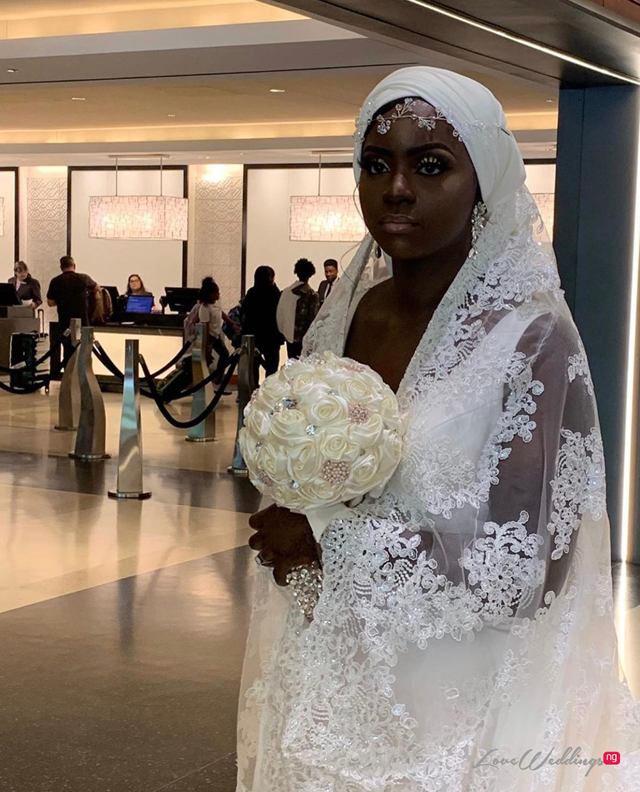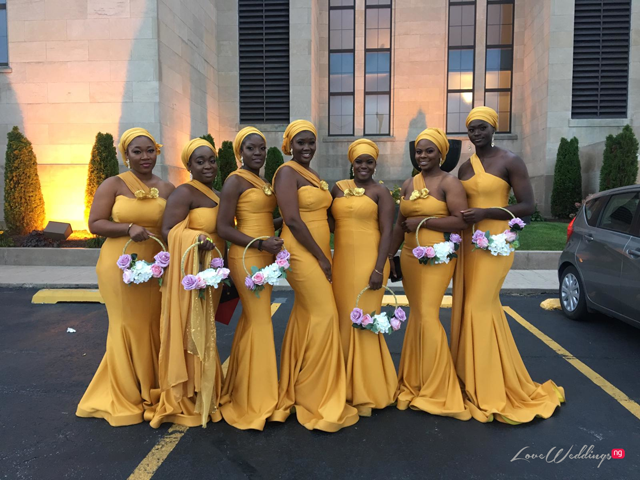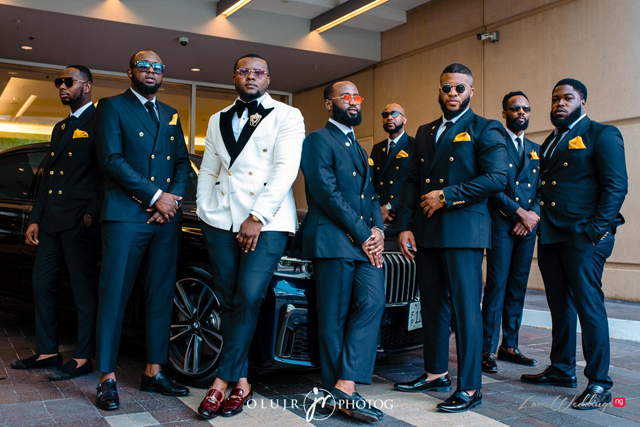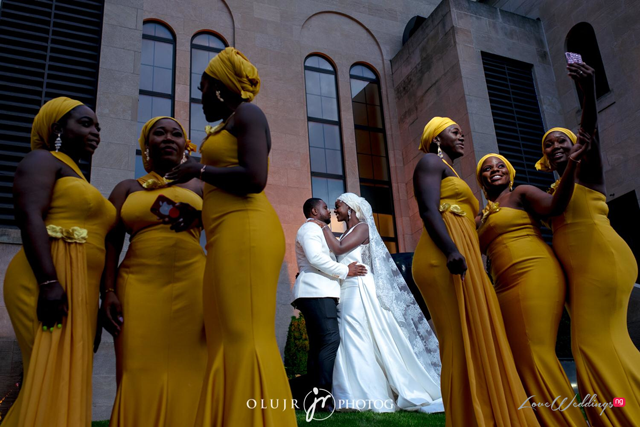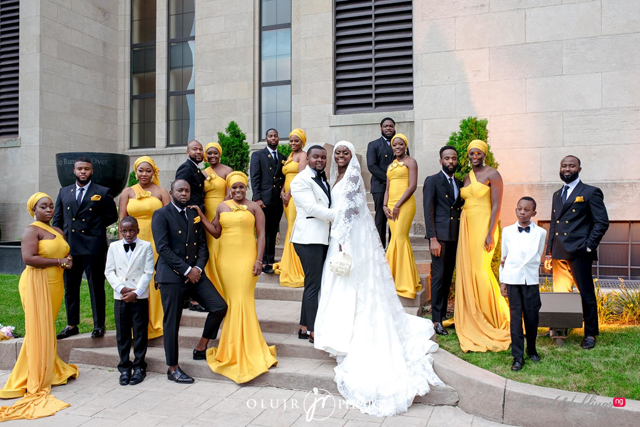 Traditional Wedding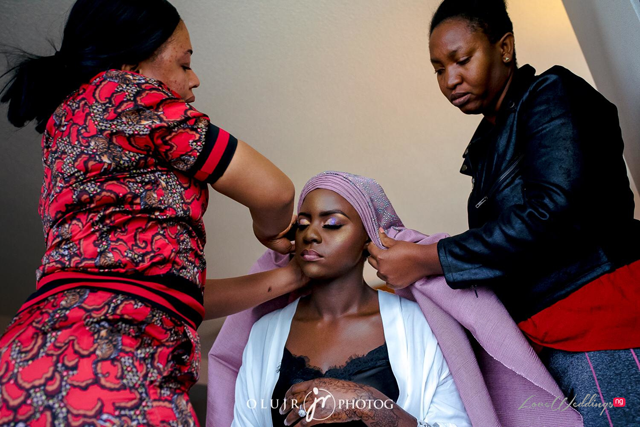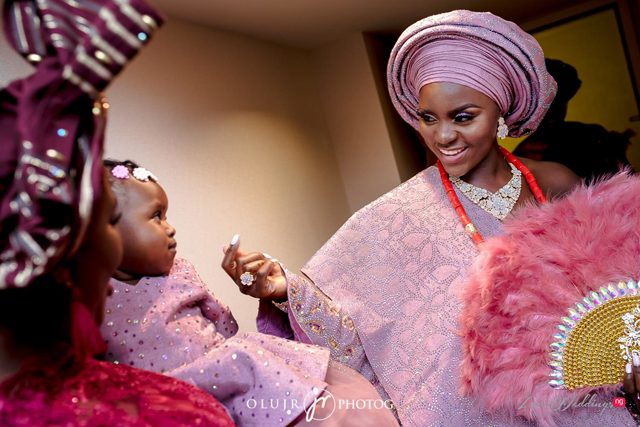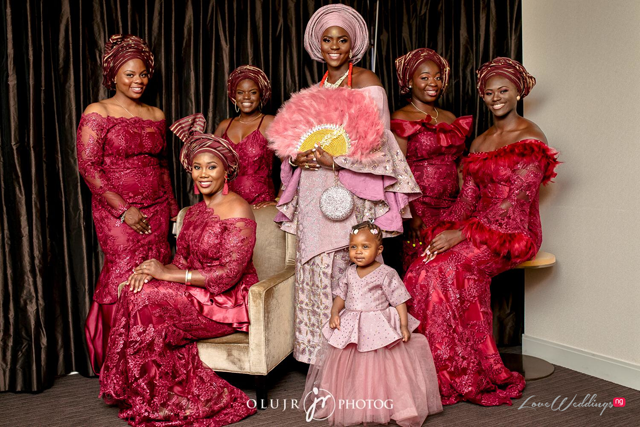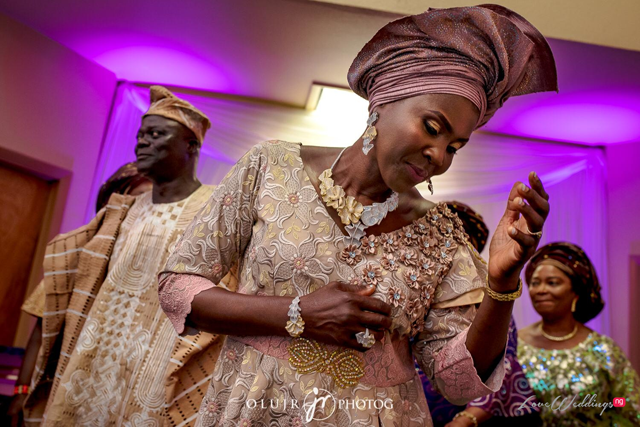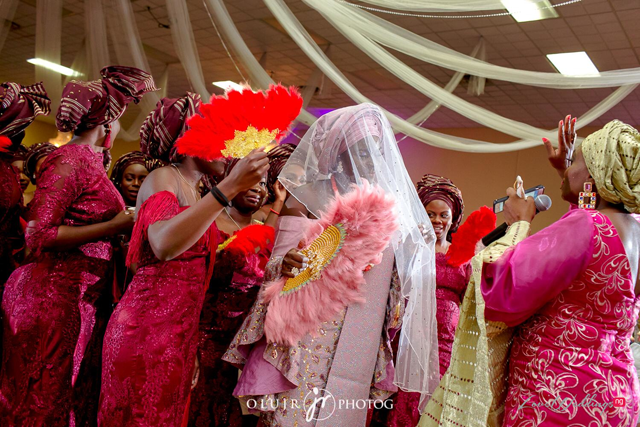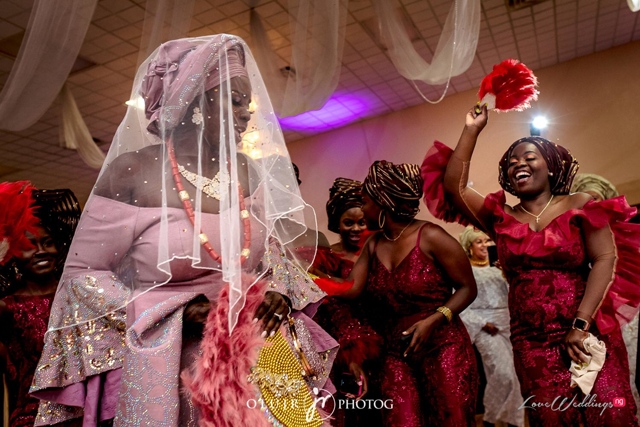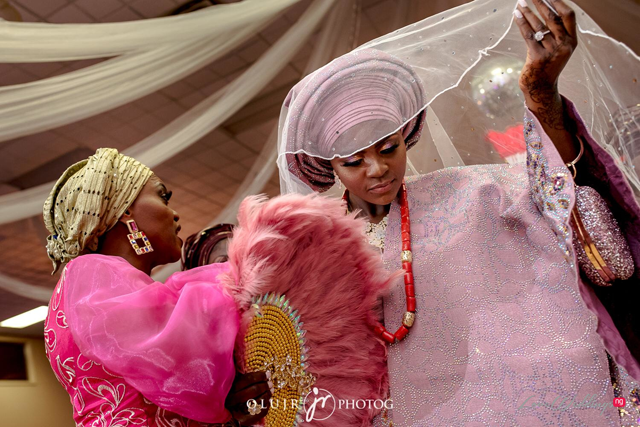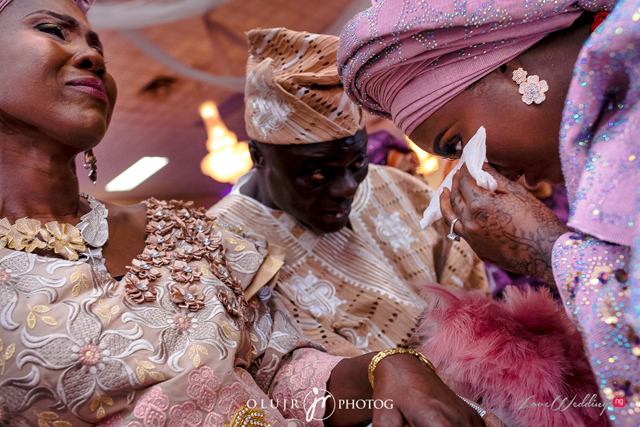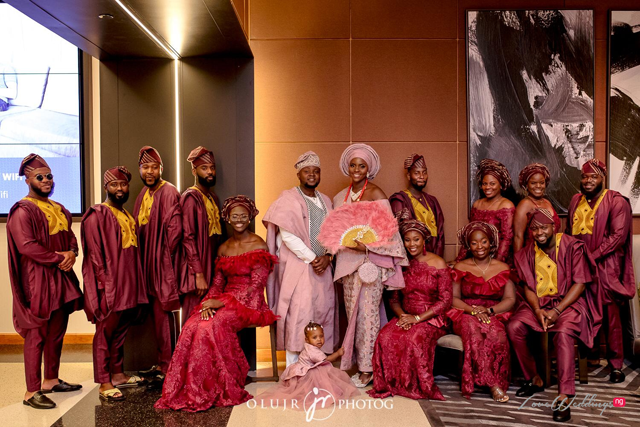 Vendors
Photography: Olu JR Photography
Planner: Kaff Event
Decor: Minga Deco
Aso oke: Herthesir Concepts
Makeup: Stacey MUA
Shoes: Jrenne Shoes | Gucci
Bridesmaids' dresses: Puducci
Groom's suits: Femy Toys