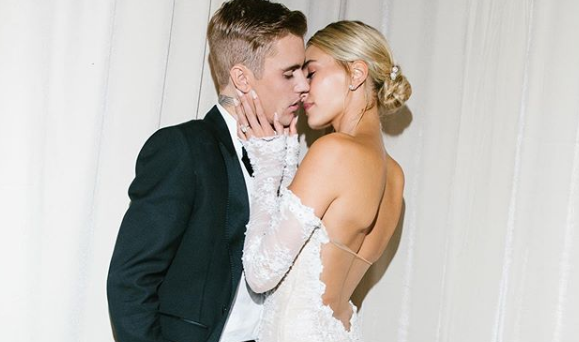 Its no longer news that Hailey Baldwin (Hailey Bieber) and Justin Bieber celebrated their wedding for the second time in a lavish ceremony on the 30th of September 2019. As more details about their intimate and luxurious wedding make it to the 'Gram, we're seeing that Hailey is one of us. A lot of elements from their wedding ticked a lot of boxes for us. From her custom outfits to bridal sneakers and more, here are 5 reasons why we love Hailey Bieber. 
1. Two weddings: As you know, most Nigerian weddings are celebrated in more than one ceremony. Most couples would usually have at least 3 different ceremonies – the introduction, traditional and white wedding and we love it. Hailey proved to be our type of bride as she has had two wedding ceremonies so far. She and Justin had their first wedding, which held in a registry, in September 2018 followed by this lavish ceremony in September 2019. 
2. Hailey wore a custom cathedral veil, which had the words 'Till Death Do Us Part' engraved on it. This is so extra and totally reminds us of a lot of brides we've come to love.
3. Three outfits: Hailey wore three gorgeous custom made wedding gowns for her wedding. For her first look, she wore a custom Off White dress by Virgil Abloh. Hailey's stylist, Maeve Reilly shared that it took "a year in the making, 4 fittings all over the world, countless calls and ideas". 
For her second look, Hailey wore a custom dress by Vera Wang paired with sneakers as she danced the night away.  You know how much we love brides who choose comfort over fashion but still slay while at it. Well! Hailey understood this and nailed the look perfectly.
And finally, for the third look, she wore a custom dress by Ralph and Russo paired with Jimmy Choo shoes and jewellery by Tiffany and co. 
Credits: Instagram |Maeve Reilly | Hailey Bieber | Justin Bieber