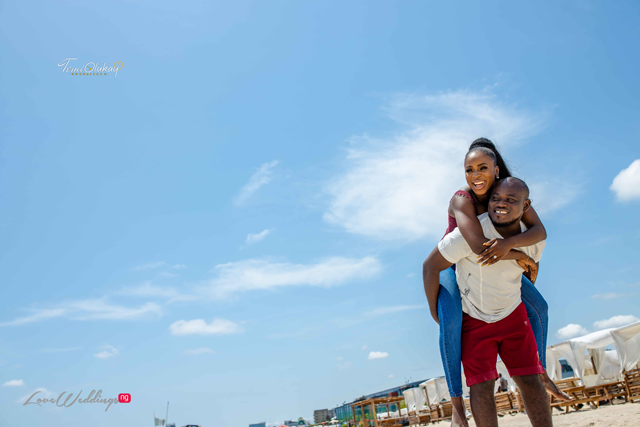 From bumping into his missing rib at an event to finding her handle on Instagram and proceeding straight to Whatsapp, here's the story of how Hope Obeten and Mina met and fell in love. 
His story 
When I got the invitation to join other top media personalities on a panel sessionat the 2nd edition of the Calabar Entertainment Conference organized by Hit FM Calabar, little did I know it was about to be the end of a search for me, I found my missing rib!

As a panelist at the conference, I was seated at the front roll and in my usual manner, minding my business. But these two ladies sat right behind me wouldn't let me concentrate with their chit-chat and loud laughter so I turned to caution them but wow, I got more than I bargained. I was struck by Mina's charming beauty immediately I set my eyes on her.

I turned to my friend sitting next to me and told him "Brov, this girl behind me is extremely beautiful", He encouraged me to get her number. I told him, "No, I can't be seen doing that in public."

Deep inside of me, I knew I wanted to have a conversation with her but the gentleman in me wouldn't let me. I left before the event ended without saying a word to her with the intention to search for her on social media (FBI mode activated. Lol) but again, I didn't even know her name!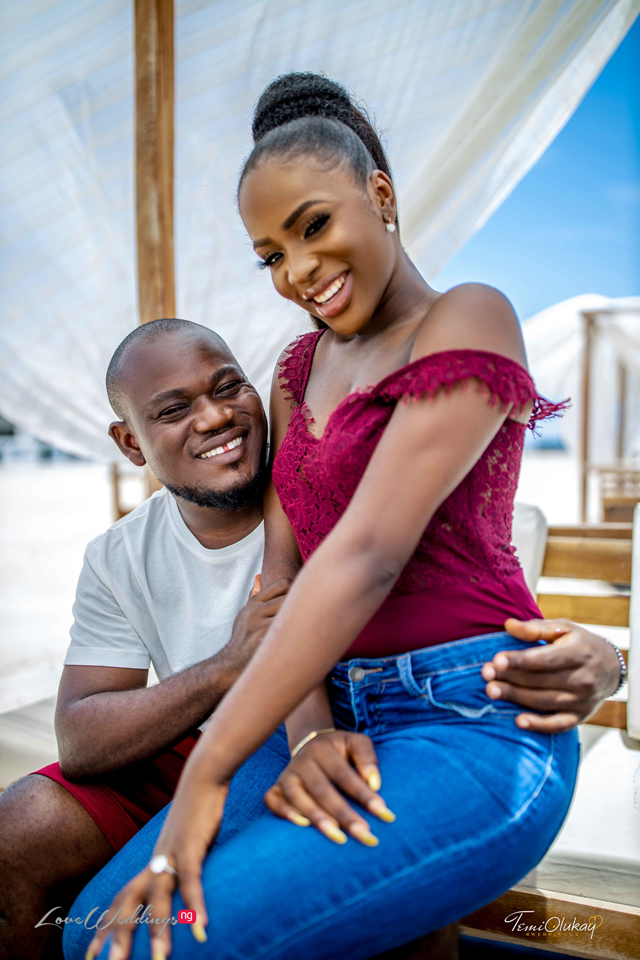 As fate will have it, a few days later after the event, someone tagged us (My blog @CalabarBlog1) on a video on Instagram. And guess what…? It was this fine sister from the event. She recorded a video of me while I was speaking during the panel session. As a correct guy, I quickly slid into her DM and asked her to send the full video to my Whatsapp number. She was nice enough to oblige without asking questions.

On Whatsapp, things got quite interesting! We became friends that chatted every day, we had the most beautiful connection like we had known each other for years. Each day, she showed me kindness and genuine friendship, even when I wasn't looking for it because, at that time, I was in another relationship.

When it was time to take things a notch higher, I asked her on a date – one that she stood me up on. We continued the friendship that blossomed into a love so deep without me officially asking her out again. Fast forward to 5 months later, I was convinced I wanted to spend the rest of my life with this lady.

So on her birthday, I asked her to marry me and she said yes. So far, she's been my rock, my best friend and she gives me the peace of mind I require to succeed. I couldn't have asked for a better wife. I am truly grateful to God for sending me an angel. She was worth the wait and I'm glad I went through some terrible relationships to make me truly appreciate this gift God has given me.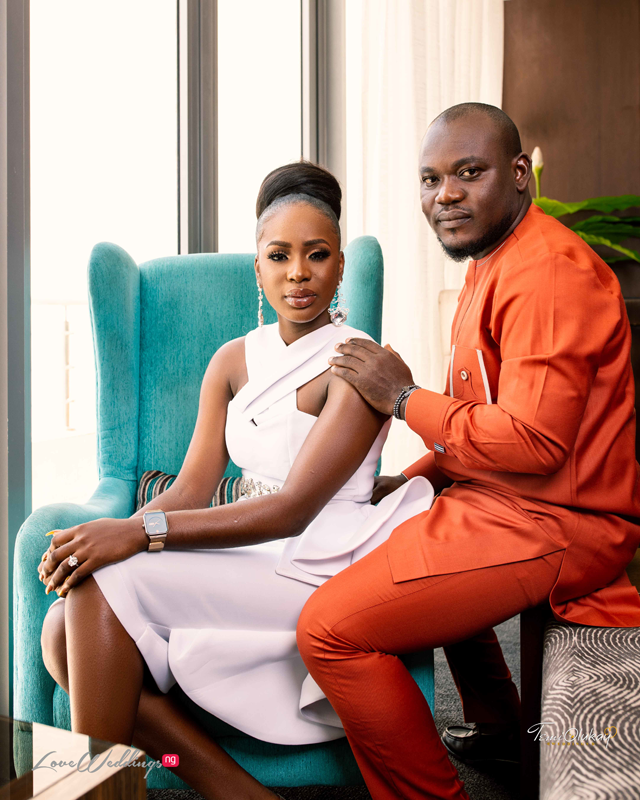 Her story
Do you know the truth about this love thing? You don't plan to love when to love, and who to fall in love with, it just happens and your heart has to be open enough to take whatever package comes with loving someone. It's also funny how life puts us in a situation where you suddenly fall in love with a total stranger and next thing this stranger becomes  family and   next you can't live without them (smiles)

Cupid, (that's what I call him) and I met not too long ago, we both attended an event (the Calabar Entertainment conference) where he happened to be one of the panelists at one of the sessions. He spoke so well at the event about how social media has influenced people's growth in the entertainment industry and so on. While he was speaking, I recorded videos of him and other speakers. 

Funny thing is after speaking, he came and sat just in front of me but we didn't talk to each other. The next day when I got home, I posted the videos from the event on my IG stories and tagged all the speakers. I tagged his blog (@Calabarblog1) so well, I didn't expect a reply from them though but the handler was like "Hello, could you forward the video to our WhatsApp" and I thought "Ok!"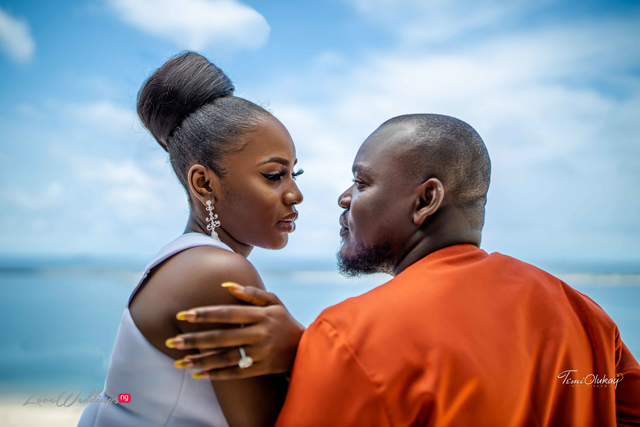 From forwarding the video, the conversation started, we got to know ourselves better. He was always seeking my attention, he always wanted to talk to me and see me but I was trying to restrict the conversation because I thought he was married. He seemed  married to me until one day when I asked him if he was married and he replied with "What do you think?"  That was when he told me he wasvery much single.

We continued talking without seeing each other for weeks.  I remember him asking me out on a dinner date, I told him I was coming but ditched him afterward. 

We became very good friends eventually, we became fond of each other, we spoke more often. He doesn't like to talk for long on the phone but we started talking for hours without getting tired of each other. There wasn't any formal asking out oh. We just grew to love ourselves each passing day.

Life has been all shades of awesome since he came into mine. His words of wisdom and encouragement have kept me going, his gentle and meek soul gives my spirit rest. Spending forever with you CUPID is the wisest decision I've had to make because I know with you I would fulfill purpose and live happily ever after.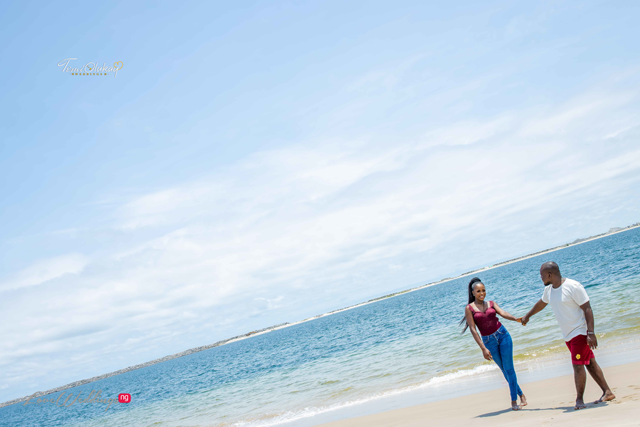 How he proposed
It happened on the 22nd of March, 2019 (my birthday). A week before then, he discussed with me that he wasvtraveling to Abuja and will not be around for my birthday. I wasn't cool with it and definitely made me feel sad but since it was an official engagement I just had to deal with it. Before he traveled, he took me to a boutique to get a dress of my choice as a birthday gift and I had my nails done… little did I know it was a script. 

On the eve of my birthday, my countenance was very low, even my mum (who I later got to find out was part of the plan) used everything and every opportunity she had to tease me. In her words; T-girl, you looked hopeless as Hope traveled and left you." 

On my birthday morning, I had no plans. I got a call from Hope's friend's wife saying she had booked a makeup session, about the same time another of his female friends called to say she had booked a spa session at a top hotel in Calabar. I thought to dress up in my new dress to take pictures after the makeup session. Then. I called my family and a few friends for a little sit out that evening.

His two friends that called earlier to say they booked the sessions, met me at the makeup studio and stayed with me the whole time. So on our way to my planned sit out venue, his friend's wife requested to stop by Calabar Harbour Hotel to get something from her husband.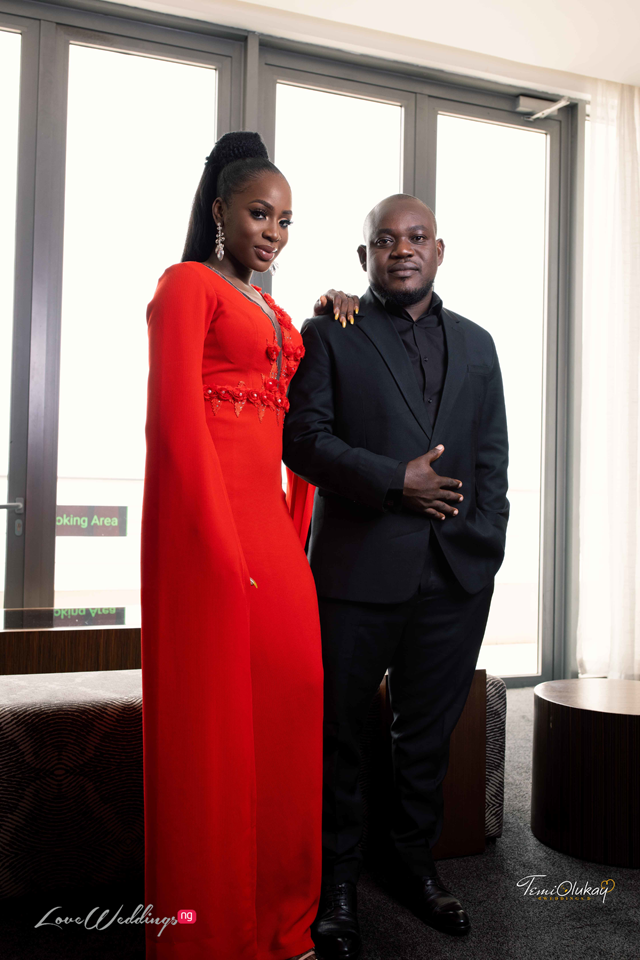 When we got there, again she requested that I follow her in, I found myself walking into a dark room, the lights came up immediately I stepped in. And there I saw my very own CUPID who was supposed to bein Abuja.  I was so shocked that I almost ran out of the room.  He held my hand and walked me through the room, I saw all my friends and family I had invited to the other venue there.

I was overwhelmed already by the birthday surprise, I didn't know there was more to it. As we walk to the end of the room, I saw the writings on the wall "Would You Marry Me?" I was like wow, I didn't see this coming, even though we had spoken a lot about spending our lives together, I didn't see it coming anytime but I'm glad I said YES.

Now we are set to start our journey to forever. He completes every bit of me and our story is gonna be a happy ever after.
See more photos from their pre-wedding shoot below;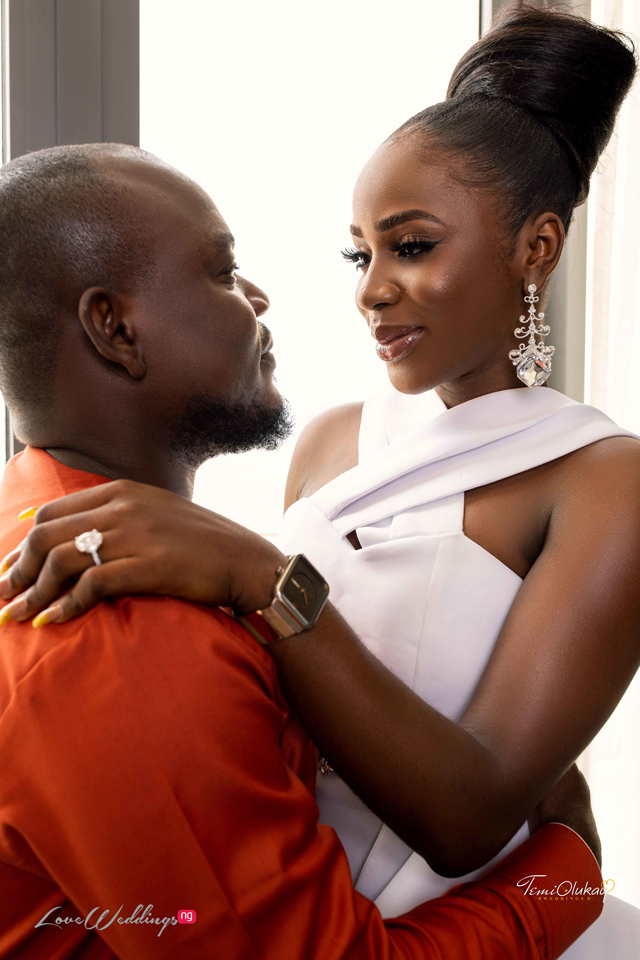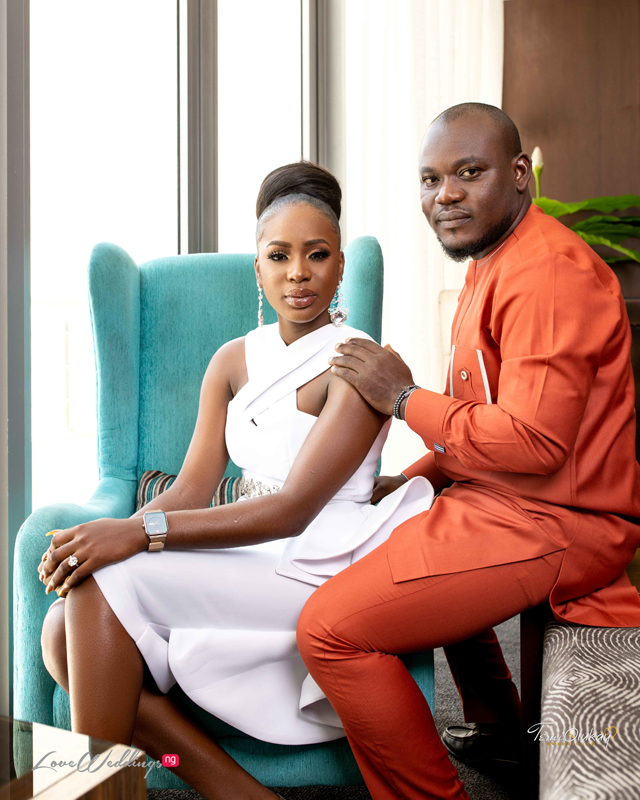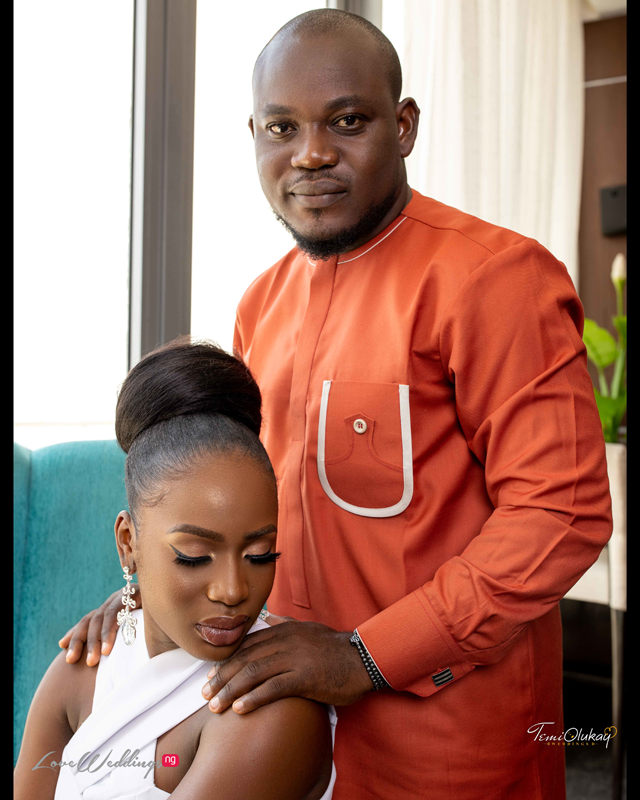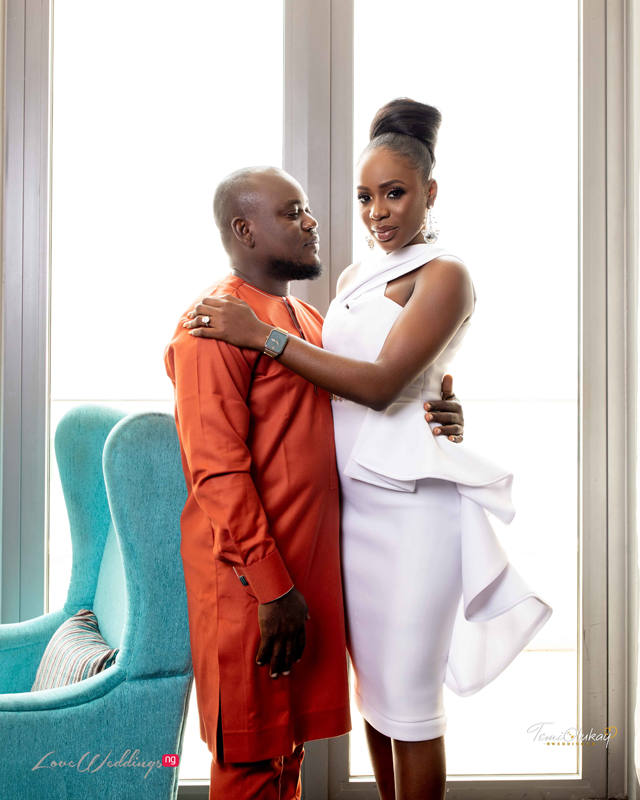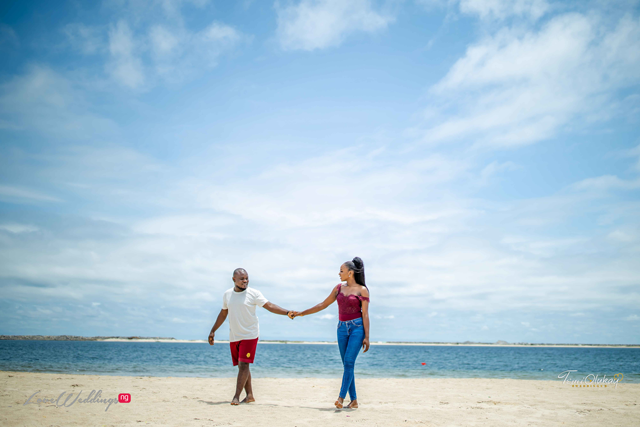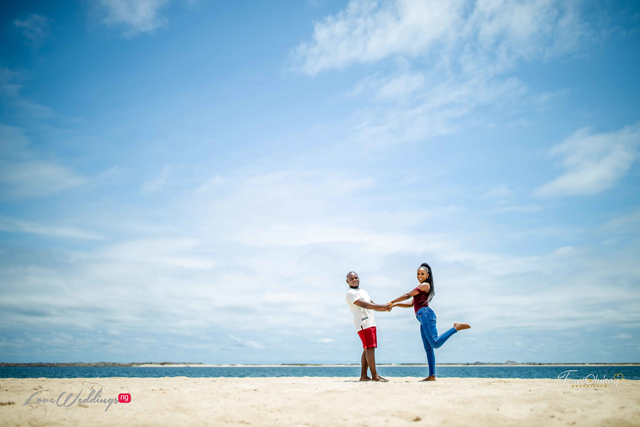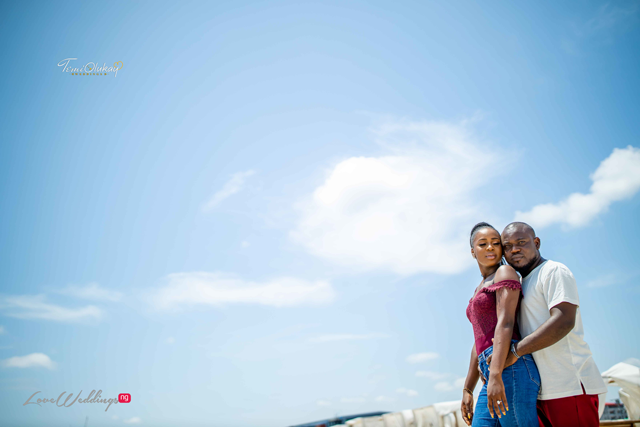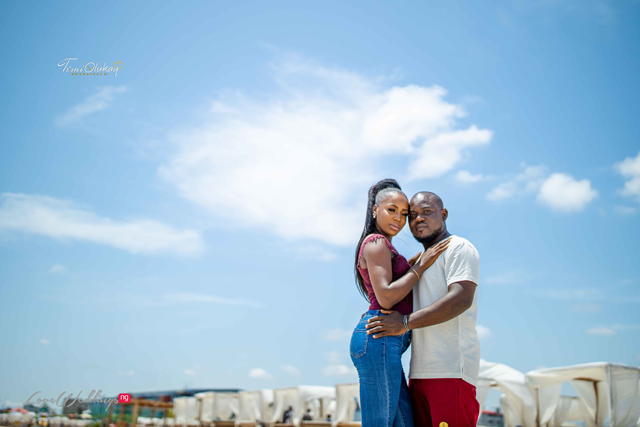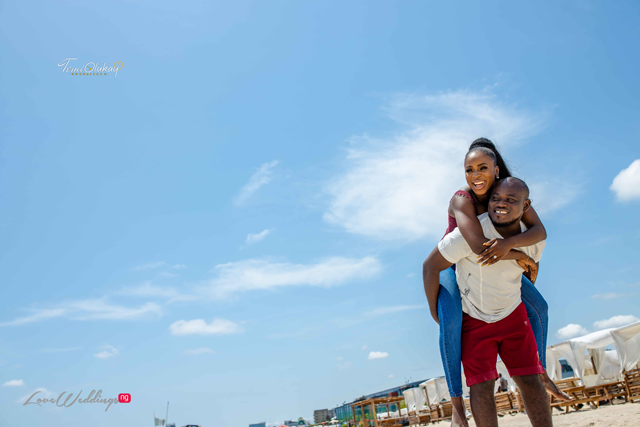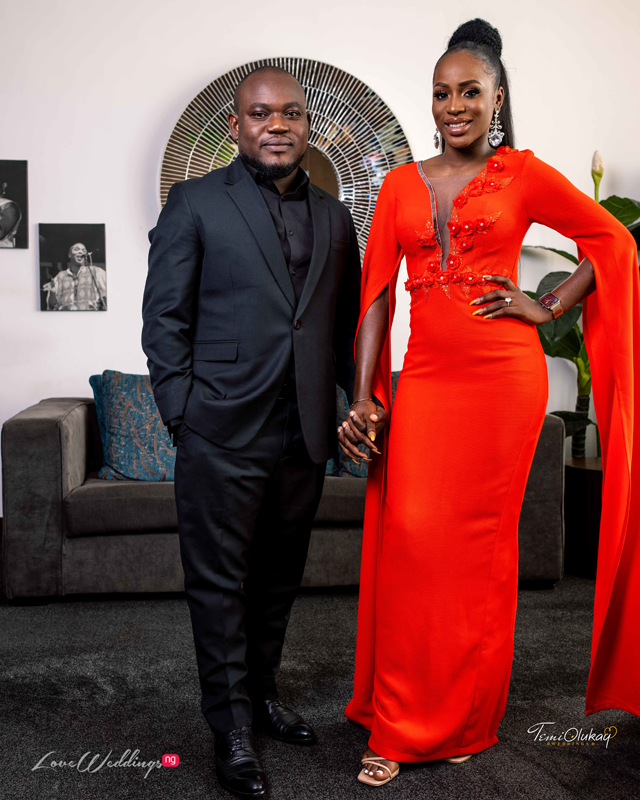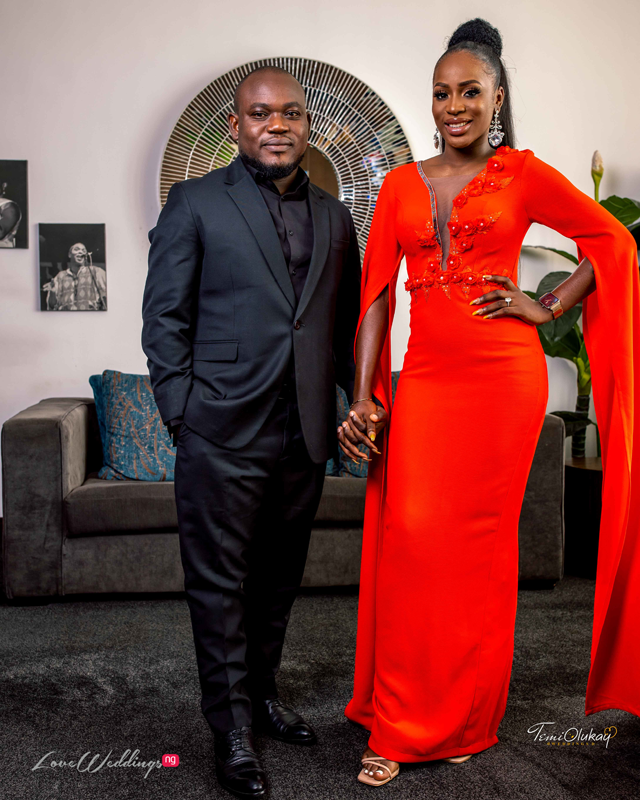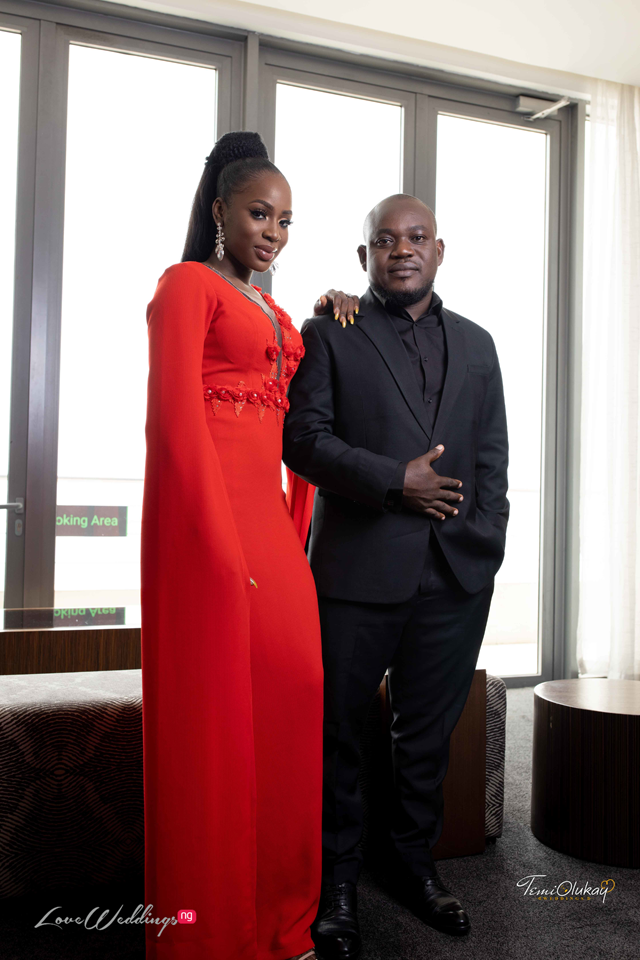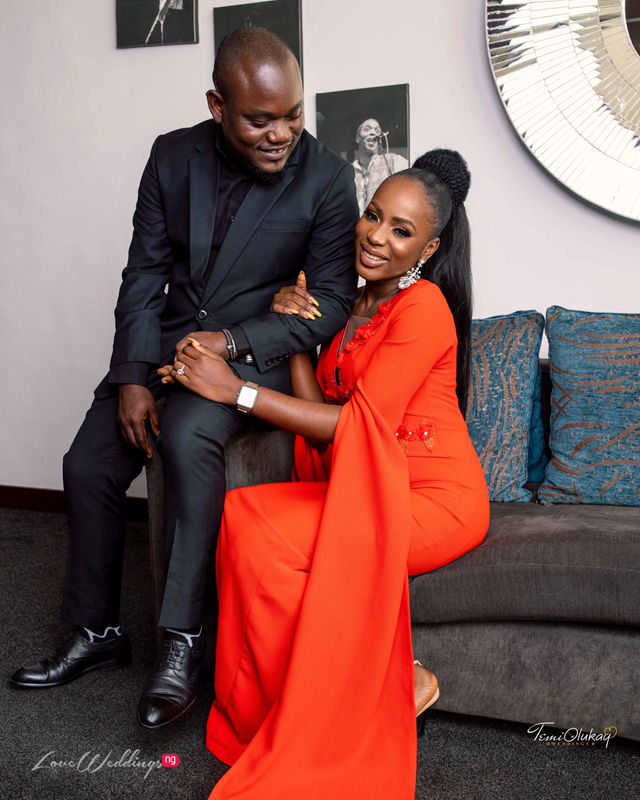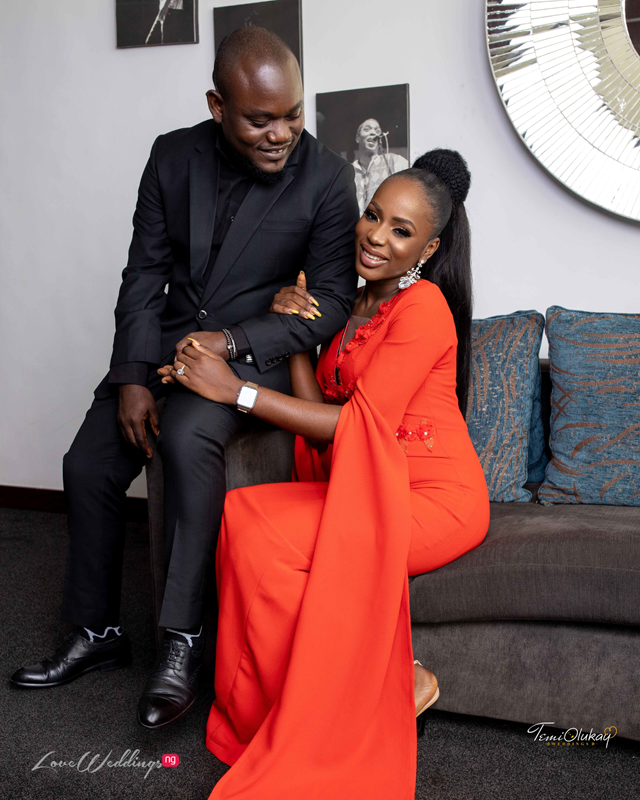 Vendors
Photography: Temi Olukay Weddings
Suit: Kenzy Stitches
Socks: Nicole and Giovanni Socks
Dresses: St Avi Clothing
Makeup: Mz Lammie
Hair: Chaff 2 Chic Ltd
Ring: Zavandi Jewelry