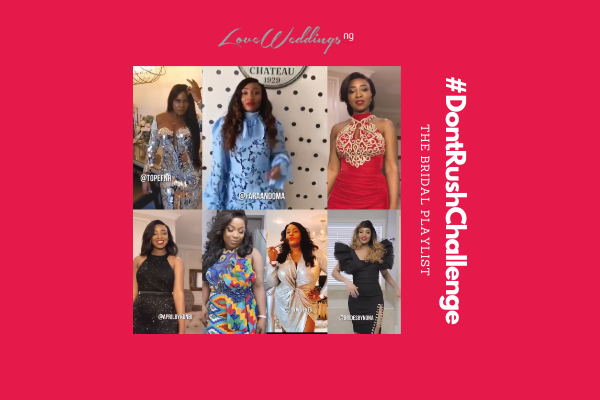 By now, we're sure you've seen so many versions of the #DontRushChallenge videos all over the internet. We've put together all the bridal and wedding-related ones you have to see! From former brides, wedding professionals to bridal styling companies, here's your #DontRushChallenge Bridal playlist
TWMBrideTribe: These brides have one thing in common; they all hired Nigeria's premier bridal styling company, The Wardrobe Manager to get them aisle ready and we love love love it.
The Wedding Pro Edition! Wedding pros came together from 12 continents to create this. Featuring designers, Matopeda King (Tope FnR), Kunbi Oyelese-Tomori (April by Kunbi), Sima Brew, Brides by NoNA and other wedding professionals, check on it!
The Pantora Bride Tribe! 10 former brides, who said 'I Do' in wedding dresses made by Pantora between 2011 and 2020 came together to produce their version of the #DontRushChallenge and we love it.
The Lagos MUA Tribe! The Lagos-based bridal makeup artist edition featuring Banke Meshida Lawal, Dodos, Tenny Coco, Labisi Sijuwade of Faces by Labisi and more. We can't decide which one we love the most; the bloopers or the actual video so we thought to share both of them
The Bridal Shower edition! Luxury bridal stylist, Memkoh Wedding Styling put together three bridal shower inspired looks. We love all 3 looks and can't decide which one we'll rock as a post-COVID19 bride
The Female Docpreneurs! If you've followed the news closely, you'll appreciate how thankful we all are to all the medical teams on the frontline as the world battles the spread of COVID-19. From Lagos, England, Saudi Arabia to Singapore, these female doctors who are also entrepreneurs came together to create their #DontRushChallenge video. One of these doctors was battling the COVID-19 virus while this video was filmed; can you guess who?
The London MUA Edition! London-based bridal makeup artist edition featured makeup artists, Joy Adenuga, Jennifer Olaleye, Lake Sanu, The Queen Hadassah, and many other amazing bridal makeup artists.

The Bakers
Are there any other #DontRushChallenge videos you think we have to see? Share them below in the comments section. We can't wait to update our list.