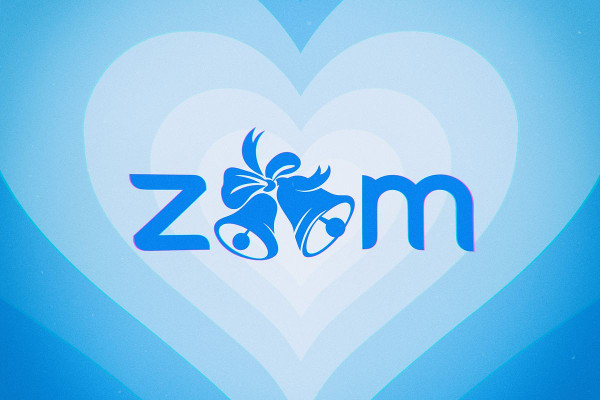 Zoom weddings are definitely taking their rightful place in these COVID-19 pandemic times and the Zoom wedding memo has definitely reached Naija. From Zoom wedding ceremonies to receptions, anniversaries, and more, here's all the wedding news you may have missed.
Zoom Weddings are here to stay! Harvesters Church, Lekki announced that it held the first Zoom wedding ceremony in Nigeria and they described it as 'a million shades of beauty'.
Nigerian event planning company, Veez Event Planners organised the first Zoom wedding reception in Nigeria for their clients, Karen and Kelvin. The couple's #LoveroverKovid19 wedding was originally planned for Easter Monday but the coronavirus pandemic affected their wedding plans. They decided to move their wedding plans online to Zoom and invited 100 guests. According to their planner, the saxophonist and DJ played from home, the MC anchored the event from home and the makeup artist guided the bride vritually. Watch their first dance below
In the United Kingdom, Zoom weddings continued to reign. A couple, Hayley and Harvey had to postpone their wedding due to the ongoing COVID-19 pandemic. They ended up having a virtual wedding, which also featured a surprise performance by British singer, Ellie Goulding.
We even got a lesson in what wedding guests wear to attend Zoom weddings by Angel Obasi (@styleconnaisseur).
The Elba's are 1! Can you believe its already been a year since Idris Elba and Sabrina Dhowre said 'I Do'? Sabrina shared a throwback video on Instagram with the caption; "Words can't describe what I felt in this moment. Walking down the aisle and seeing the man of my dreams, my best friend, standing in front of me ready to make a bond that lasts forever. You have changed my life, you have changed my world, you have changed my spirit. I thank you for the happiness you give me every day and the love you show me and my family. I can't believe it's been a year. All the memories we've made it feel like a lifetime. Let's celebrate today for our future and be thankful for the health and happiness we have. I love you Idris and I forever will. Happy anniversary ❤️ @idriselba"
Youtuber Jackie Aina's first bridal magazine cover! Jackie is on the cover of The Knot's latest issue. The bride-to-be shared the cover on her Instagram page with the caption; "This girl right here thought that she was probably NEVER going to get married ever again and find real true love. but the Lord said aht aht! Not so fast! Found my soul mate, got engaged, and then landed my first ever bridal magazine cover ?❤️ I'm so honored to be on the cover of @theknot Summer 2020 Issue, hitting newsstands and digital on April 27th!!!!! #theknotmagazine" We can't wait to get our copy.
Still on magazine covers, Nollywood actor, Ayo Ayoola (Mide from SGIT) played Nigerian groom on the cover of GMARO magazine's latest issue. The actor shared pictures from the shoot with the caption; "My first Magazine appearance this year was for @gmaromagazine and we had fun pulling this off".
The International Event Planners Summit was lit! With 4 seasoned panelists, we weren't expecting any less but Kathy Romero, Funke Bucknor-Obruthe, Anna Wang & Tedai Kevin Zhou (Kevin Wedding Planner) brought their A-Game. The ZOOM conference, which had over 240 wedding and event professionals in attendance, was hosted by Dean Carby of TEAM (Training Experiences & Masterclasses) on Friday, the 24th of April 2020 at 10.00 pm GMT.