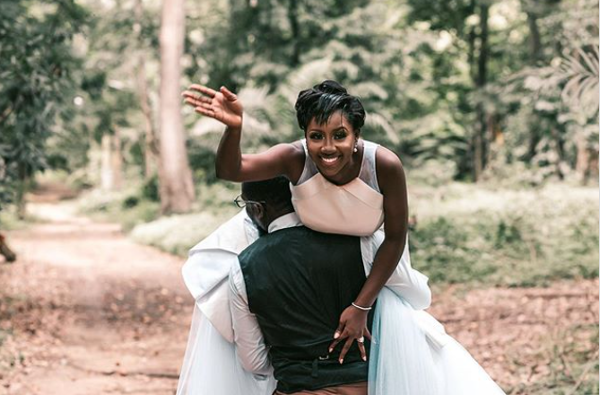 So much is going on in the world right now. In the midst of the pandemic, protests, and the call for change around the world last week, we are so glad to see love still prevail. Here's last week's wedding news.
Makeup artist, Banke Meshida Lawal of BMPRO took us into the future. If you've ever wondered how you can slay your makeup look without having to worry about your face mask getting in the way in these COVID-19 times, here's an option – buy the BMPRO Face Shield.
In all seriousness, please make sure you follow all the guidelines issued by the relevant authorities.
BBC Africa shared the story of Kenyan couple Justus and Grace Ngari, whose wedding was affected by the COVID-19 pandemic. They initially planned to have a big wedding with 2500 guests but ended up with custom wedding masks, thermometers, and 15 socially distanced guests.
On the bright side, the couple shared how their micro wedding, which adhered to the Kenyan Government's health guidelines, was stress-free and saved them a lot of money.
Nigerian wedding photographer, Yinka of The Truth Weddings, and Oludamilola Ajayi had an outdoor rustic themed wedding last week. Their #àwánjOláOlúwa wedding was planned by Glooming Event Managers.
Love always finds a way! In the midst of protests against racism and police brutality, we witnessed a lot of precious love moments from couples at the Black Lives Matter protests in the United States.
Xavier Young proposed to his girlfriend, Marjorie in Raleigh, North Carolina.
Newlyweds, Dr. Kerry-Annie Perkins, and Micheal Gordon joined protesters in Philadelphia after their wedding ceremony officiated by Rev. Roxy Morris Birchfield. According to Vogue, the couple were initially meant to have their dream wedding on the 26th of May but due to the COVID-19 pandemic, they decided to have a "micro" wedding on the 6th of June. Catch up on their exclusive Vogue wedding feature
Lara Juliette Sanders and Samuel Mekonnen joined the protest in Los Angeles after saying 'I Do'. Lara told People; "It was like a magnet attracted us to go exactly there. We had been scared, but this was a moment to say love conquers all, there's no limit for love."
Last week, we saw more micro and intimate weddings. Raymond Santana, one of The Exonerated 5 got married to Sode Elishis in Duluth, Georgia. We wish the couple a happy married life.
Lagos wedding documentary company, Glintz Photography shared their first virtual wedding experience on Instagram. The wedding, which took place in Park View Estate Ikoyi had 18 guests physically present and hundred others who tuned in via Zoom and Instagram Live.
The founder & Senior Pastor of the House on the Rock Church, Paul Adefarasin and his wife Ifeanyi Adefarasin celebrated their 25th wedding anniversary. In an Instagram post, Pastor Paul shared; "From the moment we met, you have brought to my life enduring love, brilliant light, loving laughter and have given me volumes to be thankful to our King for."
Bridal durags! Chicago designer King B, shared a picture of a custom durag she created for a wedding client's photo shoot. Do you think this will become a trend? Share your thoughts
Did you watch Lisa & Usman's wedding? TLC shared a 3-minute long YouTube video of the 90 Day Fiancé: Before The 90 Days' couple. Catch up on Lisa and Usman's wedding if you missed it.