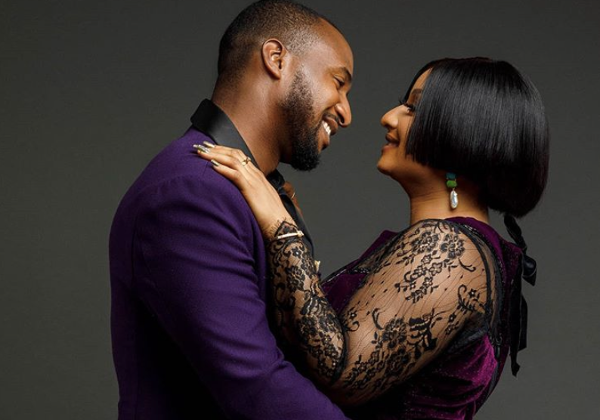 Happy new month and welcome the very first weekly wedding news for the month of July. Last week was packed with wedding news. Ghanaian music artiste, King Promise's manager got married, David & Victoria Beckham marked their 21st wedding anniversary, we all binge-watched Say I Do on Netflix and Omawumi shared her truth about marriage and motherhood in a recent interview. Check out all the wedding news you may have missed last week.
Ade & Ade! Nollywood actors, Adetola Adedimeji Lateef and Oyebade Adebimpe shared photos on social media, which sent the internet wild. The photos show the actor and actress in full wedding outfits; Adetola rocked a suit from Kimono Kollection while Adebimpe looked stunning in a bridal gown from Brides n More. Even though a lot of fans have wished the couple congratulations; multiple sources report that the pictures are from the set of a movie Adetola and Adebimpe are both starring in.
Have you seen Say I Do on Netflix? Starring event designer – Jeremiah Brent, fashion designer – Thai Nguyen and chef – Gabriele Bertaccini, the reality TV series features eight different couples and follows each groom as they propose to and marry their partner's dream wedding ceremonies. Check out the trailer below;
Ghanaian music artiste, King Promise's manager – Gervin Ohene Addo, got married in Ghana. The event was attended by top Ghanaian artists like King Promise, Darko Vibes, Omar Sterling and Kill Beatz. King Promise, who also performed at the wedding reception, congratulated Gervin on Instagram. He shared; "Congrats my brother & manager on your marriage. May this be a journey of happiness & peace. This guy here is real one & i won't be here if not for his dedication & hard work! Love you fam @ohene_faruku & congrats once again Mr & Mrs Addo! ? #LLE"
Is Khloe Kardashian engaged? This question made the internet rounds last week after the Keeping Up With The Kardashian star shared photos from her 36th birthday party where she was spotted wearing a huge rock. Fans thought it was an engagement ring but Khloe took to Twitter to respond.
Basically my daily thoughts about 2020. But for real… wtf lol people just be talking

— Khloé (@khloekardashian) July 3, 2020
Wait… what? lol

— Khloé (@khloekardashian) July 3, 2020
I just came online and I'm even confused lol

— Khloé (@khloekardashian) July 3, 2020
Akwa Ibom lifts ban on weddings! According to multiple online sources, the governor of Akwa Ibom state, Governor Udom Emmanuel lifted the ban on wedding ceremonies effective from Saturday, the 4th of July, 2020. He stressed that strict guidelines around social distancing and the use of face masks had to be followed adding that "If we notice that our people are not observing the safety guidelines we have provided, then we will not have any option than to close down the state again."
This week on wedding anniversaries, Nigerian footballer and Super Eagles star, Kanu Nwankwo and his wife Amarachi Kanu celebrated their 17th wedding anniversary. Amarachi, who is an author and wellness coach shared on Instagram; "He said, I have come to marry you. She's like whaaaaat, why? pls, don't come near me. ? 17 years on! It's been a movie since. ? @kingkanu4 I love you."
D'Banj (real name – Oladapo Daniel Oyebanjo) and his wife, Lineo Didi Kilgrow marked their 4th wedding anniversary. The Nigerian musician shared an anniversary message to his wife on Instagram; "To my beautiful wife, Heartbeat, love of my life and Partner ❤️❤️❤️❤️……..Happy Wedding Anniversary to us. You mean Everything to me????".
Gospel artist, Sammie Okposo, and wife celebrated their 10th wedding anniversary. He shared a thankful message on Instagram "ITS OUR 10TH WEDDING ANNIVERSARY JULY 1ST 2010-2020. 10 YEARS OF BLISS. THANK YOU JESUS FOR KEEPING US. THANK YOU JESUS FOR YOUR LOVE GRACE MERCY FAVOUR PROVISION AND PROTECTION. YESSSSSS JESUS DID IT"
David and Victoria Beckham marked their 21st wedding anniversary. David took to Instagram and shared; "Well about 23 years ago I was sat in a room with Gary Neville and the spice girls were on the TV and I turned around to him and said "ohhhh I like that one in the little black catsuit" ? who would have thought that all these years later we are celebrating 21 years of marriage and have 4 of the most beautiful and perfect kids.. Thank you & Happy Anniversary I Love You ♥️ @victoriabeckham"
Victoria shared; "Happy Anniversary @davidbeckham ❤️❤️❤️ I can't believe it has been 21 years since we said "I do". Four children, four dogs, so much laughter and I love you more each day. xxxxxx"
She also gave us date night/wedding anniversary inspo with this look
Julia Roberts and Daniel Moder have been married for 18 years! According to the Daily Mail, the couple have been married since the 4th of July 2002 after they met on the set of Julia's film The Mexican. They got married two years later at her ranch in Taos, New Mexico.
Ultimate Love winners, Rosemary Afuwape and Onyekachi Ucheagwu (Team Roksie) were on the cover of Vanguard's Allure magazine on Sunday, the 5th of July to mark their 3rd month anniversary as a couple. The couple, who met on Multichoice Nigeria's reality show, shared their love story, experience on the TV show, and relationship thus far.
To mark their anniversary, Rosie shared this message on Instagram; "I love you and I'm glad your heart chose me. I wanted you and I'm glad your hands are the ones to put me to sleep and arouse my skin just as I need you. Oh how blessed our soul connected as one and how much we have chosen to make it graceful, loving, understanding, patient, prayerful and lasting to the very end. Happy 3rd Month Anniversary to us @iam_kachiucheagwu. #Loveliveshere#RokNation#Roksie"
In a recent interview on #WithChude, Nigerian singer Omawumi shared her truth about marriage, motherhood, societal pressure, and therapy. Watch highlights below.