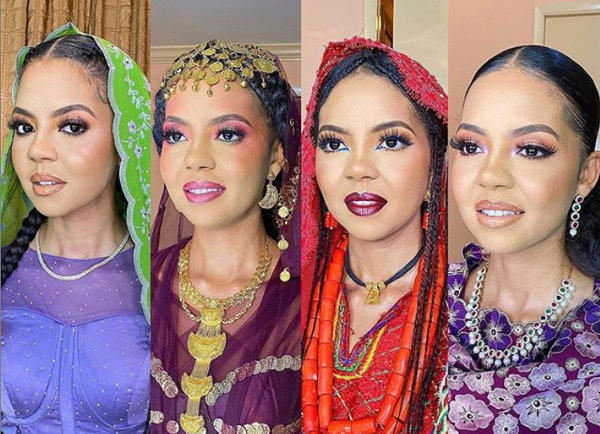 Last week, Adama Indimi got married in Maiduguri, Conor MacGregor and Dee Delvin got engaged and we're praying for Lebanon. Here's all the news you may have missed last week.

#ShesaidADO! Adama Indimi, the daughter of Nigerian businessman & billionaire – Mohammed Indimi, got married to Prince Malik Ado-Ibrahim in Maiduguri, Borno State. Malik Ado-Ibrahim is the founder of Bicenergy and the heir to the Ohinoyi of Ebiraland, in Kogi State.
Their Northern wedding celebration kicked off with a Henna Night on Friday, and their Nikkah ceremony followed on Saturday, the 8th of August 2020. We spotted highlights from the traditional Kanuri wedding; washing of the bride's hair, washing of her hands and feet with milk and oil on Instagram.
Modern Family actress, Sarah Hyland, and Bachelor in Paradise star, Wells Adams had a photoshoot to celebrate what would have been their wedding day. Sarah shared photos on Instagram with the caption; "A couple, a pandemic, & a postponed wedding: A series. We were supposed to get married today. Instead… we took pictures and drank wine. I love you to Pluto & back @wellsadams ✨ ".
The couple who started dating in 2017 and got engaged on the 7th of July, 2019 while on vacation in Fiji have postponed their wedding indefinitely due to the COVID-19 pandemic. In a recent interview with People, Sarah shared;
We definitely want to get married one day and have the wedding of our dreams and have everybody that we love there. But we postponed wedding planning because we want to be able to focus on what's important right now, and that's helping to spread information to wear masks and to only go out for essential needs and also take a really big look inside yourself and reflect on how you treat others.

There's a lot of learning, and I'm really more focused on political things rather than wedding things. There is a lot going on in the world right now and that's what we should be focused on.
Former Miss Nigeria UK, Jane Ezeanaka had her introduction in Anambra State last week. The beauty queen shared photos from the ceremony with the caption; "Somebody's son now has the bragging rights to call me their wife ?✨ #imego #introduction".
Conor MacGregor got engaged to his longtime girlfriend, Dee Devlin last week. The former Irish UFC featherweight and lightweight champion and stylist started dating in 2008 and have 2 kids together. Conor announced the news of their engagement when he shared a selfie on Instagram with the caption; "What a birthday, my future wife". The selfie also shows a beautiful rock on Dee's finger, which we couldn't help but notice
Glee star, Jenna Ushkowitz and David Stanley are engaged. The couple, who have been dating for over 2 years, made the announcement last week. Jenna showed off her engagement ring in a photo with her fiance with the caption; "Yes, a million times, yes".
Supermodel, Heidi Klum, and her husband, musician Tom Kaulitz celebrated their first wedding anniversary. The supermodel and America's Got Talent judge shared photos from their destination wedding in Capri, Italy on Instagram.
#PrayForLebanon! Our prayers are with Lebanon after a massive explosion in Beirut killed more than 200 people on Tuesday, the 4th of August. According to authorities, the explosion was the result of the detonation of 2,750 tonnes of ammonium nitrate that had been stored for six years at Beirut's port.
Videos shared on social media show wedding photography sessions which were in progress before the explosion.
Popular Lebanese bridal house, Zuhair Murad's headquarters in Beirut, Lebanon was impacted by the explosion. The founder, Mr. Zuhair Murad, shared this statement on social media; "Although our Beirut Headquarters Building is completely damaged, I am extremely thankful for the safety and wellbeing of the Zuhair Murad family. May all the victims of this tragedy rest in pure peace, my heart is with everyone affected ? " – Mr. Murad"
Another Twitter love story! We saw another love story from Twitter last week. Ewurama, who got married recently shared how she met her husband 4 years on the platform. Read their story below.
Look at God o pic.twitter.com/YkcrD9Xa9C

— ewurama (@Rammie_x) August 8, 2020