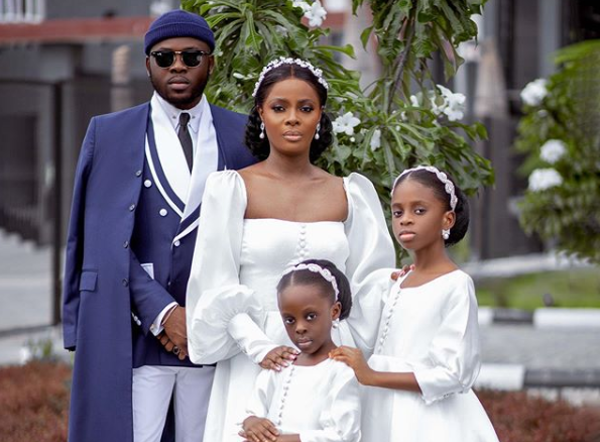 Welcome to August, wedding lovers! It's that time of the month when we look back at all the wedding news you may have missed in the last wedding week of July 2020.
Fashion design house, Esé Azénabor unveiled their 2021 bridal collection, the wedding world took a look back at Princess Diana & Prince Charles' 1981 royal wedding, Nigerian actress Angela Okorie got married. Wedding receptions in the UK have been placed on hold while Governor Jide Sanwoolu announced moves to lift restrictions on large gatherings in Lagos.
According to the Punch, the Ikoyi registry has suspended 4000 weddings due to the COVID-19 pandemic since March 2020. The report also states that couples have the option to change the venue of their ceremony and have officials from the registry present to conduct the ceremony; however, this change attracts a fee of N30,000.
Ikoyi registry suspends 4,000 weddings over COVID-19 https://t.co/Ci5Et7NN0Y

— Punch Newspapers (@MobilePunch) July 27, 2020
The UK extends restrictions on wedding receptions. Prime Minister, Boris Johnson announced on Friday, the 31st of July (with less than 24 hours notice) that the initial plans to lift the restriction on wedding receptions on the 1st of August 2020 had been extended. Gov.uk shared in its COVID-19 guidance for small marriages and civil partnerships guidance document on the 3rd of August 2020 that;
Wedding receptions or parties should not currently be taking place and any celebration after the ceremony should follow the broader social distancing guidance of involving no more than two households in any location or, if outdoors, up to 6 people from different households.

The roadmap set out the ambition of allowing small wedding receptions. This means sit down meals for no more than 30 people and subject to Covid-19 Secure guidance. This change will not take place until at least 15 August, at the earliest.
According to the Guardian, the head of the UK Alliance of Wedding Planners (UKAWP), Bernadette Chapman called for a roadmap; "This affects the immense planning that goes into organising a wedding. We need a roadmap. We need to move forward not backwards. How can it be justifiable to have pubs and restaurants open, but not micro receptions of 30 with the social distance? It doesn't make sense, and once again it feels like Boris Johnson has no real understanding of how this affects not just couples but the industry as well."
Prime Minister, Boris Johnson said during his announcement that "I know that the steps we are taking will be a heavy blow to many people – to everyone whose wedding plans have been disrupted, or who now cannot celebrate Eid in the way they would wish, I am really, really sorry about that. But we simply cannot take the risk."
Meanwhile, in Lagos, Governor Babajide Sanwo-Olu announced a couple of updates on Sunday, the 1st of August 2020. He shared on Instagram that "public gatherings can now hold with a maximum of 50 persons for meetings, funerals, and other social events." Read his full caption below;
I am happy to announce the progress we are making in our fight against Covid-19 and the current decline in positive cases. In view of this development, we have taken the decision to reopen places of worship effective from Friday, August 7 for Muslim worshippers, and Sunday, August 9, for Christian worshippers with 50 percent of their regular capacity.

In the same vein, social clubs and recreational centers will also open from August 14, in strict compliance with safety protocols and registration with Lagos State Safety Commission. Clearance certificates to open are at this time being issued only to social clubs with registered trustees. Restaurants can open for in-dining services from August 14, on the condition that they maintain 50 percent capacity and obtain safety compliance certificate through the LSSC registration portal.

Public gatherings can now hold with a maximum of 50 persons for meetings, funerals, and other social events.

While we try to ensure that life gradually returns to normal, we implore residents to continue to use face masks in public spaces and adhere strictly to all the public health safety measures and guidelines.

At this point, I have to emphasize how important and necessary it is for us to self-regulate. Everyone of us must take up the mantle of responsibility and ensure that we are self-regulating ourselves in our interest and in the interest of our loved ones.
Luxury couture bridal brand, Esé Azénabor introduced their 2021 bridal Haute Couture collection tagged Grand Cathedral on Sunday, the 2nd of August 2020. The collection premiered in a 3D CGI virtual runway video created by Oda Creative, which featured 4 pieces from the collection. Check it out!
Nigerian clothing brand Mofari, also unveiled its debut bridal collection 'Romanticism' last week. Check out these photos of pieces from the collection by top Nigerian photographer, Emmanuel Oyeleke below.
39 years ago, Princess Diana and Prince Charles said 'I Do' in what is commonly referred to as the 'wedding of the century'. Last week brought back memories and precious moments from their royal wedding, which held on the 28th of July 1981. Pictures of Princess Diana's entrance to the iconic St. Paul's Cathedral, details of her wedding dress and the wedding were all over the internet last week. Their wedding had 3,500 guests in attendance and an estimated global TV audience of 750 million. The ceremony was followed by a wedding breakfast for 120 guests at Buckingham Palace.
Still on wedding news from the royal family, Princess Diana's niece, Amelia Spencer is engaged. Her fiance, Greg Mallett announced the news of their engagement on Instagram. He shared; "So this was the best day of my life. 22nd of July 2020, I asked the love of my life to spend the rest of her life with me and she said YES. Couldn't be happier and I love you with all my heart @ameliaspencer15."
The bride-to-be's father, Charles Spencer congratulated the couple on Twitter.
Videos and photos of Nollywood actress, Angela Okorie trended last week with multiple reports and messages congratulating her on her wedding to Nwele Michael Chukwudi. However, the actress and singer later shared snippets from her new music video for her single, Baby Chu chu on Instagram. The video features wedding scenes starring Angela and a groom at a private beach in Lagos. Watch the video below.
Ghanaian MC, George Bannerman's wedding announcement to his girlfriend of 13 years went viral on Twitter. He shared their photos and tweeted ahead of their August 1st wedding.
13 years of relationship , finally sealing the deal on the 1st Of August , 2020
Love actually exists ,my people pic.twitter.com/JDk3wchXYy

— George Bannerman(MC) (@georgebannerma1) July 28, 2020
NBA star Stephen Curry and his wife Ayesha Curry celebrated their 9th wedding anniversary by sharing messages to each other on Instagram. Ayesha shared; "9 years married y'all!!!! I love this man with my whole heart and soul. How is it possible that I love you more and more each and every freaking day?! And 3 babies?! Lawwwwd. Ahhh choochie!!! I have no words… cue "sweetest taboo" ?????".
Stephen posted a photo of himself and Ayesha with the caption; "Hey @ayeshacurry. Nine years in. And what they say? Forever to go! I love you. Thank you for always making me better, for pushing me, for keeping it real with me, for bringing light and energy to every room you walk in, for showing our kids what it means to be passionate and caring and loving, for always being my eyes and ears, Traveling with me on every high and every low, and most importantly….for always being unapologetically you! 1 Cor 13:8".
Hakeem Adeyinka Balogun, the founder of men's clothing brand King Hakbal and his wife celebrated their 10th wedding anniversary last week. His wife, @hseofpambal_fabrics shared cute pictures of their lovely family dressed in King Hakbal co-ordinated looks with the caption; "#Happy 10th Wedding Anniversary To Us My King @kinghakbal ❤️Just Like Yesterday, I Owe It All To God ?……Its Been A Beautiful Journey So Far, With You Everything Is Perfect, I love You Till Everything ❤️❤️❤️.."
Bayo Omoboriowo, who is also the personal photographer to President Muhammadu Buhari and the statehouse, celebrated his wife Lola, as they marked their 5th wedding anniversary. To celebrate, they had a getaway at Zuma Rock resort with family and friends. We totally love this idea of having a mini-vacay within Nigeria – there's so much beauty in Nigeria that hasn't been explored yet. See pictures below.
Iconic baker and cake maestro, Tosan Jemide popularly known as the founder of Cakes by Tosan, also celebrated his wedding anniversary last week. He described the day he got married as the happiest day of his life. Read his caption below.
The happiest day in my life was the day you finally became my wife. I feel so lucky every day to have you as my lover, wife, and best friend.

My Love you have been a source of Inspiration and Guide. You are the one who makes me whole. My love for you grows and grows with each passing year. I'd get down on my knee all over again for you.

As we celebrate today I wish that our love will never be seized, it will wider than the Sky, grow higher than the Everest, brighter than the Stars, stronger than the Diamond and warmer than the Sun.

Happy Wedding Anniversary baby!

I LOVE YOU
@cjemyd
Finally, we met the winners of the Win My Wedding competition on Sunday, the 2nd of August. Congratulations Kayode & Evelyn! We cannot wait to go on their £30,000 wedding planning journey with them.