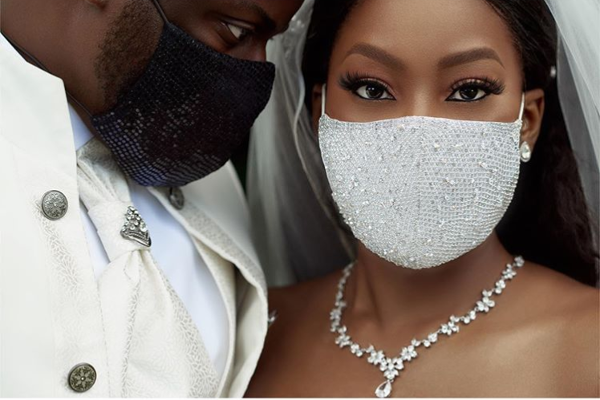 This letter to the future by Nigerian wedding enthusiast, Anita Eguolo Etefe (aka Lonita) takes a holistic view at everything that has happened over the last few months of 2020 as the world and the Nigerian wedding industry battles the ongoing COVID-19 pandemic. From the rise in civil wedding ceremonies, minimalistic bridal fashion styles, virtual weddings, celebration boxes, virtual proposals and more.
A letter to COVID-19 from a Nigerian wedding enthusiast
Dear Future,
If you are reading this, I hope you are well, smiling, and surrounded by so much love. I am pretty sure when you look up the year 2020 on the internet or in history books, COVID -19 pandemic is a widespread discussion. I trust you must have heard so many stories about how humanity tried to cope with a pandemic. I can say for certain that adjusting to 'the new normal' was not a walk in the park.
Here's a look at how the Nigerian wedding industry adjusted to the pandemic – it'll go a long way in showing how the pandemic hit hard.
In the Nigerian wedding scene, there is only one slogan 'go big, or go home!' Nigerians are a lively bunch, we live for wedding parties. CNN back in 2017 referred to the Nigerian wedding industry as one of the fastest-growing industries in Nigeria. With an average of about 1000 guests in attendance; the industry is worth millions of dollars. With this in mind, one can only imagine how a global pandemic with experts recommending social distancing, affected the industry.
When medical experts called for us all to take responsibility, we had to embrace new ways to celebrate love. Mini-monies, micro-weddings, virtual weddings, sequel weddings had to be introduced, leading to a new face of wedding parties on the Nigerian scene.
Major cities across Nigeria adopted strict lockdown measures indefinitely while other parts of the nation observed strict social distancing rules. Weddings were restricted abruptly for months; couples had to change their plans by postponing or cancelling their wedding plans. For those who chose to carry on with their wedding plans, there were a number of evident changes;
Civil Weddings: In major cities like Lagos and Abuja where churches were still closed as of July 2020, civil weddings were on the rise.

Wedding Venues: Prior to the pandemic, public spaces and event centers were popularly used as wedding venues because of their ability to accommodate a large number of people. With these centres shut down due to the pandemic; living rooms, gardens, garages and compounds became the new options for wedding venues.
Wedding Décor: There was a switch up with wedding décors. Couples had to celebrate their wedding ceremonies at home but they still yearned for the beautiful and elegant wedding decor and venue styling.
Fashion: With wedding fashion, stylish, classy but minimal looks were the order of the day; a different world from the lavish bridal styles we usually see Nigerian brides rock. Brides in chic, simple bridal looks paired with face masks became the 'go-to' bridal style. Wedding guests were not left out (even though a lot of them had to attend virtually) guests dished out stylish wedding guest fashion looks from the comfort of their homes. COVID-19 did not stop them.
Wedding Receptions: Wedding receptions were replaced with very intimate lunches and dinners with family members and very close friends. Everyone else had to join the celebration virtually. We saw virtual wedding guests receive celebration boxes (what some wedding professionals termed 'Owambe in a box'). These boxes include a range of items from souvenirs, drinks, mini champagne bottles, sweets, chocolate, cakes, popcorn, and in some cases the 'Party Jollof'. Oh, how much we missed the food at Nigerian weddings.
Sequel Weddings: Some Nigerian couples have adopted what we call the sequel wedding trend. This means having an intimate wedding ceremony now but celebrating fully once the restrictions are lifted.
Honeymoons: With bans and restrictions on international travel to many countries, newlyweds had to put their dreams of an international romantic getaway on pause. I guess newlyweds are sticking to creating romantic experiences at home
Virtual proposals: We're not sure if its directly related to the pandemic but it seems like proposals are happening every minute. From intimate proposals to virtual proposals (groom in Port-Harcourt and a bride in Lagos, we've seen it all.

We're hoping for some good news soon. We miss celebrating weddings so much. Yes, we still get to dress up and look nice virtually but it's not the same – the whole Nigerian wedding experience (buying asoebi, getting your makeup professionally done, driving in Lagos traffic to the wedding venue, meeting people, the after-party, the small chops, the cocktails….
We miss the energy that comes with partying our way and we hope things go back to what they used to be soon.

Sincerely,
Eguolo Anita Etefe (Lonita)
Nigerian wedding Enthusiast