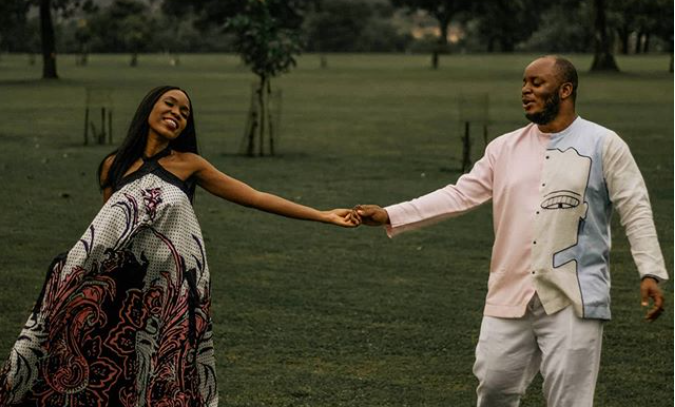 Last week, Nollywood actress, Bukunmi Oluwasina got married to her longtime boyfriend; American actress and Dynasty's Fallon Carrington, Elizabeth Egan Gillies shared her wedding photos on Instagram, Nollywood actress, Lala Akindoju and Gbubemi Fregene celebrated their second wedding anniversary and more. Here's all the wedding news you missed.
Cheers to Forever! Nollywood actress, Bukunmi Oluwasina got married to her boyfriend, after 11 years. The actress shared photos from her big day with the caption;
LOVE IS PATIENCE [sic], FORGIVENESS, NEVER GIVING UP, And above all, it's not just about buying a woman all the luxuries in the world, but about making her happier and more relaxed than a woman who has all the luxuries in the world. I remember 2010, when we were leaving.. And I told u to give me something to hold, to always remind me of you. Then u gave me your wine wristband. I told you I would keep it forever and maybe wear it on our wedding day. You laughed and said… "That's if we don't end up breaking up when we enter UNIVERSITY, and you start meeting better guys" It's 11 years now, and I have met a lot of men like you said…but haven't, and will never stop choosing you over EVERYONE. I remember when I told you I was going to study Theatre Art? you never liked it?‍♀️. But you know how much I love it… till you came to like it too, just to see me happy. I don't even see the need to call people for screenplays, cos your contributions to my story constructions always help me get the perfect stories for most of my movies that earned me Awards. Thank U for always supporting and standing by me, And watch me grow even when nobody knew me, till now. I still wonder how a day never passed that you wouldn't call me ? for the past 11 years. Even if you just saw me 2hour ago, Even when we fight, you would still call.." Have U eaten? Where are U?". You know how you make me feel sometimes??, Like THE ONLY GIRL IN THE WORLD. Just like your name, You are a Gift to me❤️. My dad once said, "The day we learn how to fix a thing when it's broken, instead of throwing it away and buying another, is the day we would learn the secret of an unending happy marriage" Thank you for the endlessly holding on. And I want you to know that whenever I tell you "I love you too", I hope you know what I mean? I MEAN I LOVE YOU MORE THAN ALL the fights we would still have, All the things people would still say, All the mistakes we would still make, All the sidechicks that may still cross our lane, Both in good and bad days… I love you whichever way❤️.And FOREVER ISN'T EVEN LONG ENOUGH 4ME TO SHOW YOU HOW LONG I WANT TO LOVE YOU. ..MY TREASURE.. MY BEST FRIEND.?‍❤️‍?
Cheers to FOREVER??
Fallon Carrington is married! American actress, Elizabeth Egan Gillies got married to record producer, Michael Corcoran on the 8th of August, 2020. The Dynasty star, who's famous for playing the role of Fallon Carrington, shared the news when she posted photos from their wedding on Instagram last week. According to the Daily Mail, the couple who had been dating for six years, said 'I do' at the Inn at Fernbrook Farms in New Jersey in the presence of a small group of friends and family. Daily Mail also reports that their original wedding date was set for the 25th of April but it got pushed back due to the COVID-19 outbreak.
Angela and Michael's Wedding. TLC released footage from 90 days Fiancé's Angela and Micheal's civil wedding, which held on the 27th of January, 2020 in Lagos, Nigeria. The couple are seen exchanging wedding vows and taking part in a wedding photography session. Watch the teaser below
An NYSC Love Story: Twitter user, Daluchukwu's Twitter post went viral last week after she shared the story of how she met her fiance in 2016 at the NYSC Orientation Camp in Awgu, Enugu State. Nigeria's National Youth Service Corp (NYSC) has indeed been connecting people since 1973. Read more NYSC love stories here
2016, NYSC Orientation Camp Awgu Enugu.
He asked to borrow my earpiece.
I obliged.
He disappeared with it.
I found him the next day..(His height gave him away.)
I insulted him.. Called him a thief.. Then he stole my heart too. ? ?#TheDVunion20
? @sammy_moet
? @Qpid_Adannaya pic.twitter.com/4tThu4vZ9D

— ?????????? ? ⭕ (@Qpid_Adannaya) September 19, 2020
#Amizzy2016: Nigerian Lifestyle blogger and YouTuber, Lizzy Oke (popularly known as Lizzy O) and her husband, Amen have been married for 4 years. We shared the couple's amazing love story back in 2016. To celebrate their 4th wedding anniversary, Lizzy shared;
4 years ago I said "I Do" to this wonderful, caring, Godly, handsome, smart, kind, man in front of God, our families and friends. 4 years later, I still do and will forever do. Our "doing" has brought forth a beautiful daughter who truly takes after her daddy in every way (ouch why did I just admit that), countless moments of laughter, blessings, riches, strength, lessons, and inexplicable joy.

Going into this marriage, there were so many questions the world had for us but you looked into my eyes and said "it's you and I". You've kept your vows PLUS MORE. I'm glad it's still you and I doing this marriage thing with God on our side… and I wouldn't have it any other way. ???

Our wedding day was everything and more but I can boldly say it was not the best day of my life because living life with you daily keeps beating that day."
#Àṣéwẹ́rẹ́niṣẹ́Olúwa: Nollywood actress, Lala Akindoju and celebrity chef, Gbubemi Fregene (a.k.a. Chef Fregz) marked their second wedding anniversary. The couple spent their anniversary at Zuma Rock resort. Lala shared; "Next to Jesus, this man is the best thing that happened to me, so I celebrate you today and always…. today, I celebrate 2 years of friendship and romance with the best guy. I thought I was extra, but this guy is the winner and he's always whispering things in my ears… especially when I want to be serious!! (Please be allowing me to be serious)."
Her husband, Chef Fregz shared; "I'd rather be no where else but with you. Thank you for gbas gbosing me into being better. I've conquered so much because of you. You are crowned with blessings that only heaven can reign down. Ayaba… Forever fighting for you."
Bovi & Kris are 11! Nigerian comedian and actor, Bovi Ugboma and his wife, Kris Asimonye celebrated their 11th wedding anniversary. He shared; "11/11! I don't even know what to say. So let the pictures do the talking. Dear @krisasimonye thank you for the music. This marriage has been just that-music."
The Legends are 7! American singer, John Legend and Chrissy Teigen celebrated their 7th wedding anniversary last week. The couple tied the knot on the 14th of September, 2013 in Lake Como, Italy. Chrissy shared a cute video of their children, Luna and Miles Stephens wishing them a happy wedding anniversary.