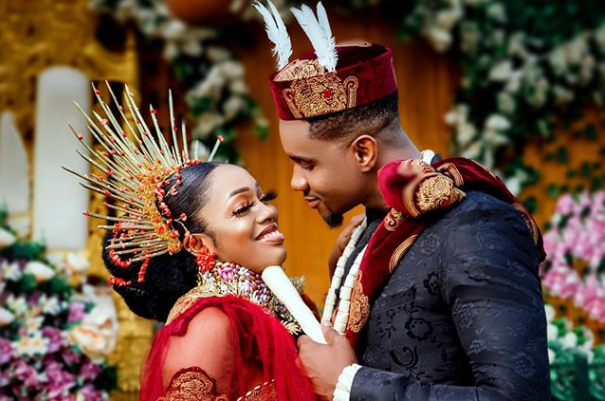 Last week, Nollywood actress, Shan George got engaged, Actor, Koye 'K10' Kekere-Ekun got married to Reni Abina, Pastor Enoch Adejare Adeboye and his wife, Pastor Foluke Adeboye celebrated their 53rd wedding anniversary, #BBNaija's BamBam and Teddy A celebrated their traditional wedding anniversary and more. Here's all the wedding news you may have missed last week.
Another love story from Twitter! First up, Twitter user, @iKingMillie shared his love story of how he met his wife. How amazing!
Shan George is engaged! The Nollywood actress shared the news last week on Instagram. She posted a photo of an engagement ring with the caption; "As Scared and Sceptical as I've been all this past, based on unfavourable past experiences, this one [seem] to be just too right to be afraid of, or to Hide. So I SAID YES!! To my best friend, my brother, partner, business associate, fellow crossrivarian, my ride or die since 1800, my available shoulder to cry on always. Let's try again this one last time. It's never too late. Yes, I Love You Too! ???❤??"
Love is never late! Author and motivational speaker, Lisa Nichols is getting married for the first time at 54 to her friend of 10 years, Marcellus. She shared on Instagram;
I'm 54 and I've never been married. I've previously opted out because it didn't feel right. I've picked wrong and had to mend my heart. I've had to release the anger, forgive myself, and learn to trust Lisa's picker and intuition again.

It's been a looong journey of knowing that I'm in the right place, focusing on the right things, even when I'm doing it all alone…. year after year.

I've had lonely days and lonelier nights but I refused to settle for momentary satisfaction and the management of the optics of my life or the filtered image of what others may want to see.

My journey has not been easy at times but it has been worth it. I unapologetically own my seasons of parenting, being single, healing, developing, growing, and now love ?

After 10 years of Marcellus being my friend, listening to me as I made my way through single parenting (and CEOing), his steady friendship helped me navigate through broken hearts and challenging business moments. He was my cheerleader from the sidelines each time I chose myself when a relationship didn't feel right or I doubted the next big move in my career. He has always been my good friend with no strings attached and no agenda. Little did I know back then, that I was sharing my heart, my healing and my aspirations, with my soulmate. He was just a sweet "earth angel" that God blessed me with as a friend. Now don't get me wrong, I wasn't blind to how FINE he was (I'm jus sayin ??‍♀️), but our friendship was paramount.

This week I excitedly stepped into my next season. I said yes YES!! ?
#Ren10. Nigerian actor, Koye Kekere-Ekun popularly known as 'K10' got married to Reni Abina, the creative director of Rendoll Lagos and Hair by Reni on the 6th of September, 2020. K10, who shared photos of their traditional wedding, announced their engagement in March 2020. We wish the newlyweds a happy married life!
The Adeboye's are 53! The General Overseer of Redeemed Christian Church of God (RCCG), Pastor Enoch Adejare Adeboye, and his wife, Pastor Folu Adeboye celebrated their 53rd wedding anniversary. Pastor Folu Adeboye shared on Instagram; "Its been 53 years of Joy, Love and blessings and every moment with @pastoreaadeboyeofficial still feels like we just fell in love over again. I bless God for how far he has brought us and I pray for everyone that wishes for a home like ours and even more, God will grant all your heart desires in Jesus name."
#BamTeddy: Former Big Brother Naija housemates, Oluwabamike 'Bambam' Olawunmi and Tope 'Teddy A' Adenibuyan marked their first traditional wedding anniversary by sharing stunning pictures a recent family photoshoot.
The couple's #BamTeddy2019 traditional wedding ceremony held on the 7th of September 2019, in Ogun State, Nigeria.
#EniNelly17: It has been three years since Powede Eniola Awujo and Ikechukwu Awujo walked down the aisle. The former beauty queen shared on Instagram; "Happy anniversary Dim oma ?. Thanking God for all his uncountable priceless blessings! Cheers to a healthy, fruitful, loving, and wealthy partnership till forever and beyond!
If I come to this world one hundred times and over, I will still marry you my Ikebobo 10 in 1!?"
Hollywood actors, Blake Lively and Ryan Reynolds celebrated their 8th wedding anniversary also last week. According to Wikipedia, the couple got married on the 9th of September 2012, at Boone Hall Plantation in Mount Pleasant, South Carolina.
Nigerian bridal designer, TruFlair released their 2020 Romance couture collection, which explores mystery, glamour, excitement, colour, exoticism, fascination and charm.
#Chijide20. Living in Bondage actor, Jidekene Achufusi trended last week as congratulatory messages poured in from colleagues and fans after photos of him at an 'Igba Nkwu' for #Chijide20 were shared online. The actor later apologised clarifying that the photos were from a traditional wedding photoshoot aimed at showcasing Enugu wedding and event vendors
Tobi Odukoya and Oluchi Enuha 'said 'I Do' last week. The bride is the daughter of Pastor Taiwo Odukoya and the late Pastor Mrs. Bimbo Odukoya of The Fountain of Life church.