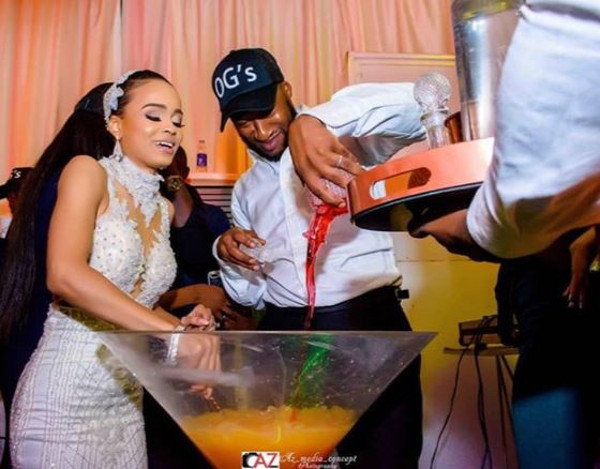 One of the most important elements couples and wedding planners have to consider when planning an event is 'catering'. From what guests will eat (the menu), what they'll drink, how they're served, how many service points, what time each dish will be served, how many caterers, and more… there's so much to consider especially when its an African wedding, we love hosting!
So because we're confirmed foodies at LoveWeddingsNG and we like to take things up a notch; eating and drinking especially at a wedding or event doesn't have to be boring so we're sharing 10 food & drink ideas we think you should consider embedding when planning your Nigerian & African wedding. From live pasta bars, after-party grills to buka-style food options, palm wine, and champagne bars, these ideas will elevate your wedding or event from the classic jollof rice menu, buffet & bowl service options, and wow your guests keeping them fully engaged throughout the day. Enjoy!
Small chops (Finger foods): This is usually how we welcome you at a lot of Nigerian & African weddings. A plate of small chops would usually have a combination of any of these items plus more – puff puff, samosa, spring rolls, mini-burgers, plantain skewers, peppered chicken, gizzard, and/or giant snails served on a small plate with toothpicks.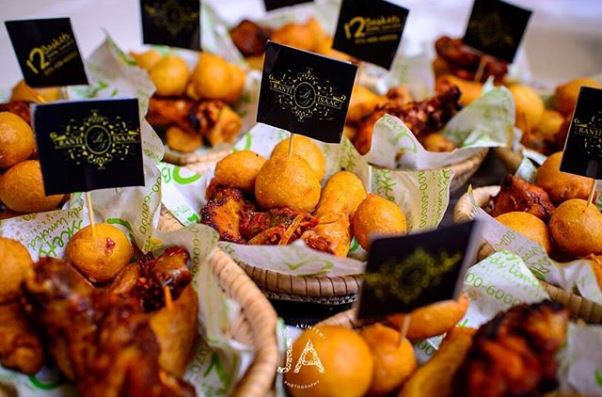 Creative cocktails: Once you've had a good portion of small chops, usually you'll get served cocktails. This is usually in addition to standard table drinks such as bottles of water, a range of soft and alcoholic drinks which would usually be on the reception table. Cocktails don't have to be boring and Nigerian & African drink & cocktail vendors have proven this time and time again with the varied menus and service options. From serving cocktails in decorative mugs, cups, mini pouches, test tubes, and more, we think you should try these creative ways of serving drinks and cocktails at your wedding or event.
Buka-style & street food options: You can bring authentic traditional food options to your wedding, thanks to specialist caterers like The Garri Place, Ofada Boy, Sooyah Bistro, and many others. From more popular options like ofada rice served in leaves and suya to garri & fish, boli & fish, roasted corn & ube (pear), starch & banga, abula (gbegiri, ewedu and stew usually served with amala), and more.
Live Pasta Bar/Station: We first saw this at Chioma & Wale's Nigerian wedding in 2016 and we've spotted it at a number of weddings since. Live pasta bars and stations are a great idea particularly for late-night snacks to keep your guests fuelled for the after-party.
Champagne bar: It's one thing to serve alcoholic drinks at your wedding and event but imagine having an actual bar with hands steadily holding out glasses of your favourite bottle of champagne. We spotted this at Chioma & Wale's #HotChile wedding in 2016
Doughnut walls: These are perfect for every wedding or event including the build-up events to the big day like bridal showers, bachelor's eve, pre-wedding parties, etc.
Personalised Coca-Cola bottles & cans: This trend really took off in 2014 and isn't as popular as it used to be but definitely one to consider especially if the couple love Coca-Cola. You can choose to personalize cans and bottles with the wedding hashtag like #HotChile2016 or print each guest's name on their Coke can. These double nicely as drinks but also as keepsakes for guests who want to take something home to remember the event.
Palm wine: This is usually a popular drink option at traditional weddings and we love everything about this. Having palm wine at your wedding served in the traditional calabashes by servers sometimes on bicycles or with the calabash dishes on their heads is definitely a great idea you should try.
Champagne towers: Another exciting way to serve champagne at your wedding. The classic champagne tower literally consists of champagne glasses that form a tower in a pyramid shape.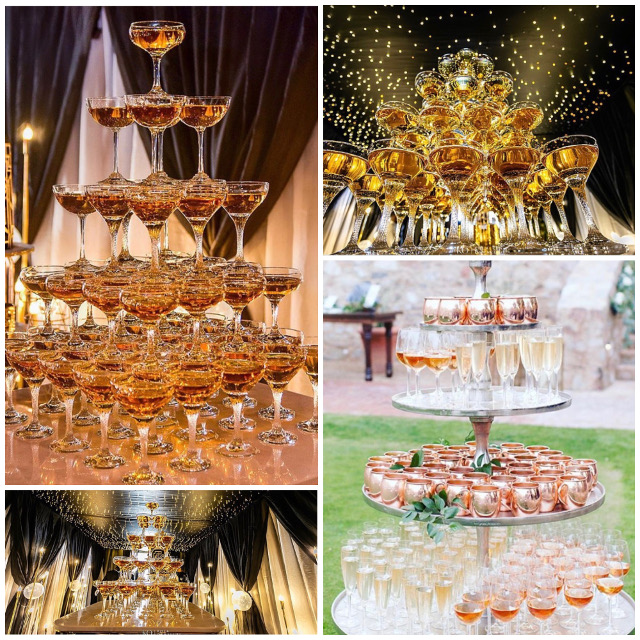 After party grills: Small chops and main meals are one thing but when its time for the after-party, you can switch things up and serve dishes from a completely different menu; we're talking shawarma, rice pots, hot dogs, burgers, ribs, turkey, suya, … basically greasy food that helps with the alcohol.
The couple's cocktail mix: Even though this trend is now popular at a number of weddings and events, we believe we saw this first done by UK-based mobile bar company, Ravissant Cocktails. To execute this successfully, your drinks and cocktail vendor needs to do a lot of pre-work and ensure the right tools are pre-measured and all easily reachable. Usually done during the after-party, the couple would usually pour all the individual bottles and cans of drinks into a giant cup in front of their guests and mix it all together (with Olamide's Science Student usually playing in the background). Once it's all mixed, the bride and groom serve their guests from their giant cup and everyone continues to party.
Dessert stations, candy & ice cream carts: From standard dessert stations with a range of cakes, marshmallows, sweets, candies to candy, and ice cream carts, the possibilities are endless.
Fruit trees
Find more wedding ideas for your Nigerian & African wedding here