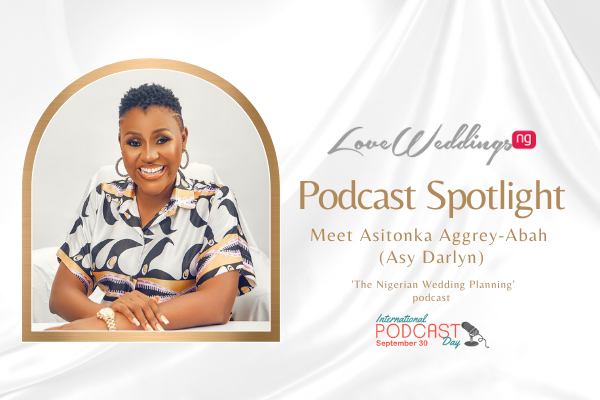 It was International Podcast Day on the 30th of September 2021 and to mark this event, we profiled some African wedding podcast hosts all week. All these podcasters are putting Nigeria & Africa on the podcast map and contributing to telling our stories through this unique medium. Catch up if you've missed any of our 'International Podcast Day' features. Today, we have Asitonka Aggrey-Abah (aka Asy Darlyn), who hosts the 'Nigerian Wedding Planning' podcast.
Tell us about your podcast… The "Nigerian wedding planning" podcast is a one-stop-shop for all things wedding planning, from vendors to the experience. Everything we discuss aims to help intending couples navigate their wedding planning process and also to share and educate people in the event industry or those wanting to venture into it
---
What made you decide to launch a podcast? I launched my podcast because I couldn't find any podcast on Nigerian weddings and all that's involved. It was an avenue for me to share my experiences with podcast listeners. I had just gotten into listening to podcasts myself and although I knew it wasn't a popular route, I wanted to make my mark and share my story.
---
Your favourite episode so far and why? It has to be my first episode (lol). After procrastinating for the longest, I finally took the plunge and it took me many recordings to get to that one clip. That's what makes it my best episode
---
What role do you see podcasts playing in the Nigerian, African wedding industry? Currently, podcasts are not popular avenues yet, but it's picking up and there's so much potential. I believe it can help a lot of intending clients, they can listen while driving, cooking or even jogging. It's also archived so they can go to previous episodes
---
What podcasts do you recommend we tune into? Jesus and Jollof and I said what I said
---
Thank you Asy for speaking with us and we can't wait to listen to the next episode.
Check out Asy's Nigerian Wedding Planning podcast on Google, Apple, Anchor, and Spotify.
It was really great working on this piece and we would love to meet more Nigerian, African wedding podcast hosts. If you're one or if you know anyone, please leave a comment below and we'll check them out.