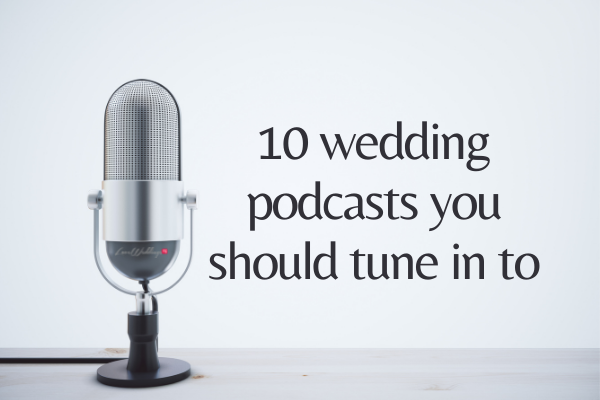 ---
It's International Podcast Day today, Thursday, the 30th of September 2021 and according to InternationalPodcastDay.com, the day is "an international celebration of the power of podcasts!" We know how powerful and instrumental podcasts are to the wedding industry and particularly 21st-century couples so today, we'll be featuring 10 wedding podcasts we think you should listen to.
---
Nigerian Wedding Planning Podcast with Asitonka Aggrey-Abah
Popularly known as Asy Darlyn, Asitonka is the CEO of 3003 Events, a Nigerian wedding/event planning company. Her 'Nigerian Wedding Planning' podcast is available on Apple, Google, Spotify and currently has 6 episodes that cover topics that Nigerian brides can certainly relate to; from micro weddings, COVID19 and the Nigerian wedding industry, and more.
---
Sales for the Nigerian Wedding Industry with Tavershima G. Ayede
This one is for the wedding professionals. Abuja-based wedding photographer, Tavershima's "Sales For the Nigerian Wedding Industry" podcast has been running for over a year and a half now with regular episodes which feature useful tips to help Nigerian wedding vendors improve their businesses by employing the power of sales. In one of our favourite episodes, he speaks about the need for wedding suppliers to keep things professional even when the unexpected happens. We caught up with Tavershima earlier this week about his podcast, catch up here if you missed it.
---
The African Wedding Blueprint with Gloria
The African Wedding Blueprint has been thoughtfully designed to help engaged couples and wedding professionals navigate the ups and downs of wedding planning. Through weekly podcasts, blog posts, downloadable tools, and resources, this online platform was created to simplify the wedding planning process for you; and introduce you to a community of accomplished wedding professionals who can help you create a truly unforgettable celebration. If you're planning your wedding, you'll love it here. Grab a cuppa and dive in! We caught up with Gloria earlier this week about his podcast, catch up here if you missed it.
---
The Party & Wedding Band podcast by penthouse 5 band
Penthouse 5 are a UK wedding and party band and they discuss all things music and weddings. We love this episode where they share tips to choosing your perfect first dance song.
---
The Wedding Planning Podcast with Kara Lamerato
This podcast shares free weekly wedding podcasts that help you eliminate the guesswork, maximise your budget and help you create your dream wedding celebration.
---
Married to Nigeria with Traci Salami
Married to Nigeria, hosted by Tricie & Traci, is a a relationship podcast for American women dating or married to Nigerian men.
---
So you're getting married? with Tavershima G. Ayede
Another podcast by Tavershima, this show offers personal perspectives to brides and wives, and grooms and guys on things to consider before walking down the aisle… as well as some lessons that will endure before and after the wedding ceremony! Another one hosted by Abuja-based wedding photographer Tavershima George Ayede.
---
The Wedding Dish with Sara Alepin
Featuring stories and tips from real couples and wedding pros about life, love, and entrepreneurship, The Wedding Dish is a casual, conversation-style podcast hosted by Sara Alepin.
---
Are there any other Nigerian, African wedding podcasts or podcasters out there, holla! we would love to meet you