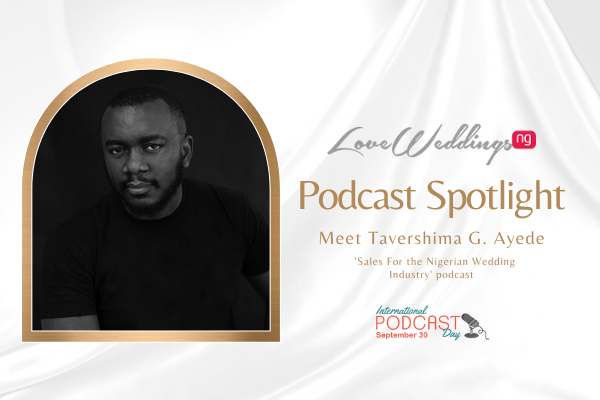 It's International Podcast Day on the 30th of September 2021 and to mark this event, we'll be profiling some African wedding podcast hosts this week. All the podcasts featured are putting Nigeria & Africa on the podcast map and contributing to telling our stories through this unique medium. First up, we have Tavershima G. Ayede, who hosts the Sales For the Nigerian Wedding Industry podcast
The Abuja-based event photographer describes his photography style as "candid and documentary." As well as hosting the Sales For the Nigerian Wedding Industry podcast, he writes almost every day on business and selling on Instagram @sales_conversations.
Tell us about your podcast… My business podcast is the "Sales For the Nigerian Wedding Industry" podcast. It's been running for over a year and a half now with regular episodes published multiple times a week.
The thrust behind the podcast is simple! Most wedding industry professionals focus almost exclusively on the technical aspect when it comes to growing their businesses. The wedding photographer focuses on buying gear and improving his lighting skills, while the baker focuses on learning the latest sugar techniques and innovative baking practices. The most business-oriented thing lots of them do is to resort to branding and online promotions.
While trying to grow the business, they ignore a very key facet which grows the bottom line. The very thing being ignored is sales! "Sales" is a catch-all phrase for "talking with the customer" at any stage of the transaction. If we don't learn how to direct and handle conversations with the client, we'll only make money off the "low hanging fruit". These are those rare people who call you today and immediately have the money available.
My podcast was created to share those principles necessary for profitable conversations with our brides and grooms as well as during our networking sessions with other wedding vendors. So far we have come up on over 200 episodes and looking forward to meeting and talking to more wedding professionals who want to increase the level of professionalism and profits in the industry.
You can find the podcast by searching for me "Tavershima Ayede" on any podcast player.
---
What's your favourite episode so far and why? I don't have a favorite episode per se, but I do get a kick out of making my "rant" episodes. Here I use live interactions as case studies to show how to use effective communications and sales strategies when talking to clients and strategic partners. However, for now the 5 most popular episodes on the podcast in terms of listens are:
An introduction to personal selling
An introduction to the landscape of wedding shows in Nigeria
Personal selling in times of crisis
Wedding photographers have a bad case of GAS and …
Rant! How NOT to look for customers by using poetry
I also made some podcast recordings on sales and communications principles that could be learned from the fallout of the "End SARS" protest in Nigeria. However, I deeply regret making those episodes because it almost smacks of "newsjacking" on serious issues where lives were lost. I will leave those episodes up because the lessons learned are valid, but I won't be making any more contributions on social commentary any time soon.
---
What role do you see podcasts playing in the Nigerian, African wedding market? Podcasts are a very useful tool for "adult education" or "continuing professional education" or whatever term we'd like to call it. My hope is that wedding industry professionals on the continent will resort to listening to podcasts on their downtime or their commute so that they can learn new skills and perspectives to growing their businesses.
Unfortunately for now, the "gist" podcasts like "I said what I said" are carrying the day! But even those are useful too because once in a while they interview an entrepreneur and talk about issues bordering on business and personal development.
---
5 podcasts you'll recommend we tune into… I'd recommend my podcast obviously! And ISWIS is not a bad way to pass the time. But for real though, I'd recommend you search for whatever topic catches your fancy because my favorite podcasts are not just in the area of business, but also theology, philosophy, and ethics. I even have podcasts on Chess and Guitar Music Theory that I use to improve my playing.
There seems to be a podcast for everything! Even for "true crime" and other adult content.
Thank you Tavershima for speaking with us and we can't wait to listen to the next episode.
---
Check out Tavershima's Sales For the Nigerian Wedding Industry podcast on Spotify.
It was really great working on this piece and we would love to meet more Nigerian, African wedding podcast hosts. If you're one or if you know anyone, please leave a comment below and we'll check them out