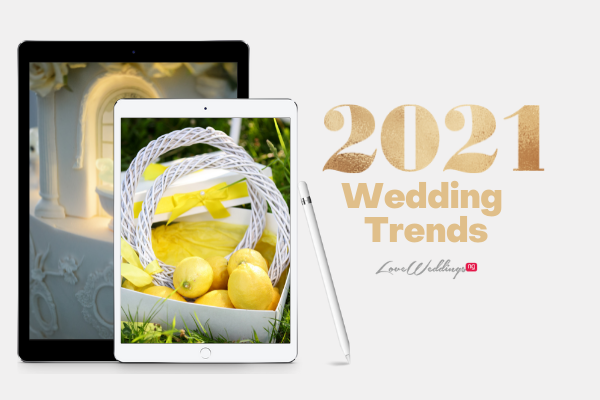 It's that time of the year when we share all the 2021 wedding trends we've spotted this year. If you've missed any of our previous wedding trend reports, catch up on all our previous wedding trend reports here. From flower jawns, boat entrances, new bridal portrait poses, and more, here's our recap of all the 2021 wedding trends we spotted this year. Enjoy!
---
Boat entrance
Kicking off this report with a grand entrance trend we spotted this year. COVID forced a lot of vow ceremonies and weddings to become more intimate than they've ever been before and this opened up interesting wedding venue possibilities. While arriving by boat isn't a new trend, it's the execution of this trend that made it stand out this year. Check out the bridal entrance from #JoyofSummy and this groom's entrance from #LoveMEtheWedding
---
We wrote about this trend in June 2021 and it's definitely not slowed down since. Embraced by celebrity brides such as Paris Hilton, Lily Collins, and Jasmine Tookes, this trend is loved by Nigerian & African brides, maids of honor, and bridesmaids so much that we spotted it at white wedding ceremonies and traditional weddings.
---
This bouquet bridal pose
Once upon a time, we had the bridal earring pose but in 2021, its pictures of brides holding their bouquet behind their backs that ruled. We saw this at so many weddings this year from #UntilForeverIDo, #theNKwedding, and more.
---
Beach pre wedding shoots: We've written in the past about studio pre wedding shoots and why that might be beneficial for couples. However, it's fair to say pre wedding shoots moved outside in 2021 and more specifically to the beach. Couples loved beach location themed pre wedding shoots so much that we wrote an article sharing beach photo ideas you should try.
---
Short dresses for the after-party
After parties saw many brides rock short dresses this year. We spotted this trend at #LoveSTory21,
---
Tik Tok Challenges
This was definitely the year for TikTok videos and hit singles like Ayra Starr's Bloody Samaritan, Tiwa Savage & Brandy's 'Somebody's son' and others inspired brides, grooms, wedding parties to create some of the best 5 – 15 minute clips we've come to love.
---
We wrote about this trend in May 2021 and it's still going strong. Here are some bridesmaids we spotted in brown bridesmaid dresses this year.
---
Neon Signages
This trend is definitely one that rocked African weddings in 2021. From proposals, pre wedding shoots, traditional to white weddings, check out these neon signages from #TotallyOlatawura and other events.
---
Castle-themed wedding cakes
From #EdYG4life, castle-themed wedding cakes certainly ruled in 2021.
---
Hair vines
---
Sequel Weddings
As predicted last year, this year saw a number of sequel weddings. Couples who had to either fully postpone their weddings or dialled back their plans due to the COVID-19 pandemic made up for it in 2021.
---
Honeymoon in Seychelles
---
Flower Jawns
A new phrase; 'Flower Jawn' was added to the wedding dictionary last year. A Flower Jawn (aka Flower man) is very similar to the role a flower girl plays at weddings but this time by an adult. Denzyl Amankwah shared a viral video of himself tossing flowers at his friend's wedding in Montego Bay, Jamaica and since then, we've seen many others.
---
Lemon-themed wedding decor
Did you notice how much lemons featured at a lot of wedding decor setups this year? Well, we did!
That's it wedding lovers, our 2021 wedding trends report. Did you spot any wedding trend that's not covered above? Share in the comments