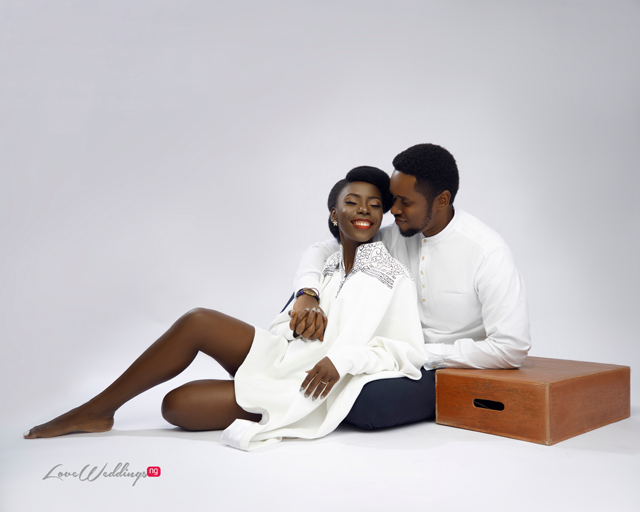 Studio pre-wedding shoots are definitely a trend for Nigerian couples; we pointed this out in our 2017 list of Nigerian Wedding Trends. Some photographers such as Emmanuel Oyeleke, Diko Photography, Awgzzz, are well known for their stunning studio shots. Today, we're taking a look at some reasons why couples might choose the studio as their pre-wedding shoot location over a hotel or an outdoor location.
Enjoy!
1. Come Rain, Lagos Sun, harmattan, wind, whatever; you'll be okay: The weather can be very unpredictable so you never know if its going to rain, snow on the day of your shoot. Even when the sun is shining, that doesn't always mean you're safe – ask Lagosians about the sun.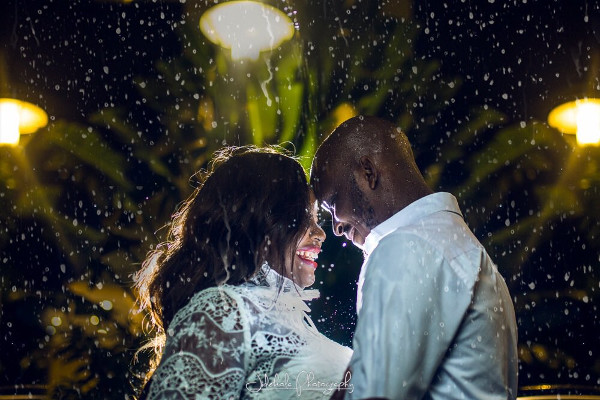 2. You don't need to pay fees to take pictures in public parks: The government (especially in Lagos, Nigeria) realised pretty quickly that they could make lots of money from photographers and started charging for photo shoots in public parks. These charges are usually passed on to the couple or added to the photographer's bill. But if you're taking pictures in a studio, you won't be harrassed by public officials or area boys (aka agberos) to pay fees which can sometimes have time limits.
3. A studio can be transformed into whatever you want: The fact that you're in a studio doesn't mean it has to be a plain solid coloured background, you can transform the studio into whatever design catches your fancy. Amirah and Usman (#MnA2018) had a lovely flower wall in the background for their pre wedding pictures by Atilary Studios.
Sade and Jude (#SadePlusJude) built a little flower garden set, which complemented the background in the studio for their pre wedding pictures with Diko Photography.
Ayo and Murewa (#MATieTheKnot) transformed the studio to a Christmas themed set for their pre wedding shoot with Emmanuel Oyeleke Studios.
4. The props stand out more and make all the difference: When you're in a studio, every little detail can make a huge difference and can appear exaggerated; this is something couples and the photographer can take advantage of. Bubbles, balloons, bouquets, a stool, a travel suitcase – all these details stand out when they're used on a studio set as there's very little distraction.
Ashioma and Uba's (#UBash's) pre wedding shoot with Euclase Photography featured bubbles and balloons
Ibidola's stunning bouquet stood out and complemented their classy pre wedding pictures for the #NYUnion shot by Awgz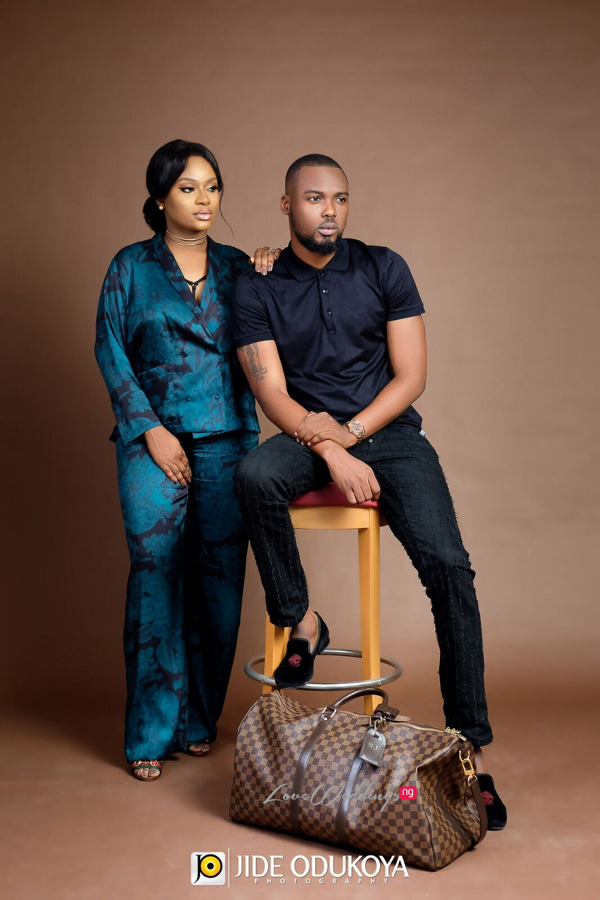 5. 90% of the time, the studio shots are the pictures that'll make it to your frame at home: With pre-wedding shoots, it's great to have all the fun you want but from our research, most couples only frame 2 or 3 pictures and the ones they tend to choose to frame and put up in their living rooms tend to me the studio like shots like these ones below;
6. It's easier to change outfits: Because you're in one location, which should ideally have a working bathroom, you're more likely to change into outfits easily. When you're shooting your pre wedding shoot outside, you may have to change outfits in your car or change in a general/public restroom.
7. It's better for logistics: Linked to No 6 above; because you're in one location, all the vendors can meet you in the same place and will have space to set up their tools. This is particularly crucial for vendors like makeup artists who need some space to set out their products, brushes, etc. Hair stylists would also need sockets to plug in straighteners, dryers, etc. If you have a stylist, they'll need a rail to hang their collection of fashion items.
So there you go! 7 reasons why you should opt to shoot your pre-wedding pictures in a studio. Leave us a comment below if we missed any reasons.