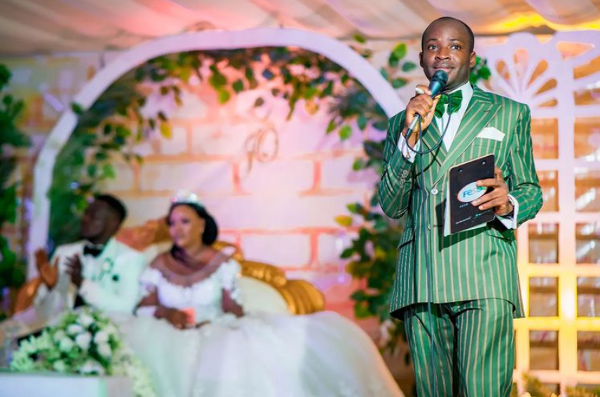 When choosing what wedding party games to play at your Nigerian wedding reception, it's important to consider games that will keep your wedding guests entertained. To get some insight into what wedding party games work for Nigerian weddings, we caught up with Nigerian wedding MC, Feso Oyebade (a.k.a. My Wedding MC) who shared 5 wedding party games you should consider. From the good old Gele game, the blindfold game to the 'This or That', check out these wedding game ideas.
1. The Couple's Pouch Game
This game is played with two pouches between the couple, one for the bride and the other for the groom. The pouches contain different tasks written on different pieces of paper neatly folded in the pouch which the couple is expected to perform. The groom is usually the first to play the game; he dips his hand in the pouch and brings one of the folded papers out, opens and reads the task to the audience before performing it. The routine is repeated with the bride. The tasks include but are not limited to romantic poetic recitation, dramatic presentations, and musical composition.
---
2. This or That
I love this amazing and engaging wedding reception game that provokes lots of excitement at my wedding parties. The game asks participants to choose one of two options by dancing towards their preferred option. The options are on a board which is raised by the bride and groom. The options are usually similar in nature with contrasting tendencies. For example "UK or US", "Love or Money" "PDP or APC", "Toyota or Mercedes", and so on.
---
3. The Blindfold game
This is an exciting game where either the bride or groom wears a blindfold and is asked to identify the other party by touching the hands of several ladies or men who volunteer to play the game.
---
4. The Gele game
The "gele" game may be old but is definitely not old-fashioned. The amusement, glee, and mirth it brings to event space especially wedding parties are ineffable. During this game, volunteers (usually drawn from the bridal party) are asked to tie the "gele" (headgear) on each other for a given time. The MC asks for the name of the "tied gele" before asking the audience to pick the best "gele"
5. Dance-off
This is a dancing competition game that involves the bridal party. I usually like to divide the bridal party into two teams: team bride (ladies) and team groom (Men). 
---
About Feso Oyebade (My Wedding MC)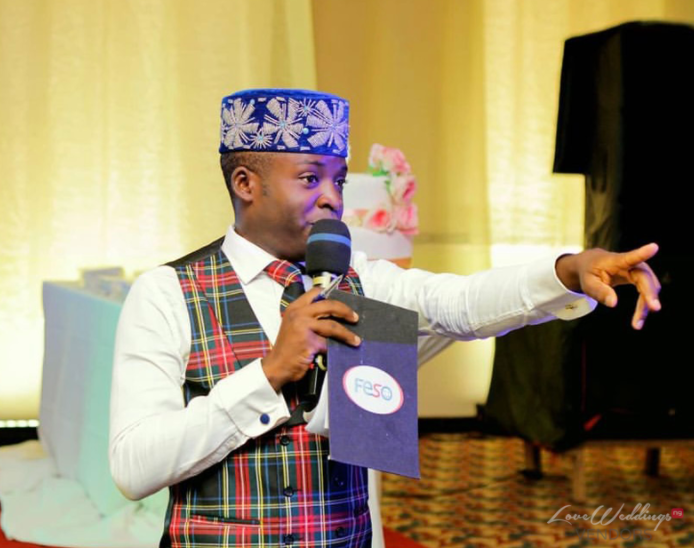 Feso provides an exceptional emceeing experience at wedding reception parties filled with clean humor to the utmost delight of clients and guests while preserving the essence of each wedding party. Looking for an MC to host your wedding or event, get in touch with Feso Oyebade (My Wedding MC) on Instagram or send an email to fesooyebade@gmail.com
Find more wedding ideas for your Nigerian & African wedding here