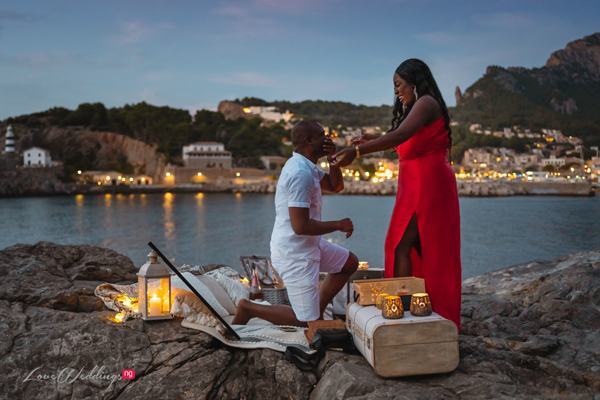 Firdaws & Olawale got engaged last year and their Mallorca proposal story is super interesting. They got married in August 2022 and their #FishandWhales22 wedding featured everything we love about Nigerian weddings; from a joint Instagram wedding page, to a week long wedding celebration & so much more. More to come on that!
We caught up with the bride, Firdaws who shared the story of how Olawale proposed in Mallorca, Spain. Enjoy!
Our proposal
Wale proposed on the 15th of October, 2021 in Mallorca, Spain. The thing about this proposal is that it came on a day I was not expecting.

I am a very conscious girlfriend, so I know my man so well. I know all his steps and moves. I am also detailed as a person. So, definitely we had spoken about taking our relationship to the next level. As a detailed person, I don't like most things people like, so we had spoken about the type of rings I like and every 2 months, I end up changing my mind.

After a lot of back and forth, Wale suggested we see a jeweler and have a ring custom made because that is the only way I won't change my mind. So we saw the jeweler; we had consultations, we learnt a lot about the ring industry, diamonds and different kinds of jewels, shapes and sizes.

So, yea, I knew my fiance was going to propose but I was not allowed to see or know what the ring would look like. During our consultations, the jeweler picked up on things I was excited about and together with my fiance they formed my ring behind my back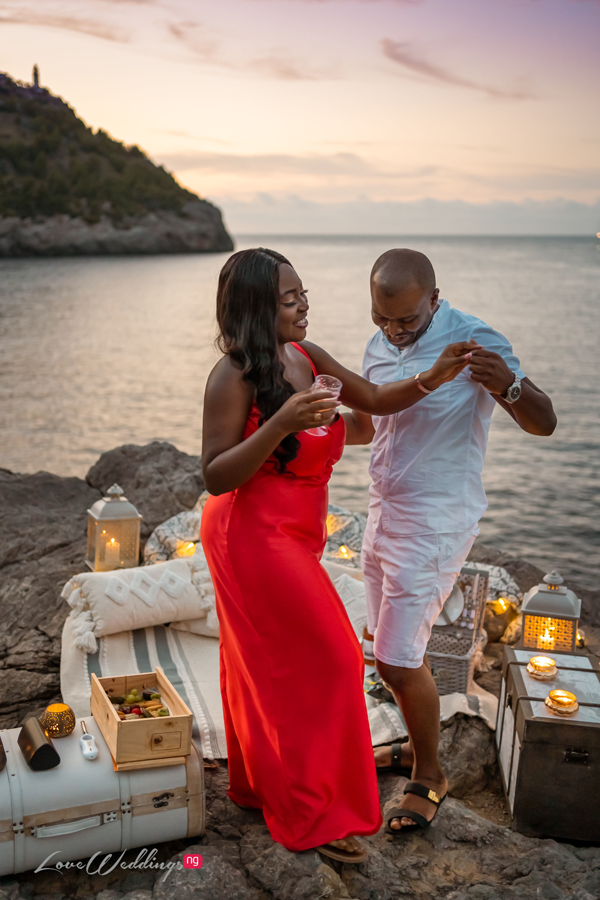 Fast forward, I didn't know when the ring was ready, I didn't know when he was going to propose. All of these just made me more anxious and excited. It's like you know something is coming, but you don't know when and your brain is calculating every step. Three months went by and nothing happened. It's like Wale saw everything happening and was laughing in his head.

After that period, we went to Greece, I thought it was going to happen in Greece but nothing happened. Italy came and nothing happened. So I just said, you know what! It will happen when it happens.

In October, we went to Spain, and Wale decided to pick a fight. (I later realized it was on purpose for me not to suspect). I was mad all through the day. In the evening, he says "let's go out". I was still in my vexing mode but I was on vacation and I did not want to say NO to an outing in Spain. So, I agreed to go out but I was giving attitude.

We got there and we started to hike. I was like "God, this man knew we were going hiking and he allowed me to wear a dress". It was just a very angry day for me. Voila, we got there, the view alone… all the anger vanished. I saw the set up… very gorgeous. I was so happy and shocked… I almost cried.

The evening was perfect. It was so beautiful and I said YES!!!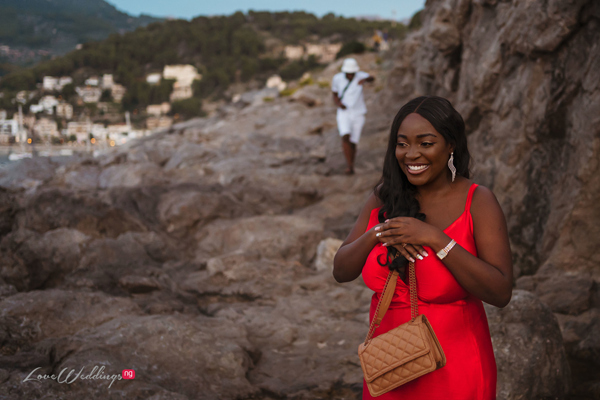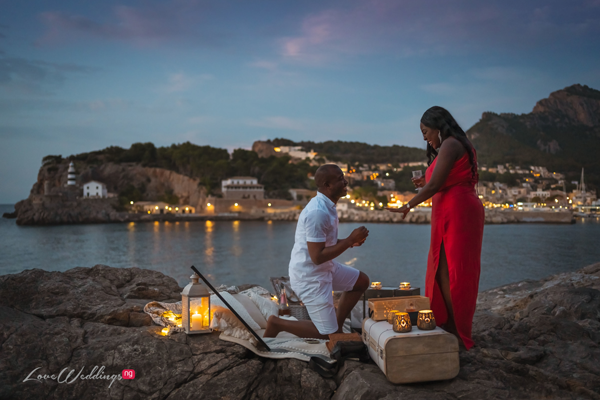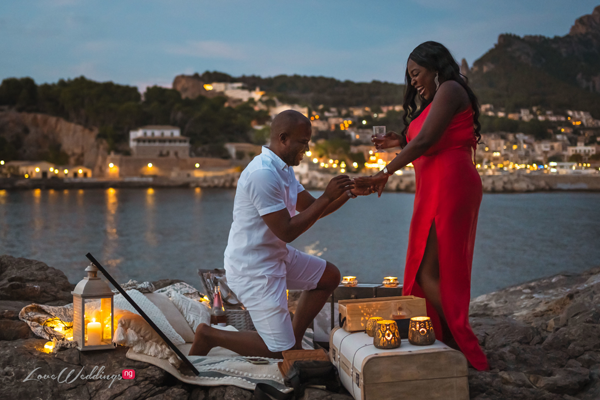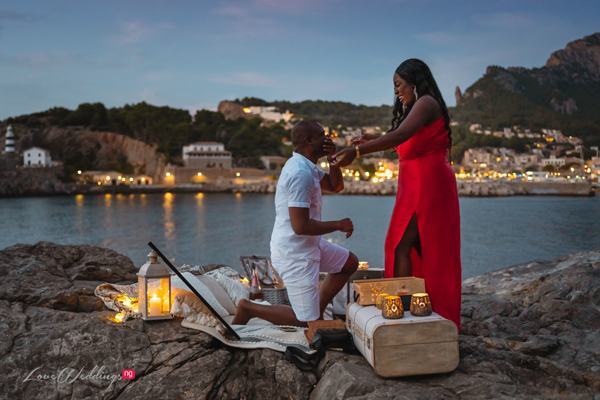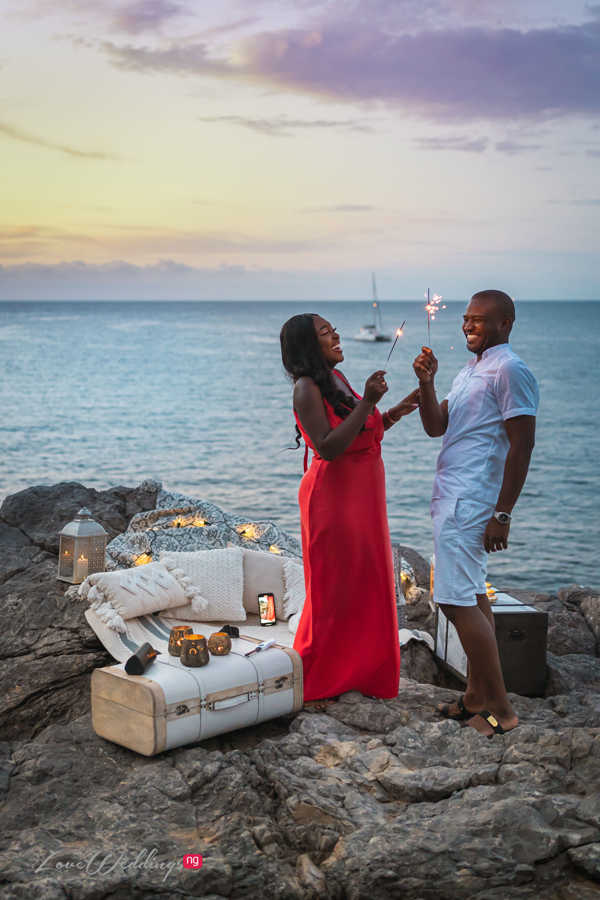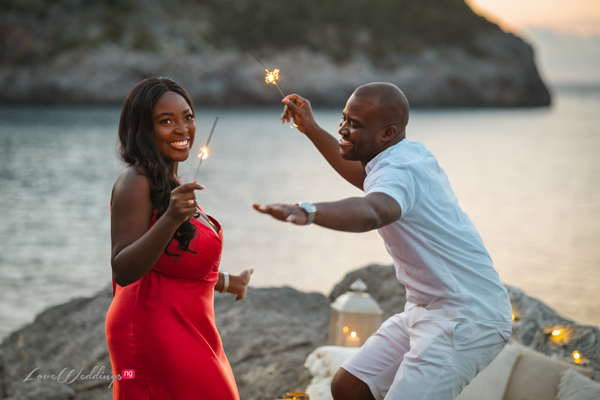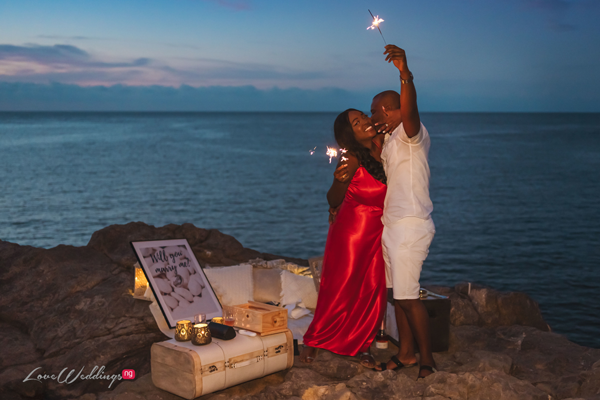 Vendors & Credits
Bride: @Paradise1917
Groom: Olawale
Couple: @fishandwhales22