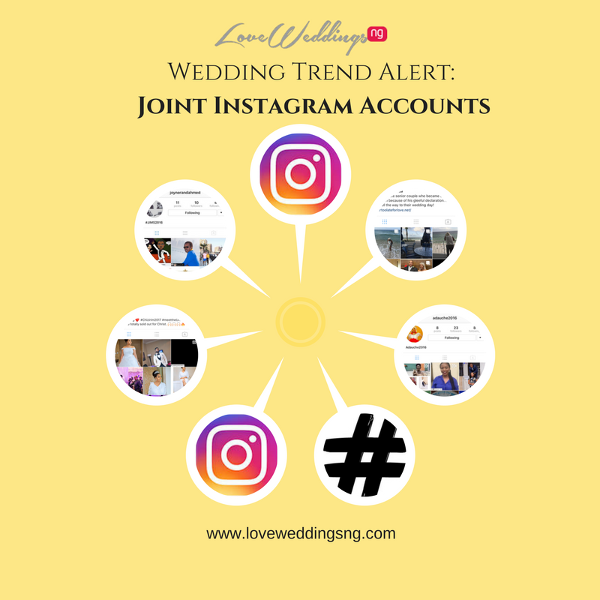 It's becoming increasingly popular for couples to open joint social media accounts as they count down to their wedding day. We spotted this trend first in 2016 and predicted we'll see more of it in the coming months and years. We were right!
We've put together some reasons why this is a great idea and backed it up with case studies of some couples who embraced the joint wedding Instagram account trend and made it work.
Murphy & Lucinda (#MurphyandLucinda): The senior couple who proved its never too late to find love opened a page on Instagram – @never2latecouple after their story and pictures from their engagement and wedding went viral.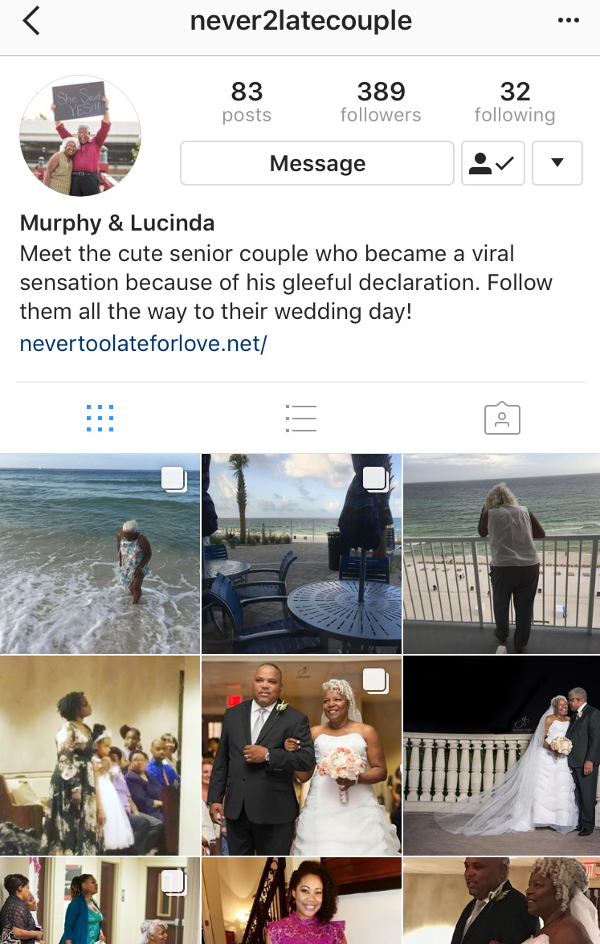 Joyner & Ahmed (#JIMS2017): Joyner & Ahmed's Instagram page – @joynerandahmed pretty much served as their wedding album. From their pre wedding pictures to their really cute illustration pre wedding video and to the D-Day, they kept all their followers up to date.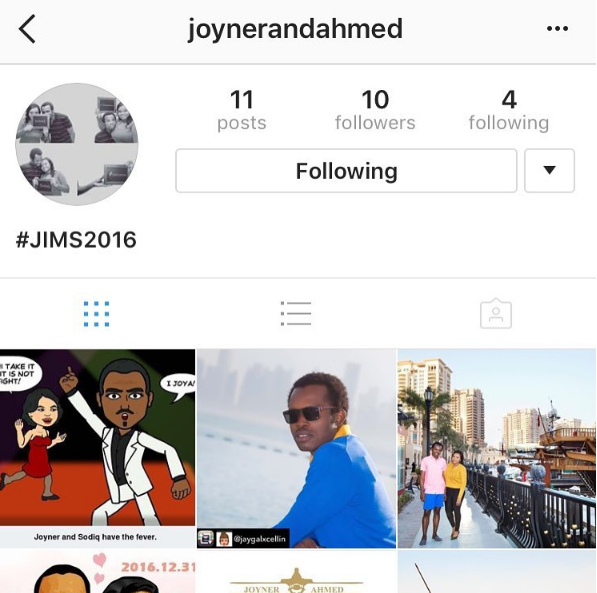 Ada & Uche (#AdaUche2016): They didn't just have a page on Instagram, they actually had a social media themed wedding. Nearly everything about their wedding had a social media spin on it – the décor, the wedding stationery and even their wedding vows. Setting up a page – @adauche2016 on social media was definitely a must-have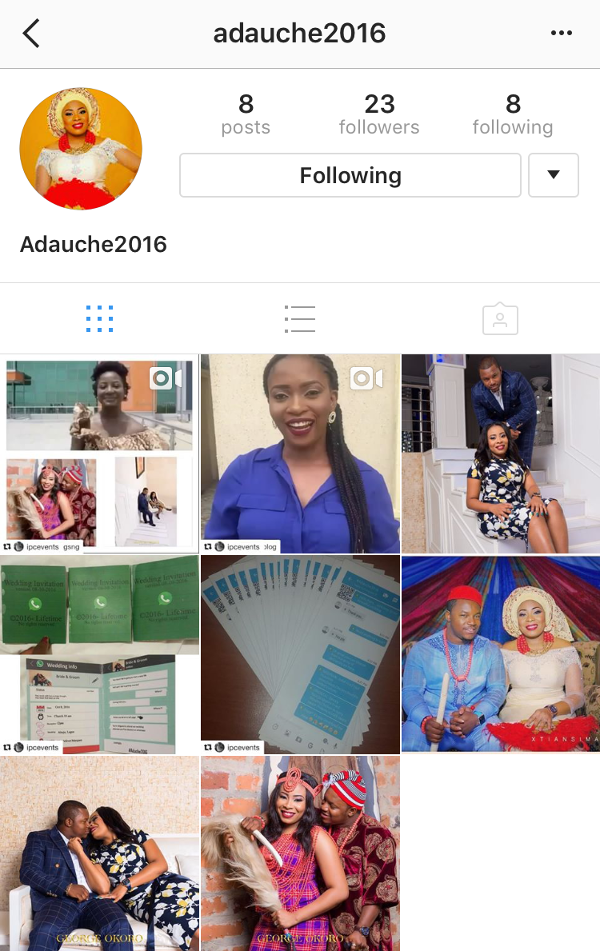 If you're starting to consider this as an idea for your wedding, read on as we tell you why this is a great thing to do;
You can use it as a way to build up excitement in the lead up to your wedding
For couples who like to keep their Instagram accounts private, its a great idea to have a joint public page with only pictures of both of you that you're willing to make public
A number of couples (brides actually) tend to change their Instagram handle once they get married, this makes it extremely difficult to find them and tag them on pictures from the wedding. Having a joint account solves that problem. As long as your guests and vendors know about your handle
With a joint Instagram account, you can repost images uploaded by guests and vendors from your big day and share your profile with anyone who wants to view pictures
See more couples who set up joint Instagram accounts for their wedding.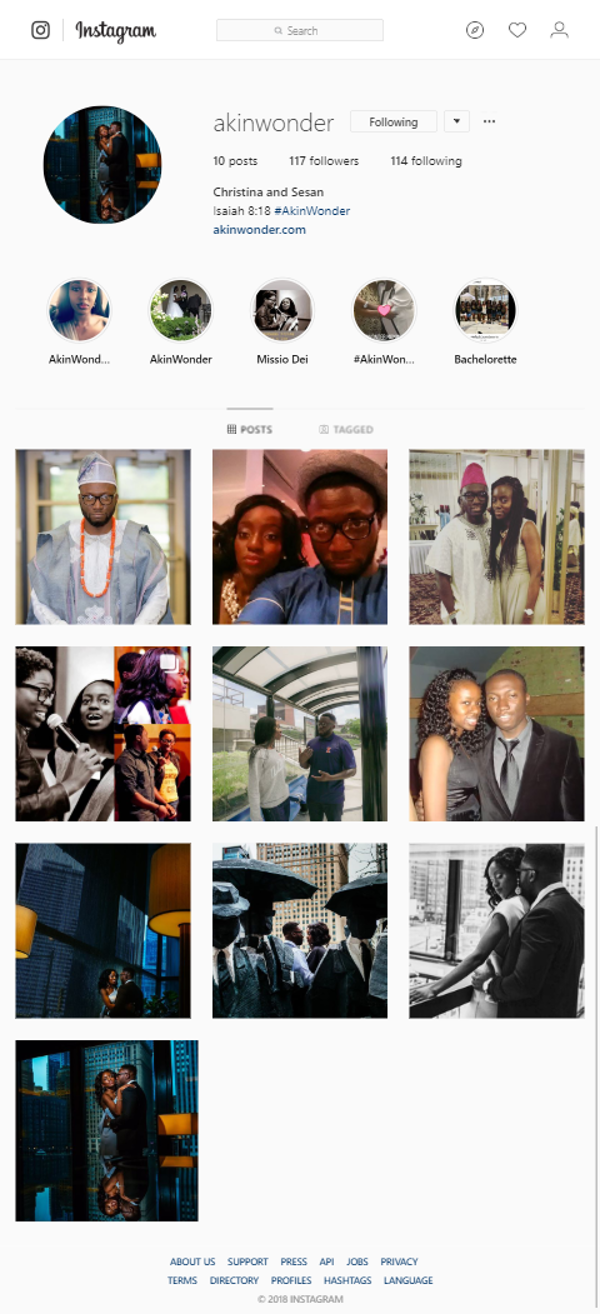 #Alfreds2017: Nigerian designer and brains behind MsMakor, Anita and her groom, Olayemi had a page on Instagram with the handle @alfreds2017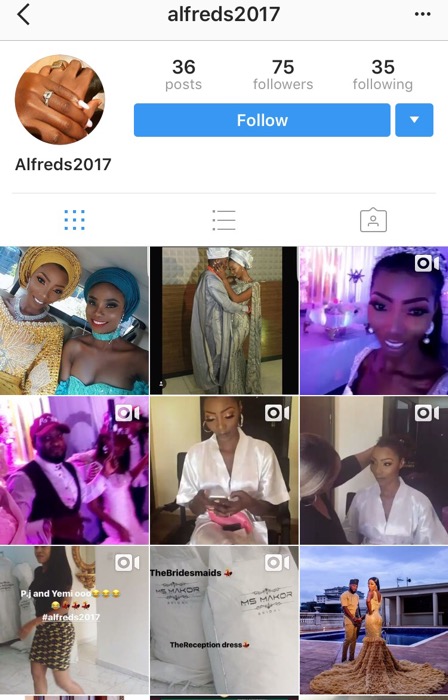 #Chizirim2017: The Ohuabunwa's had a joint Instagram wedding page – @withlovefromcnc and shared pictures from their traditional wedding, bridal shower, and white wedding with their followers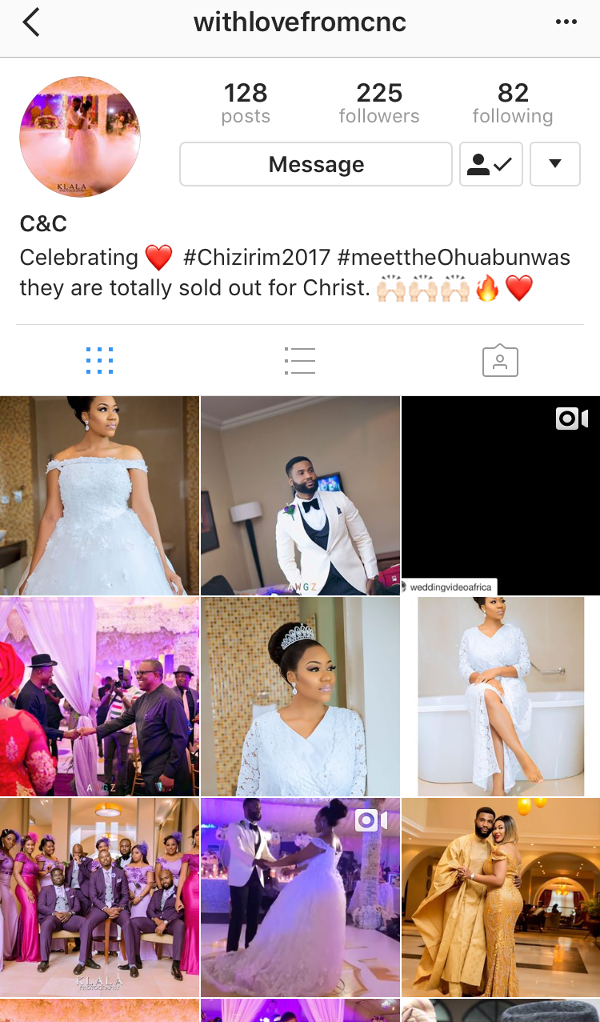 Our Joy Series: Ironesen and Odianosen had their traditional wedding in Benin city on the 15th of April, 2017. Their white wedding held in Austin, Texas on the 5th of August, 2017. Their guests, family and friends followed their journey on their joint Instagram page – @ourjoyseries.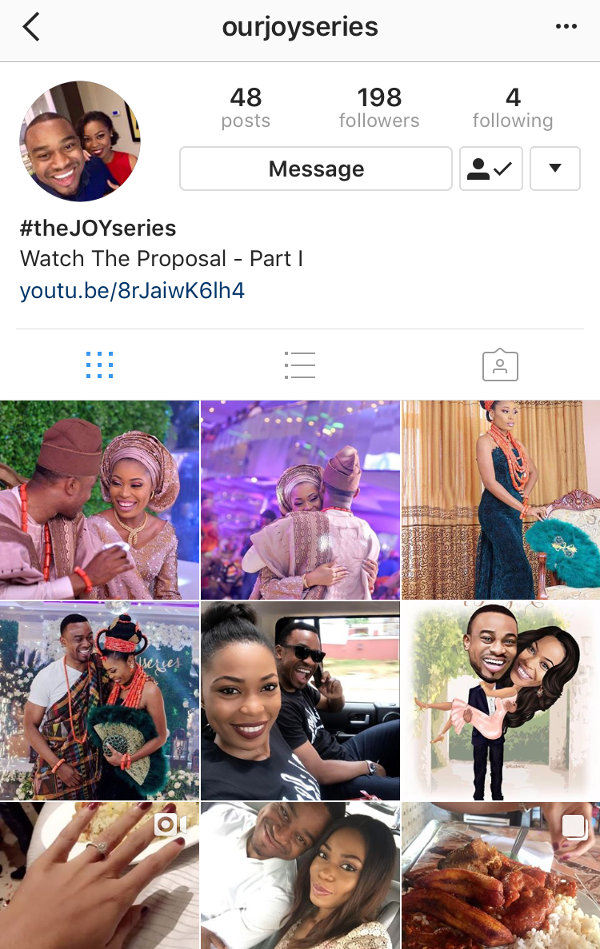 The Purples 2017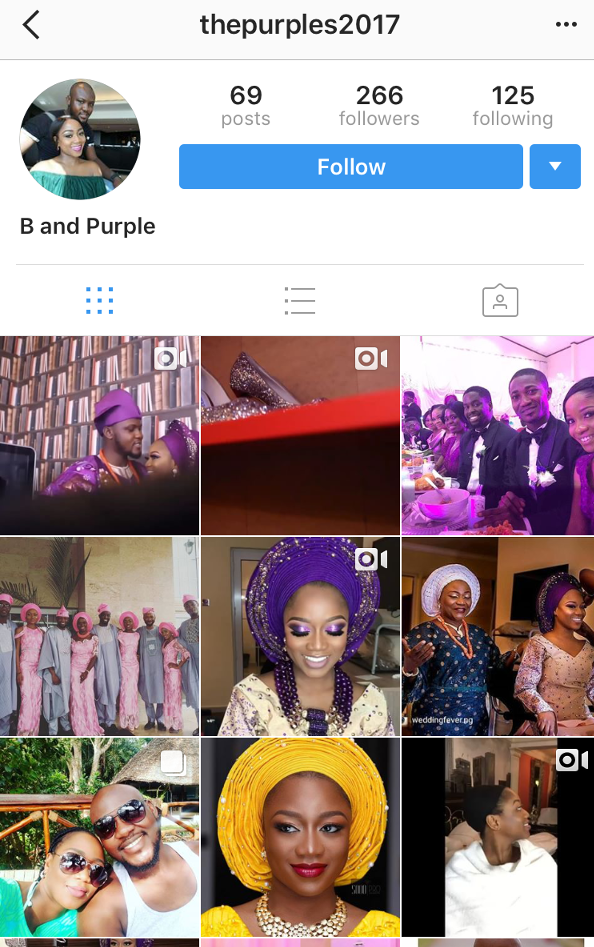 #ChinandLars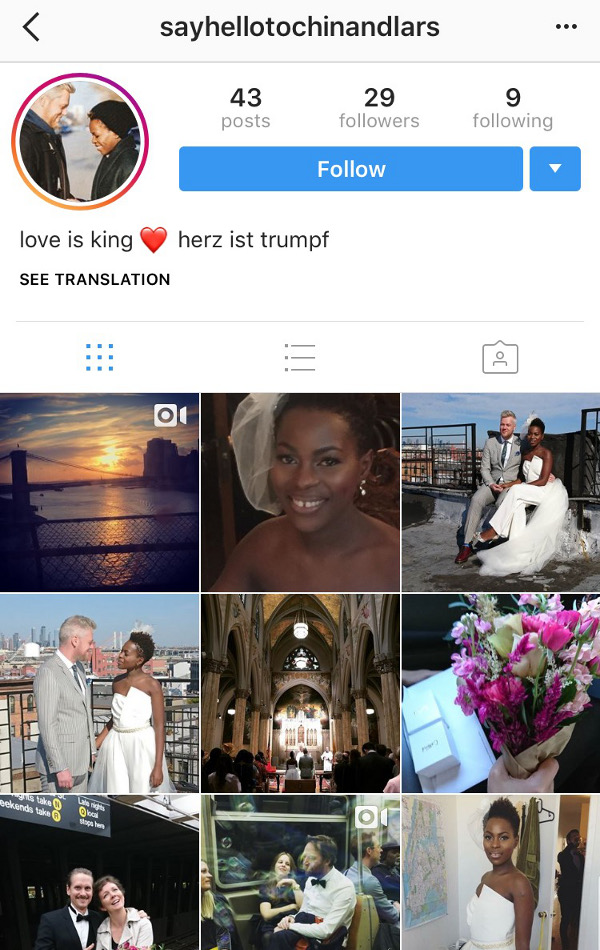 #DIFE2018: Deji & Ife set up @dife2018_moments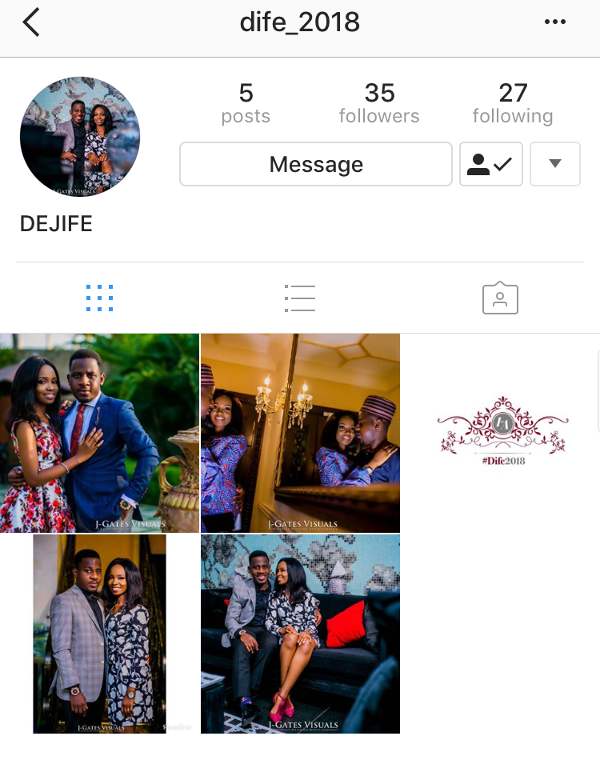 Let us know if you'll be giving this a go. We'll love to read from you
Find more wedding ideas for your Nigerian & African wedding here