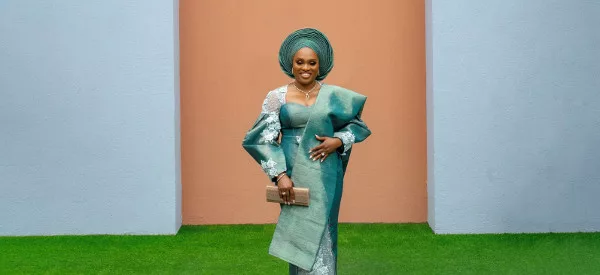 Nigerian bridal stylist, Regal Estilo curated Bukola's (Mrs. Bamidele's) traditional and white wedding reception bridal looks for her #BDLoveStory wedding. The stylist shared; "Curating Mrs. Bamidele's traditional looks was super exciting for us, we presented an edgy avant-garde mood board to her and she was all in!" We love the fit of all three outfits and how they sit perfectly on Bukola's frame.
First traditional bridal look
This look featured a gorgeous traditional aso oke outfit and veil designed by BethO Official and gele styled by Oni Gele. The aso oke fabric was sourced from BisBod Aso oke. Bukola looked so stunning, the drummer boy couldn't stop staring.
Second traditional bridal look
For Bukola's second traditional bridal look, Regal Estilo curated an outfit designed by Sheye Oladejo with lilac fabric sourced from The Fabric Room NG paired wth Swiss HD gele from Glitz Allure Fabrics. We love this look.
Wedding reception bridal look
Regal Estilo curated the mood board for Bukola's wedding reception look, sourced the fabric, and engaged the designer – @emaginebybukola to execute the look. We look the fit and the fabric by @thefabricroomng.
Vendors & Credits
First tradlook:
Second tradlook
Wedding Reception look