WED Expo: Refer an Exhibitor and get paid N10,000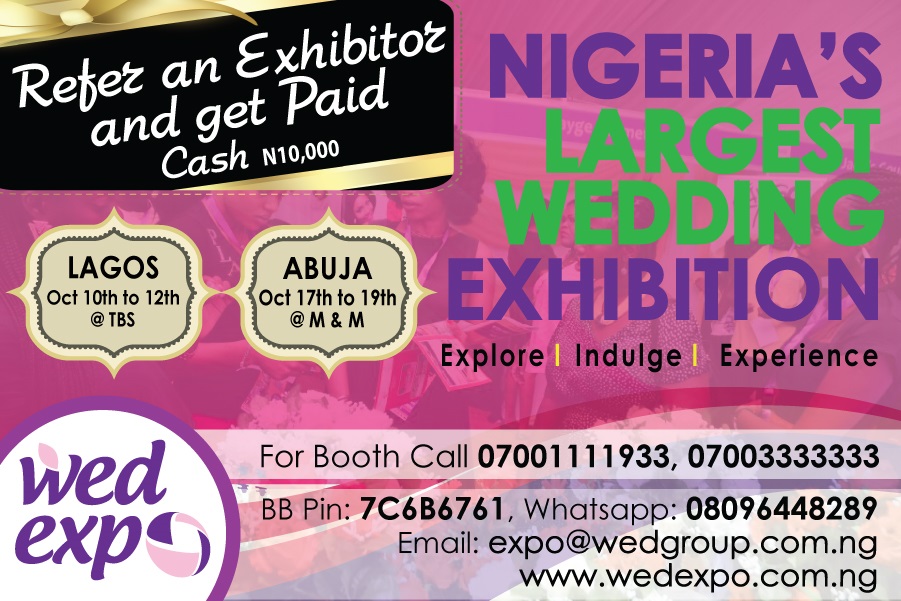 Yes you read it right. You get paid N10,000 cash for every exhibitor you introduce to WED Expo from now till September 10th. No Questions Asked. It's Nigeria's Largest Wedding Exhibition!

Do you know a wedding service provider like a wedding planner, makeup artist, decorator, cake maker, AsoOke maker, dessert expert, photographer, Aso-ebi merchant, Accessories maker, Rings and Bands, caterer, videographer, bridal house, groom house, designer? Now you can get paid by just referring them to exhibit at WED Expo – Nigeria's Largest Wedding Exhibition. All you have to do is talk to a friend, colleague, family member on buying a booth at WED Expo.

WED EXPO WEST – October 10th to 12th – Tafawa Balewa Square (TBS), Lagos

WED EXPO NORTH – October 17th to 19th – M & M Event Center, Abuja

WED EXPO SOUTH/EAST – October 25th to 26th – Airforce Gardens, Port Harcourt
BOOTH PRICES
1) Shared Booth: Formerly N80,000 NOW N50,000 2 exhibitors share a booth with each having separate tables.

2) Economy Booth: Formerly N150,000 NOW N100,000 These booths are 3 by 2 meters but are allocated a day before the exhibition, they are for exhibitors on a budget or not particular about location.

3) Standard Booth: Formerly N200,000 NOW N150,000 These are the most popular booths and they are 3 by 2 meters. You get allocated immediately to the next best booth.

4) Preferred Booth: Formerly N300,000 NOW N250,000 These are the first 2 booths on each lane. They are for location specific exhibitors and are 3 by 2 meters.

5) Premium Booth: Formerly N450,000 NOW N400,000 These are the the first booths after registration, they are 3 by 3 meters and have a large space in front of them. They are the most visible.

BENEFITS FOR EXHIBITORS
• It is Nigeria's Largest Wedding Exhibition
• My Big Nigerian Wedding Season 2 Contestants (thousands of couples) will attend WED Expo October
• Brides that need last minute deals for their 2014/ early 2015 weddings will be in attendance
• This will be the biggest WED Expo so far
• Mega publicity in place to make it your best marketing strategy for 2014
• WED Expo has a track record of results
• Brides and Grooms trust vendors at WED Expo
• WED Expo has all a bride and groom will need for their wedding under one roof
• There is a booth for every budget

HOW TO GET AN EXHIBITOR AND GET PAID
• Tell a friend, colleague, family member or acquaintance about WED Expo
• Have them CALL 07001111933, 07003333333, 08147217096, 08096448289 or Add 7C6B6761 or WhatsApp – 08096448289
• Ensure the person mentions your name and number when booking and that's it! You get paid!!

HOW TO PAY FOR A BOOTH
• Pay to Diamond Bank ~ WEDExpo Limited ~ 0040977710
• Send SMS to 08096448289 with Company name, Payer name, Email and Phone number.
Note: You get N10,000 is for a full booth and N5,000 for a half/shared booth referral

WED Expo has become the go-to brand for thousands of couples when planning their wedding and if you want to book directly

CALL 07001111933, 07003333333, 08147217096, 08096448289

BBM: 7C6B6761

WhatsApp – 08096448289

Email: expo@wedgroup.com.ng

Website www.wedexpo.com.ng
For more information, please visit www.weddaily.com