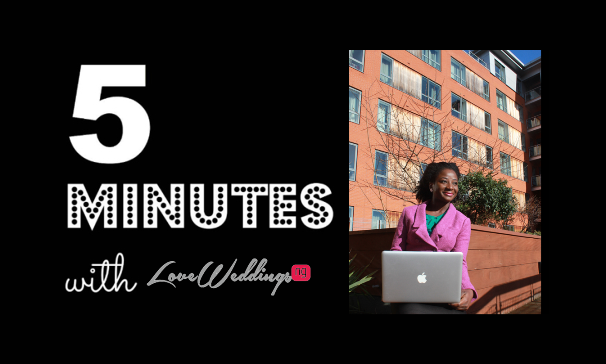 Hello people… Welcome to another exciting '5 Minutes With…' post.
'5 Minutes with…' is a series of short interviews with some of the esteemed vendors listed on our directory. We get to know the brilliant people behind the brands we love. And you must have already noticed, it's Monday and not Wednesday… yea, we know!!! This week, we have two '5 Minutes With…' posts for you, just because ….
Today, we'll be featuring a very special guest… MEEEEE!!!! 🙂
Enjoy!!!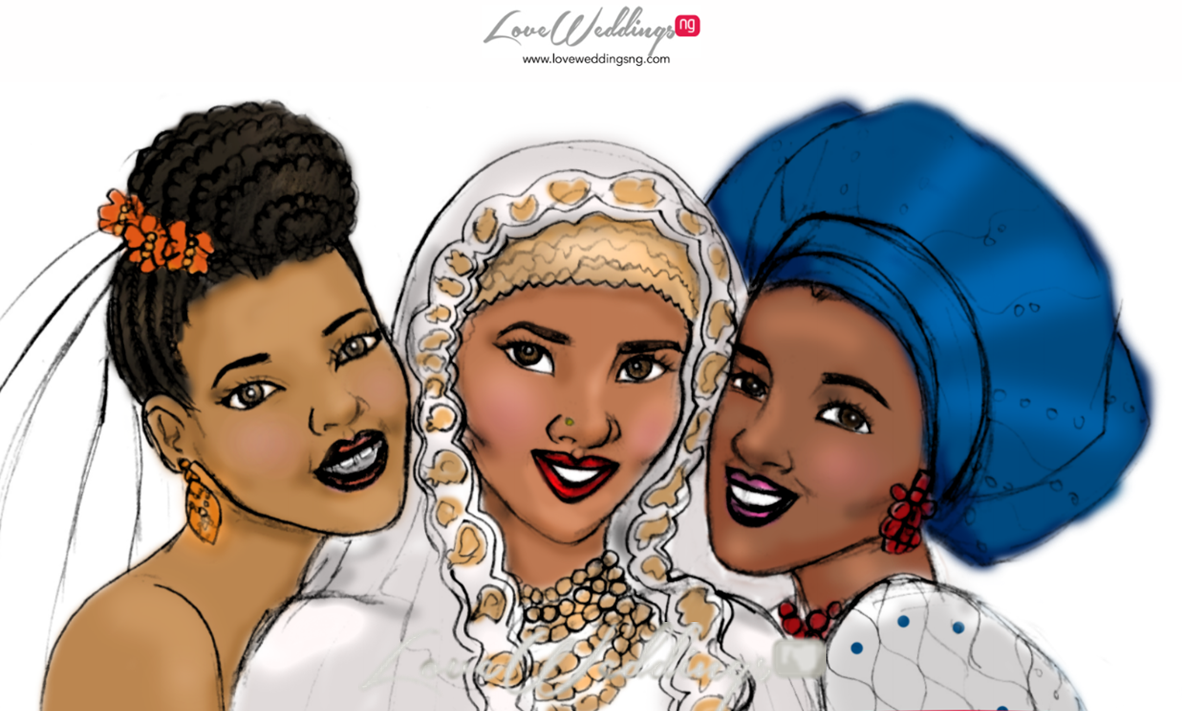 Seyi is the founder of LoveweddingsNG – a wedding website that provides tools and ideas to enable prospective couples gain inspiration for their big day. LoveweddingsNG also features an extensive wedding vendor directory, articles, tips and so much more around weddings and more. Seyi is on a mission to fill a gap in the wedding industry with her experience in digital marketing, public relations & marketing communications on a wider scale.
The Part of My Job I Enjoy The Most
Meeting people – brides, grooms, vendors, colleagues, fans, everyone. I have met some amazing people since I started LoveweddingsNG last year (February 2014). There are so many amazing, hardworking, intelligent, creative people in this industry and I just love meeting them, understanding what drives them and most of all, learning from them. I'm a firm believer in the fact that you can learn something new from everyone…
My Biggest Accomplishment To Date
Winning the Outstanding Media/Wedding Blog of the Year award and working with Beauty Africa Conference & Exhibitions as one of the Official Media Partners for the October 2014 event in Nigeria. I look forward to more awards (fingers crossed) and more partnerships this year.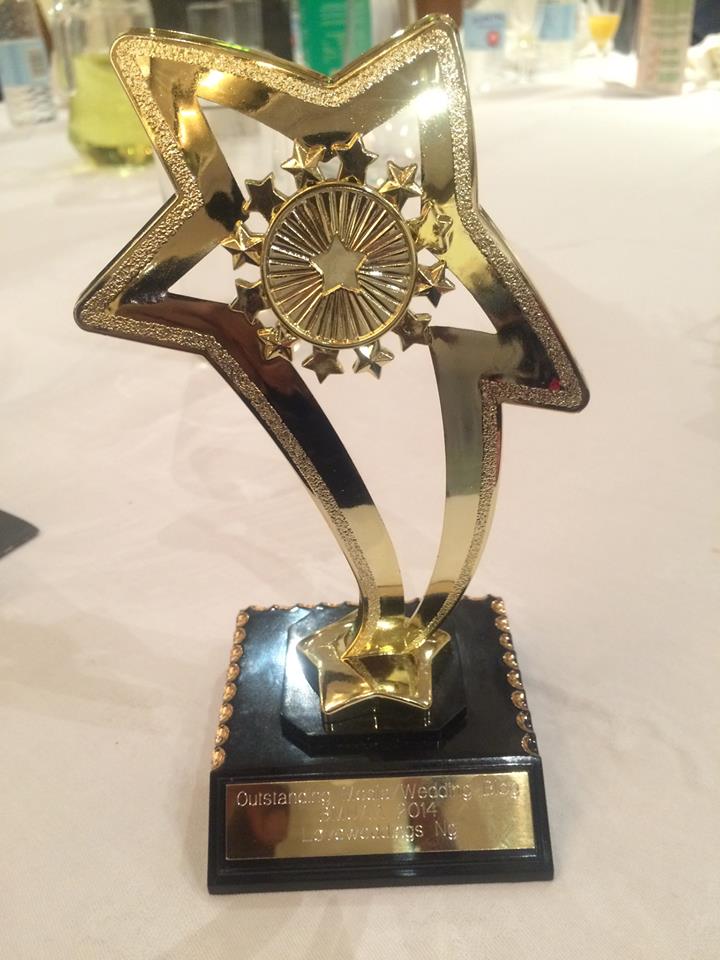 The Best Vendor You've Worked With
Easy peasy… All our vendors are fantastic. Visit our directory and experience the magic…
In my Spare Time, I listen to music, read, watch movies, hang out with friends and ah!!! I spend a lot of time on FaceTime.
Interesting Fact about You
I'm big on DIY (Do-It-Yourself)… If I need to get something done, I'd try to do it myself first and learn to do it if possible. If not, then of course I'd reach out to someone but I love challenging myself and pushing myself to learn something new, whenever and wherever possible.
What are you listening to at the moment? A LOT of songs. I'll just list a few.
Oritsefemi – Double Wahala (This song sha!!!! Replay… :))
Patoranking (feat Tiwa Savage) – Girlie O (Remix) – (Tuneeeeeeeee!!!)
Ed Sheeran – Thinking Out Loud
John Legend – All of Me
Waje's debut album Words Aren't Just Enough (I love all the songs in this album and I sing along to every song… :))
Tiwa Savage – Folarin
Mike Aremu – Vow
Di'Ja – Awww
Let me just stop here before this post enters page 2…. 🙂
What book are you reading? Or what was the last book you read?
I'm currently reading Off-The-Wall Marketing Ideas by Nancy Michaels & Debbi J. Karpowicz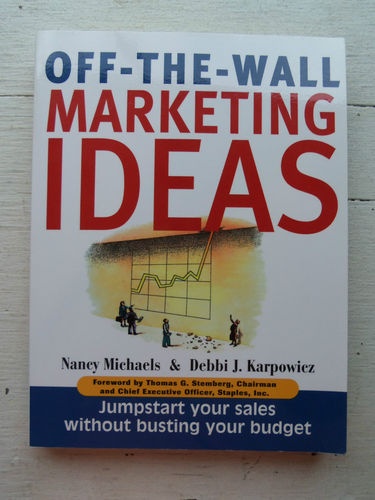 Call or Text
Definitely text, due to the nature of my job I can't afford to spend forever on the phone talking especially when we're not talking about anything in particular… Please send a text, thank you 🙂
Cook or Be Cooked For
Both actually. I love cooking and my family and friends love it when I cook but then again, I don't mind being cooked for especially if it's something different and out of the ordinary.
Ideal Holiday Destination… Singapore, Dubai
3 Guests For Dinner, who would they be?
Bishop T.D. Jakes (Most definitely, love love love Papa Jakes)
Beyonce (I just think she's amazing!!! Not sure why but I'm sure she is)
Richard Branson (One man I admire, I'd love to ask him how he has managed to dip his hands into so many industries – publishing, transport, music, financial services, healthcare, fitness/wellness, etc and managed to succeed in most of his businesses)
John Legend & his wife Chrissy Teigen – Legend (I just love both of them and I think they'd be good fun to have around)
Chris Hemsworth (my husband in my head) & Bradley Cooper (my 2nd husband).
Lord Alan Sugar (I need him to teach me how to to come up with one-liners …, everytime I hear a new one, I have to digest it for about 5 minutes, laugh my head off, rewind and repeat the process till I get to the next one…
I know 3 guests right (covers face), sorry I have a big problem with numbers, sue me
To find out more about LoveweddingsNG, click HERE.