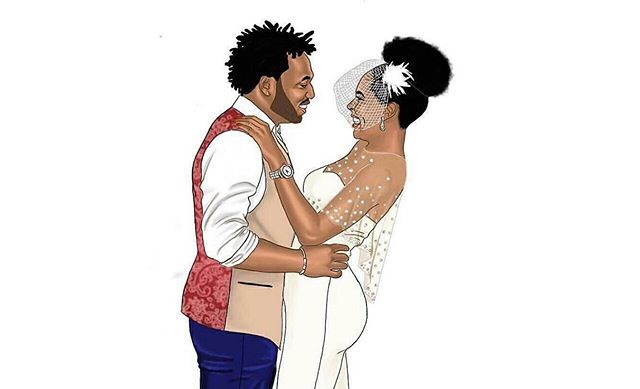 If you've followed LoveweddingsNG for a while, you'd know we love art, particularly illustrations, we've always gone on and on about how you can use illustrations for your wedding and that's what this post is about. There are so many things you can do with illustrations. Here are a few ideas of how you can use you and your partner's cute lovers drawing commissioned by your favourite artist.
1) Invitation Cards
You can get an illustrator to do a sketch of you and your partner and use this on the cover of your invitation cards. This is also a great way to personalise your wedding invitation as seen in the example above from Cheeky Toons.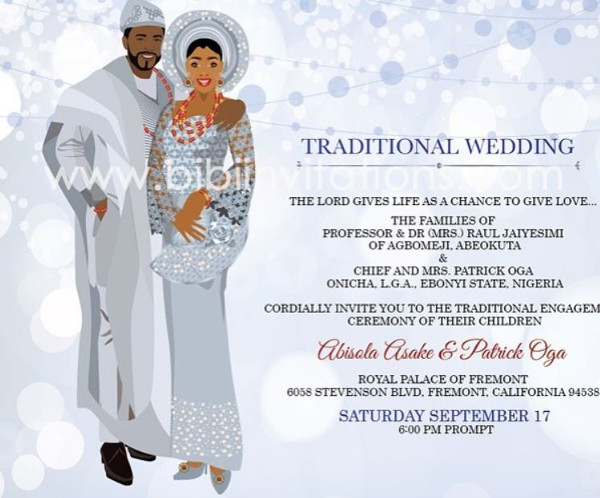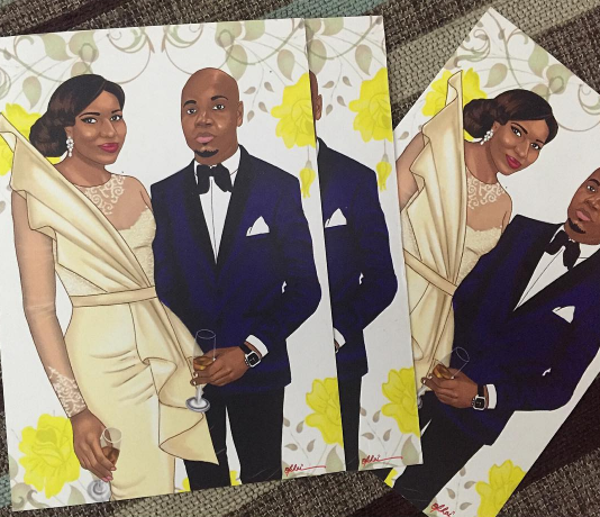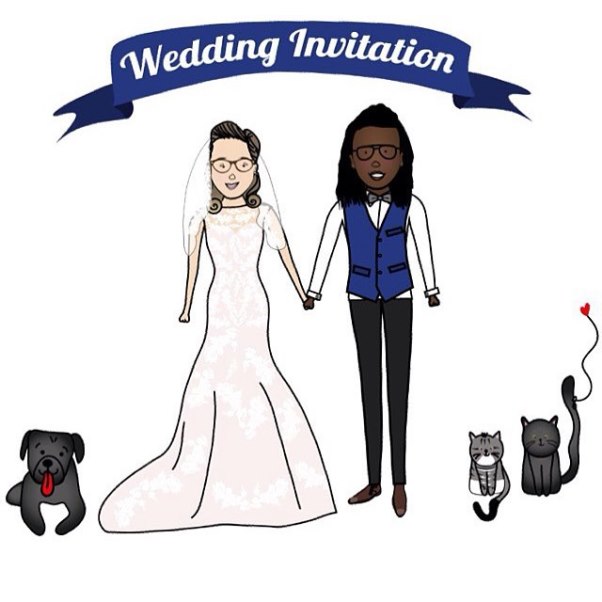 2) Save The Dates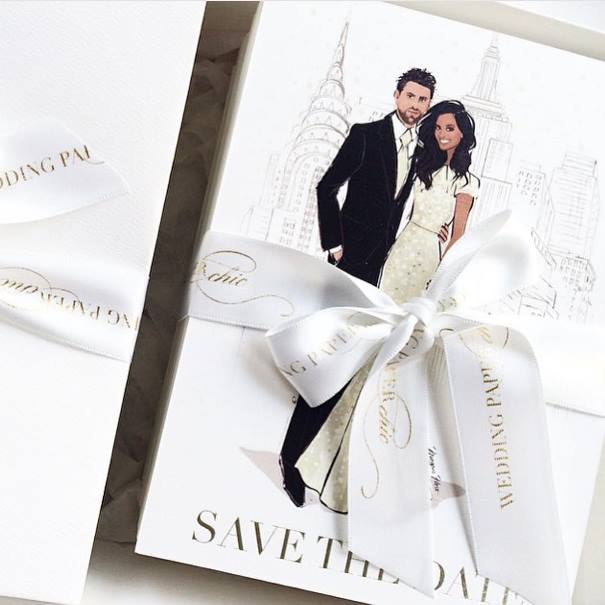 3) Wedding Decor: At Morayo & Jide Odukoya's wedding, they had a huge photo backdrop featuring the illustration below of the couple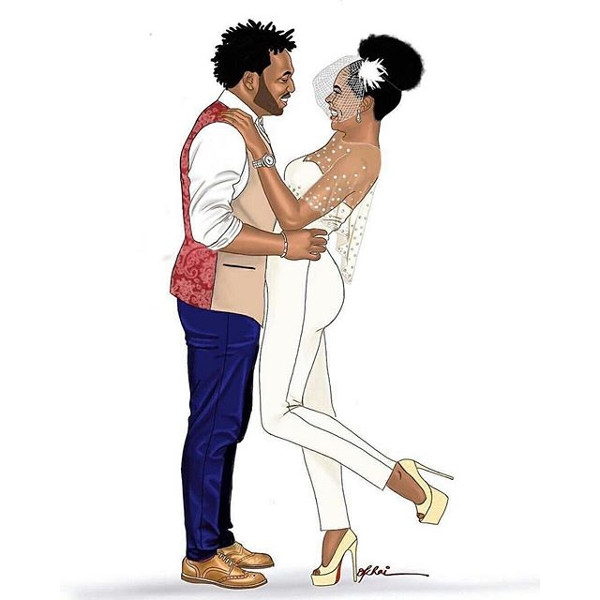 We also saw this concept at an event planned and organised by our Dubai-based Nigerian wedding planner, Your Day Our Time. Illustrations were used to identify guests' seats i.e. there were illustrations of each guest on the tables. Typically, seating arrangements are done using table numbers and a list or table name tags. Whilst this is a great idea, we think this would only work for small intimate weddings where the couple know every single person attending. We're not sure it'd be ideal for a large wedding especially where guests don't RSVP.
4) Entertainment: This one's quite tricky but we thought we'll give it a go anyway!
So here's the idea, you know how couples get photo booths to entertain their guests before they get seated for the reception, we also think it'd be a great idea to offer your guests the opportunity to get live illustrations done at your wedding. Just like the picture above, your guests can also take these away as souvenirs from your wedding, which they can possibly frame and use to decorate their homes.
Of course, this would only work if you can get an illustrator who can sketch really fast else you'd end up with long queues, which defeats the purpose.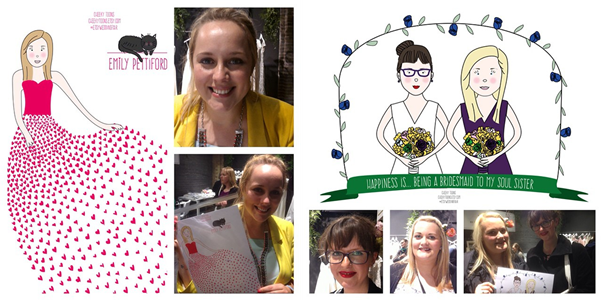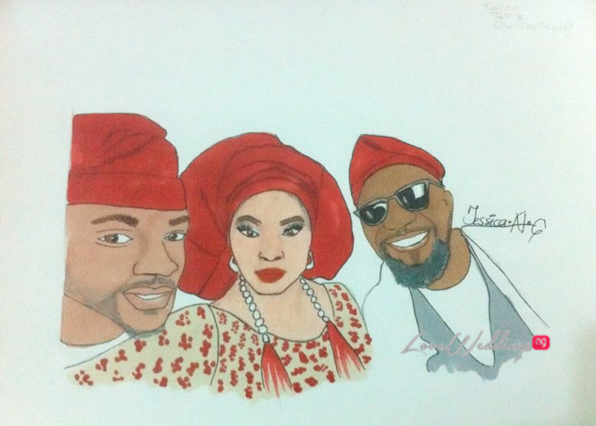 5) Thank You Cards: After the wedding, we think the sketch below would look great on the cover of a thank you card to your bridesmaids, for example. Again, it gives you the opportunity to capture each bridesmaids' personality as seen in the example above from Peniel Eneche.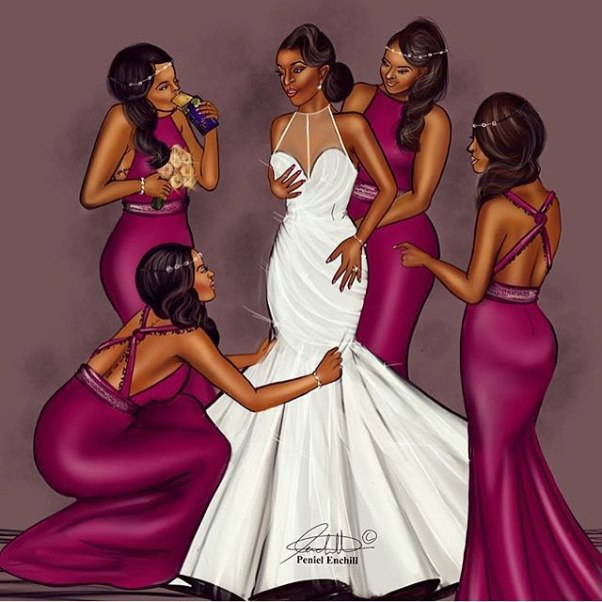 6) Gifts: Whether you're giving them as gifts to your partner or to your bridesmaids or groomsmen, illustrations are perfect. Are you a bride wondering what to get for your groom on his birthday or just as a wedding gift? or vice versa. Illustrations are perfect gifts and tick all the boxes – unique, creative, personalized... Below is a picture from Morenike & Dayo's traditional wedding and an illustration by Data Oruwari, which was a gift from the groom to the bride on her birthday.
At Jeremy and Maame's #RemyMa2K18 Ghanaian wedding, the groom presented the bride with a surprise wedding gift, which was an illustration of the couple.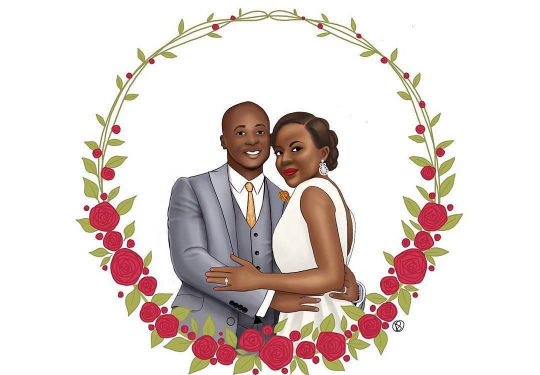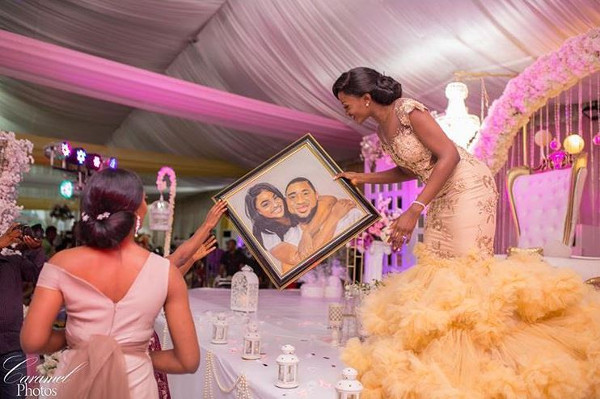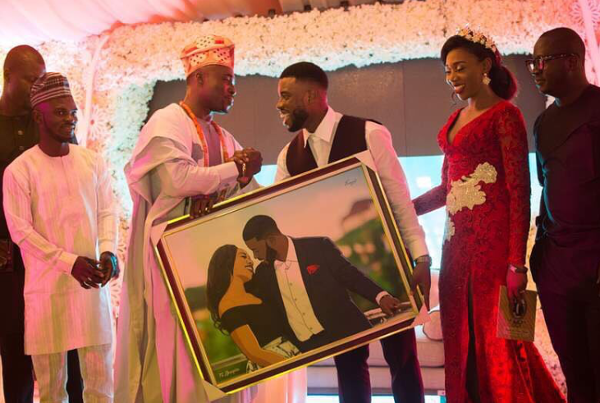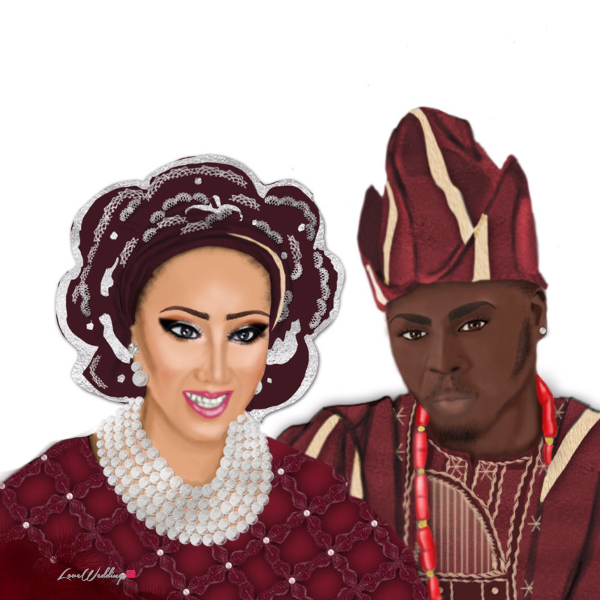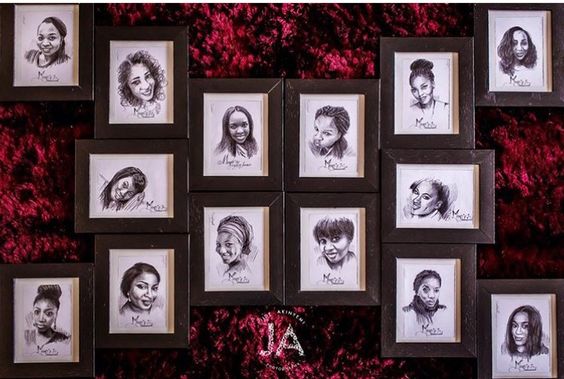 7) Wedding Guest Boards: We spotted this carcature guest board at a wedding planned by Mati Gono Events.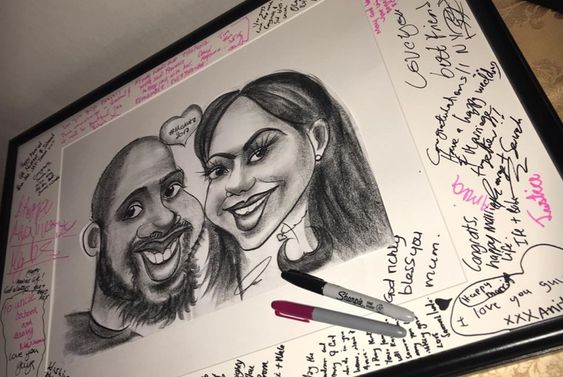 8) After Party Cups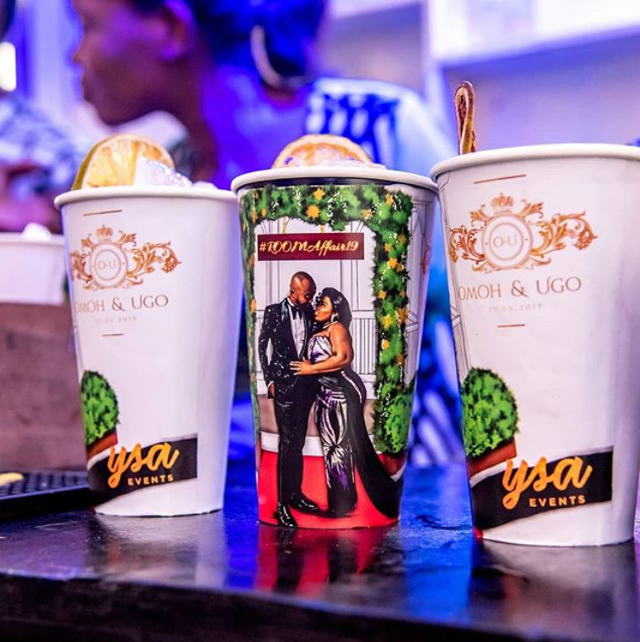 Here are some other couples who used illustrations at their wedding
If you love illustrations like we do, here are a few fab illustrators we found, click on the links below to visit their pages and be inspired!