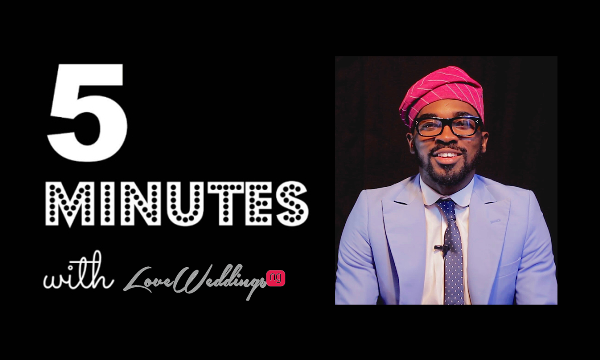 Our first '5 Minutes With…' feature of 2016!!! Yayyyy!!!! 🙂
This year, we have an exciting line up of vendors for you. Last year, we covered a variety of talented individuals – from photographers, designers, makeup artists to bakers and more. This year, we're going a step further, we want to get to know more vendors especially those in very niche markets… traditional wedding MC's (Alaga Iduro's, Alaga Ijoko's), head of wedding security companies, fabric suppliers, your local tailors, etc. We're going even more personal with new and improved questions  So make sure you visit www.loveweddingsng.com every Wednesday at 11am to get to meet an esteemed vendor listed on our directory. If you missed any of our posts last year, catch up HERE.
We're kicking off our '5 Minutes With…' feature with Tohwson – The Wedding MC
Oluwatosin Ibitoye is the founder of Tohwson The Wedding MC, an outfit set up in 2009 to cater to couples who need a professional master of ceremony to help make their wedding reception fun and memorable for themselves and their esteemed guests. It all started during Tosin's undergraduate days where he dabbled into comedy; he continued this whilst studying for his postgraduate degree in the United Kingdom. Tosin worked with an events company as an events manager. This was when he realized the abundance of comedians in Nigeria and the lack of professional Masters of Ceremony. Tosin is committed to letting the world know the difference between a comic and a Wedding MC.
Your Brand in Three Words… Excellence, Creativity and Service
The part of my work I enjoy the most: When I get a credit alert hahahaha. But actually the best part for me is the smile on the face of satisfied customers and guests that experience Tohwson.
The most difficult part of MC'ing a wedding: Some Nigerian weddings can be difficult, as the tradition is for people to come eat, drink and merry. Hence, you find a lot of distraction from guests sat at the back of the room and this can easily have a ripple effect on the rest of the room. Over time, experience has taught me to handle and manage such situations.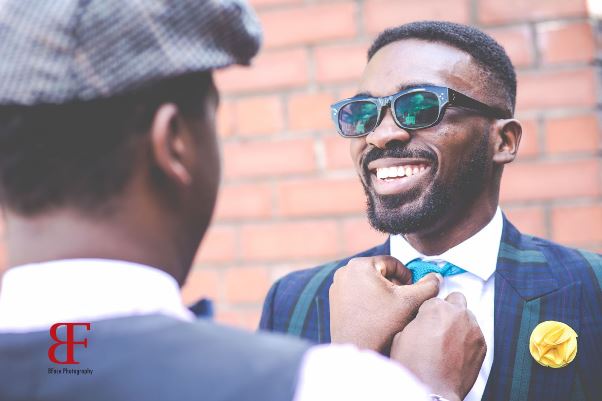 Biggest accomplishment to date: Asides my academic and career achievements the biggest for me will be being a source of inspiration and motivation to loads of people. I get messages from people commending me for doing and sticking to what I do and that it motivates them to do that which they have always wanted to do but are scared. That I am creating a career for myself out of nothing, (blazing a trail), and that in itself is an accomplishment.
Do you think Wedding MCs are respected enough? You literally took the words out of my mouth for this one. Lol!! I think we still have quite a long way to go. However, I think it's gotten a lot better recently. The only way is up from here. People underestimate the importance of having a professional wedding MC and its good to see that a lot of couples are starting to realize the difference between a comedian being an MC and a professional Wedding MC.
The best vendor I have worked with: Without having to think about it, that will be The Wedding TV, his creativity and professionalism is worth emulating and since working together we have become very good friends.
One quality every Nigerian vendor must have and why? This will be excellence in service, one you understand the need to deliver excellence and that its about being of service to the couple to make their special day memorable, then you realize its not about the money but about rendering excellent service.
Most embarrassing awkward experience: Hahaha it was too awkward. It all happened when a senior colleague called me a few hours before the wedding and asked me to stand in for him so I had no time to prepare. Getting to the wedding on time and starting in good time was my priority. I got to the wedding, started the reception just for me to get half way through to realize I was working at the wrong wedding and I had been getting names wrong. It was too awkward.
Does anything scare you? Well I still get nervous before any gig but I believe that's normal, as no two weddings are the same. But talking about fear, I don't think anything scares me because my name is Emmanuel. Lol.
The best souvenir I have gone home with? I usually do not take souvenirs from weddings because it just makes up for junk in my house with all the regular buckets, hand towels and the likes but at this wedding I found myself hustling to get a souvenir because to my surprise they were handing out apple IPads. There's no way that will make up for junk, even if it does then that's the kind of junk I like. Lol.
What's your take on social media? It is a cost effective medium of reaching out, as it costs you nothing but time, it is also interactive as opposed to the orthodox media. It is the future, it helps make the world a smaller place, and it helps you walk in on people in their living rooms or as far as walk in on them while they might be doing a number 2 hahahaha without trespassing. In other words it's a free asset.
In my spare time, I like to watch movies, hang out with friends, have a good laugh and make music
Interesting fact about you? People do not tend to believe but I was born with dreadlocks.
Where do you feel at home? That has to be Lagos.
What songs are currently on repeat? In no particular order
Tenerife Sea – Ed Sheeran
Like I'm gonna lose you – Megan Trainor ft. John Legend
Buy a heart – Nicki Minaj ft. Meek Mill
Love yourself – Justin Beiber ft. Ed Sheeran
What book are you currently reading? A book called 'The War of Art' by Steven Pressfield. I am currently reading this book and I can tell you it's not my first time. Its that much of a great book.
Call or Text? Call
Cook or be cooked for? This might sound strange but I actually like to cook and would rather cook
Favorite Meal? Chips and chicken any day any time mehn, so ladies you don't have too much work to do, just give me those chips and chicken. Lol.
Favorite clothing item… This is quite hard for a fashion enthusiast like myself, I am the kind of person that likes everything to be on point. If I am going to wear a watch, a shoe, blazer, tie or even a pair of socks, I like it to be the right one. But I believe I have to go with one as a favorite for the sake of this interview. Lol. That will be a blazer because you can never go wrong with one; it can transform your look from casual to corporate casual so no appearance or meeting can catch you unaware.
Any pets? Not yet
Ideal holiday destination? Spain, I cannot really tell you why but I have a soft spot for Spain and the language.
Three guests for dinner? 
Rita Ora
Nicole Scherzinger
Shailene Woodley
To get in touch with Tohwson – The Wedding MC, click HERE
For more from our 5 Minutes with … series, click HERE
We love weddings, do you? Get in touch today
Loveweddingsng | Website | Instagram | Twitter | Facebook | Tumblr | Google+