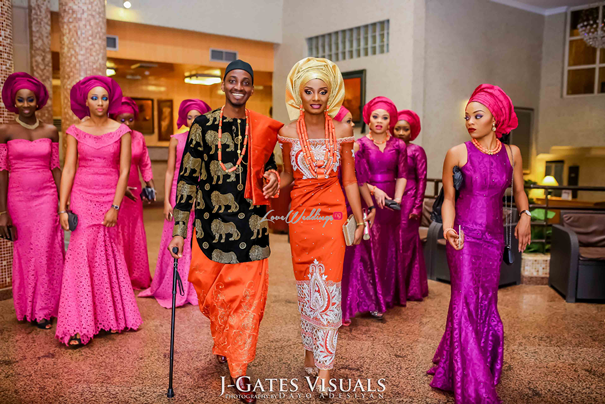 We think this series is here to stay… Everything we loved about [insert #WeddingHashtag] 🙂
#MrandMrsChurch was one Nigerian wedding hashtag we couldn't ignore. Tayo & Uche Okorie's "2-in-1" traditional and white wedding, which took place on the 28th of February, 2016 was planned by Trendy Bee Events and we remember seeing the pictures and going 'Awwwww…'.
Here are 10 things we loved about their big day.
Be inspired!
Pre-Wedding: #MrandMrsChurch definitely co-ordinated their wedding well on social media, they even set up an Instagram account (@mrandmrschurch). We also love that their engagement shoot gave an insight into what to expect on their big day.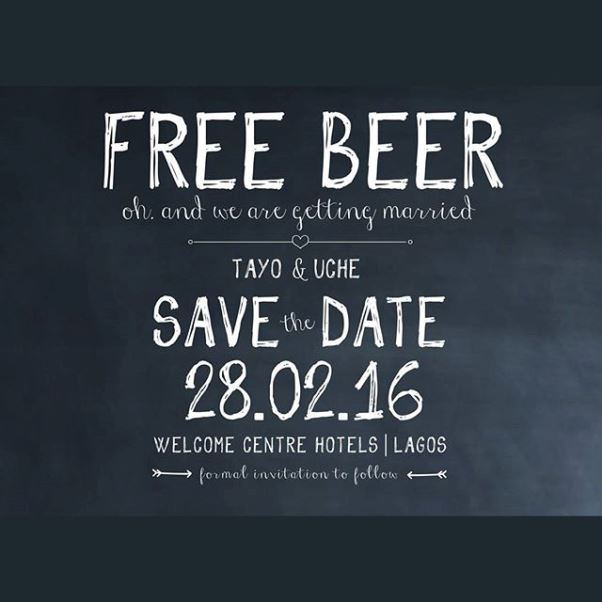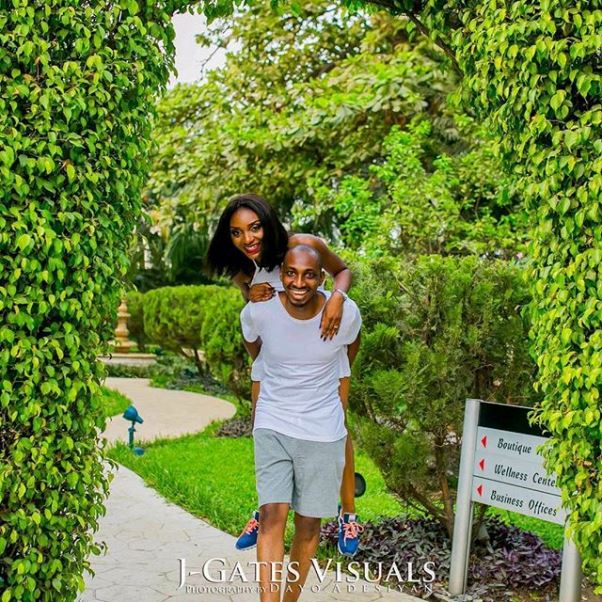 Bride's Makeup & Hair: With FacesbyLabisi & TasalaHQ, you can't really go wrong so no surprises here. The bride looked stunning.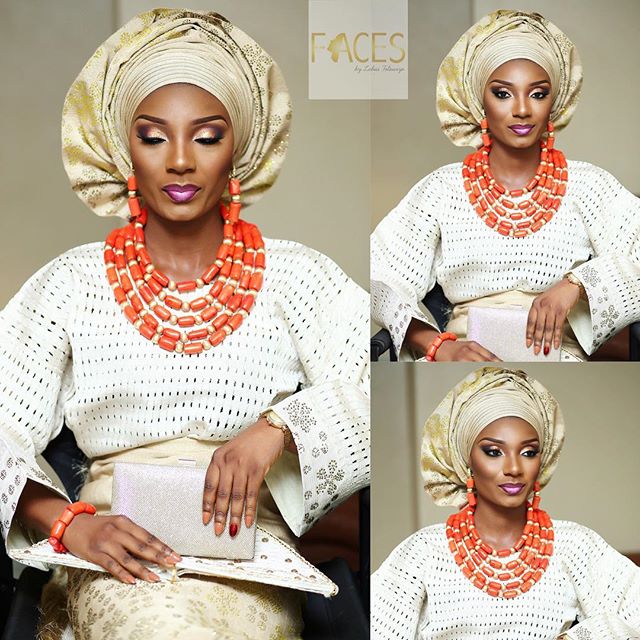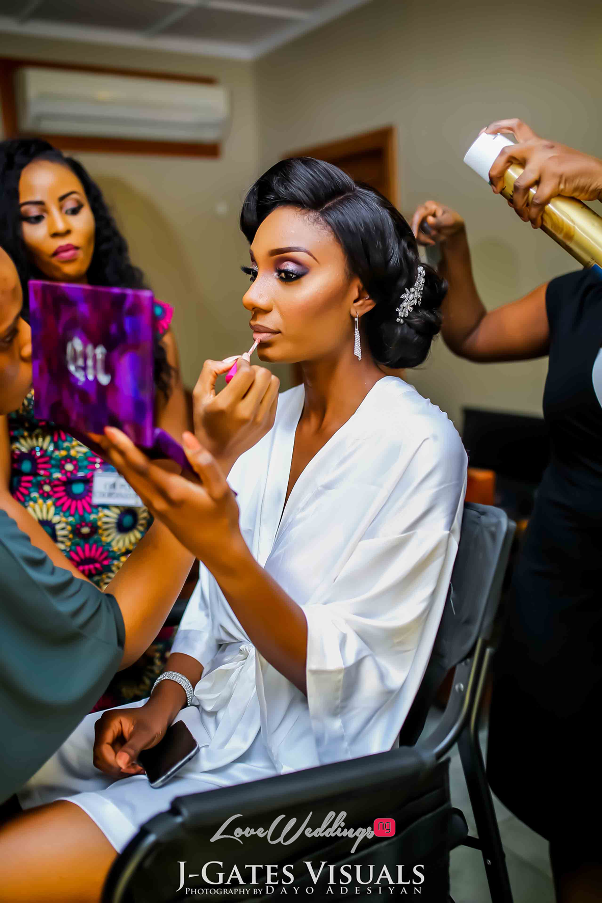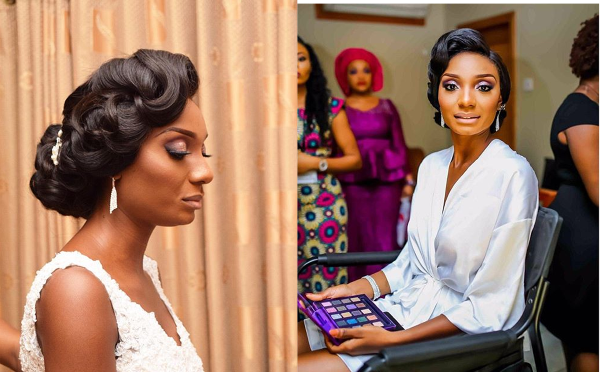 The Exchange of Wedding Gifts: According to Bisola of TrendyBEE Events, here's how the bride and groom exchanged wedding gifts on the morning of the wedding;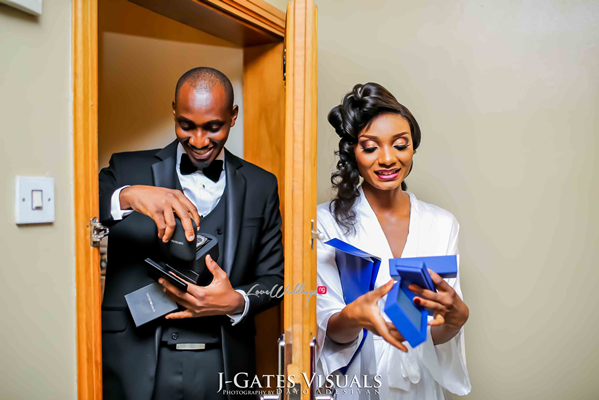 Knock knock on the bride's door

Bride's Glam Squad: Who is that ?

Uche: The groom, I have got a gift for my wife !

Tayo: I also have a special gift for my husband

They exchange gifts

Both: Thank You! Wow, it looks so good (Prayer)…  Lord lead Us through this…
The Outdoor Ceremony: We absolutely love that they had an outdoor wedding ceremony and the Welcome Centre Garden, Lagos was perfect for the event. There's just something so beautiful about outdoor ceremonies – so serene, pure, and green. We also loved the cute umbrellas to keep the couple and their guests safe from 'Lagos sun'… so thoughtful.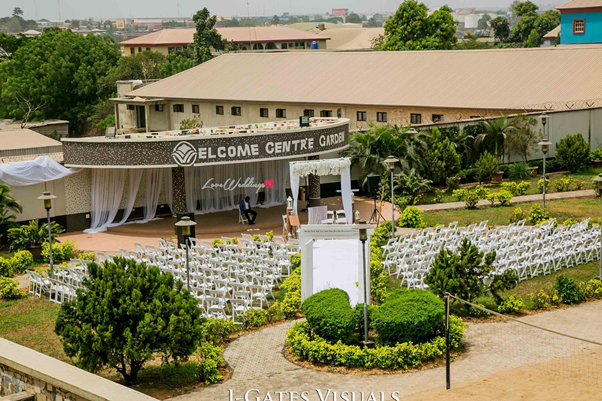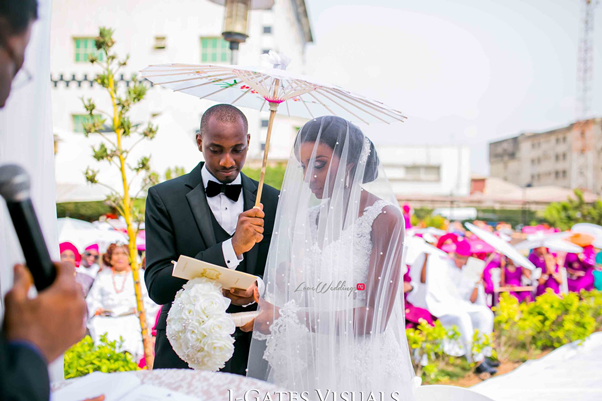 Reception Time: The bride's niece had the very serious responsibility of letting everyone know it was party time aka time to head to the reception.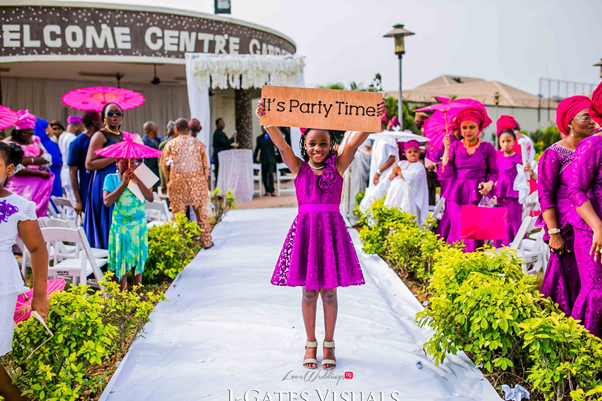 Wedding Guest Entertainment: The saxophonist in a bubble entertained guests as their names were checked against the guest list. So innovative and unique.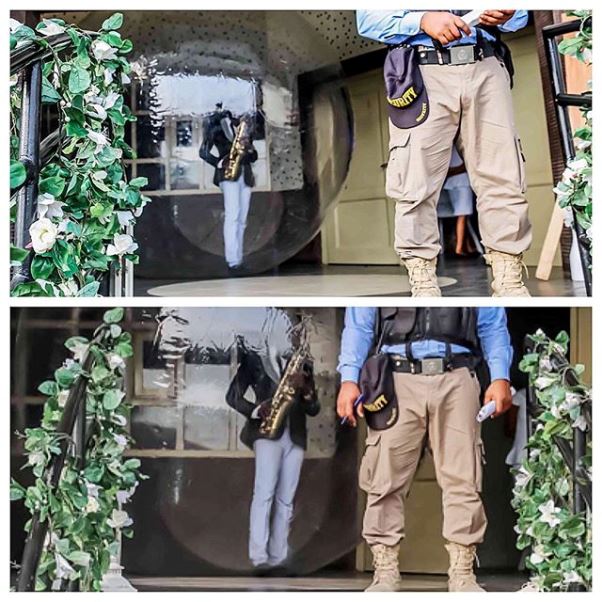 The Decor by BTG Decor was amazing
The Cake & Candy Station: We loved their very unconventional (at least for a Nigerian wedding) white wedding cake by Rum n Passion.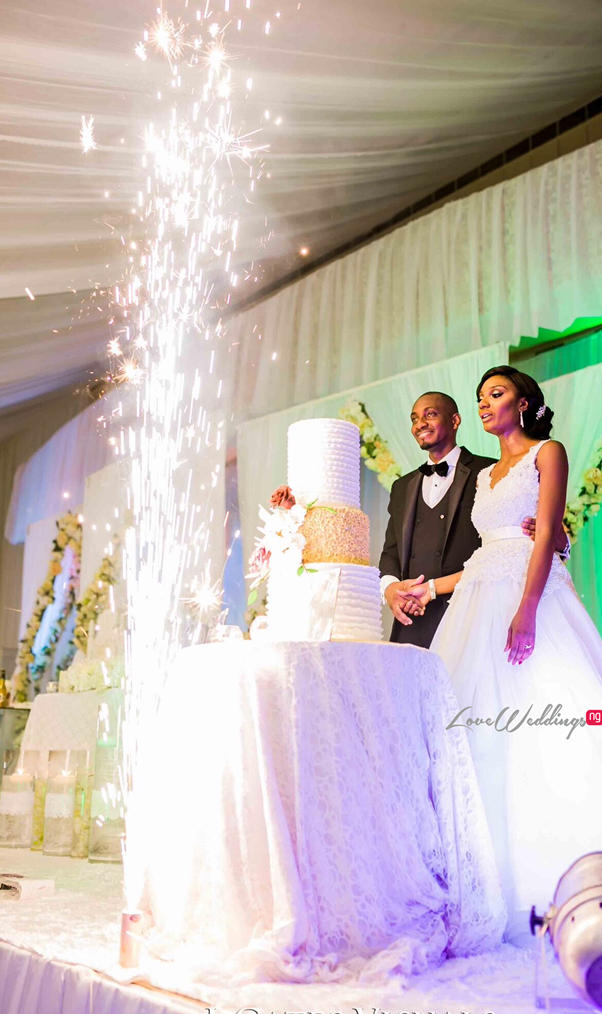 Also, our vendor – Sweet Cravings Desserts nailed the candy station. We love how it blends in with the decor.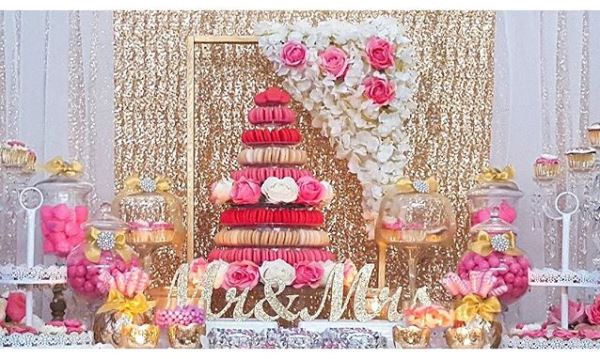 The Guest Board: We've noticed that a lot of Nigerian couples have been going for guest boards rather than guest books and we love it. Tayo & Uche's wedding guest board created by BTG Decor was simple and sophisticated, just how we like it. 🙂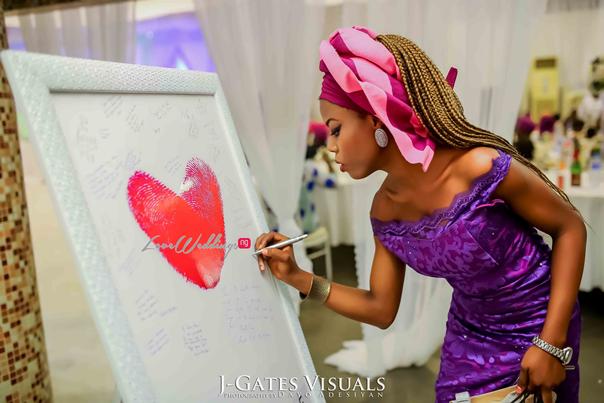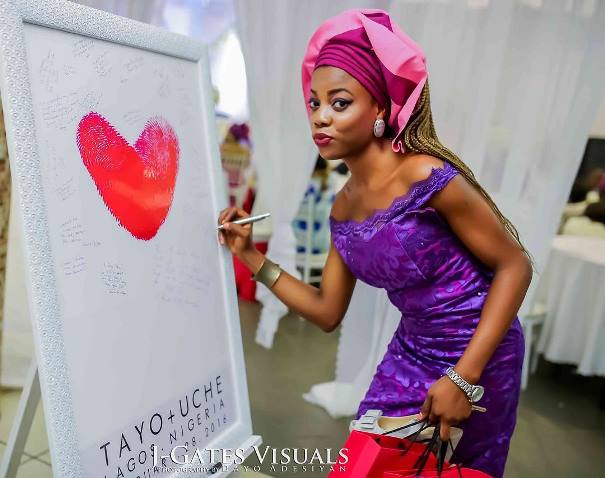 The bride's snapback cap: For a wedding that looked so posh, modern, prim and proper, this gave us some personality  and character, which we absolutely loved.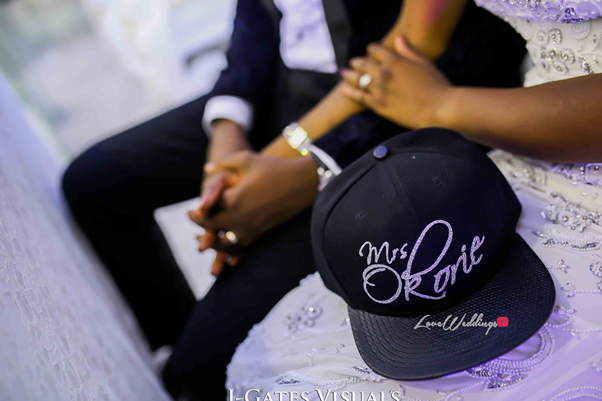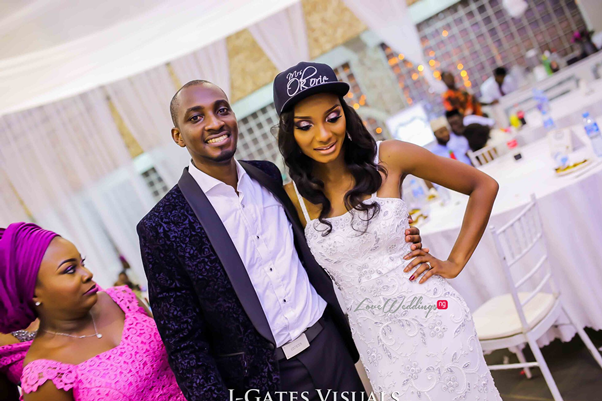 We loved everything about #MrandMrsChurch's big day. From the bride's hair by TasalaHQ, her makeup by FacesbyLabisi, her gown by April by Kunbi, her 'Mrs Okorie' snapback cap to the asoebi, their traditional outfits, candy station, decor, and so much more.  This wedding looked very well organised and we can easily see Nigerian couples being inspired by a lot of elements from their wedding.
For more Nigerian weddings we love, click HERE
Vendors