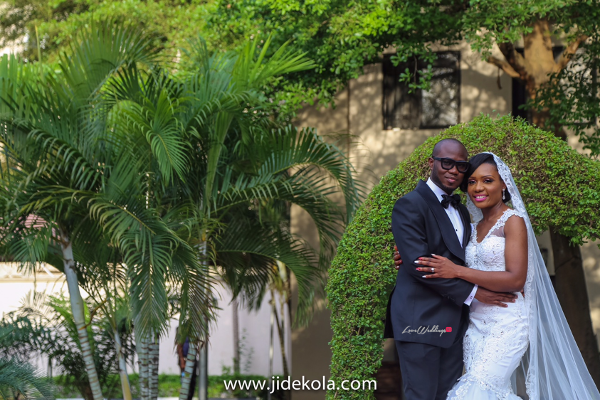 We featured Chioma Agha and Wale Ayorinde's wedding earlier, catch up if you missed the traditional and white wedding. As usual, we were on the look out for stunning wedding details we loved and we found loads from #HotChile2016.
The wedding was planned by Zapphaire Events and the white wedding held on the 1st of October, 2016 (Independence Day). The couple had a black & gold themed wedding and everything was classy, detailed and it all came together nicely.
Enjoy!!
Their Wedding Logo & Invites: Chioma & Wale's custom wedding logo and black & gold wedding invitations were designed by Ceci New York. According to the bride, "I told @cecinewyork that I wanted my envelopes lined with the skyline of Lagos and also asked them to feature the famous Lekki-Ikoyi bridge. I did NOT look for a picture for them and boom, it was there. Even spotting the national theatre!"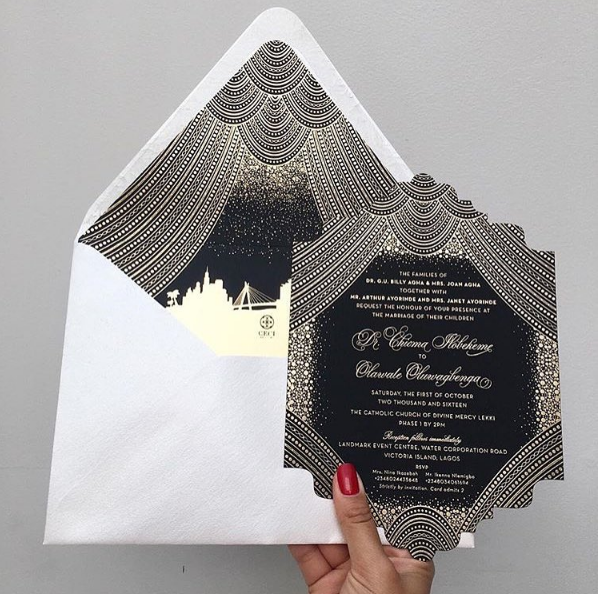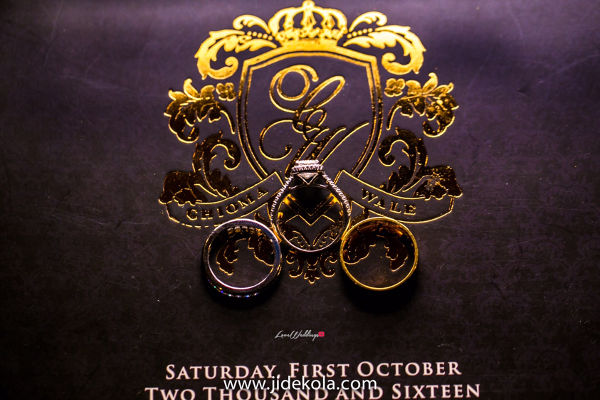 The Asoebi: The aso-ebi for the traditional wedding stood out for all the right reasons.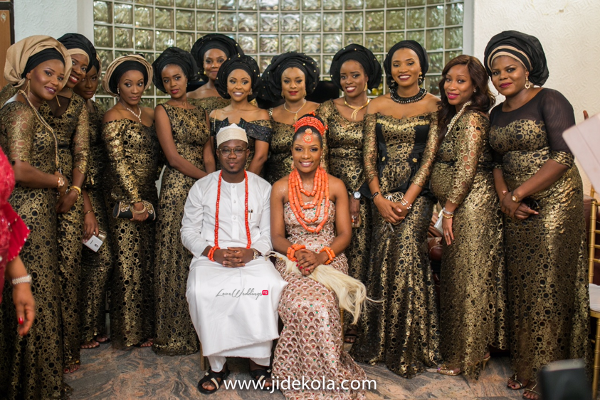 The Souvenirs: No surprises here as the bride is the founder of Swish Ideas. The couple had USB flash drives and the multi-purpose access cards (read more about this below).
The USB flash drives were inspired by the bride and groom. The groom wears glasses hence the glasses shaped USB flash drives and the bride is a doctor so they went for stethoscope shaped USB flash drives as well. The flash drives were available in black and gold in line with the wedding theme and were aimed at younger wedding guests.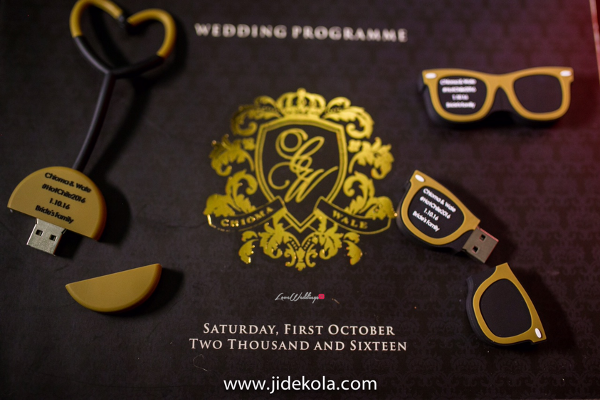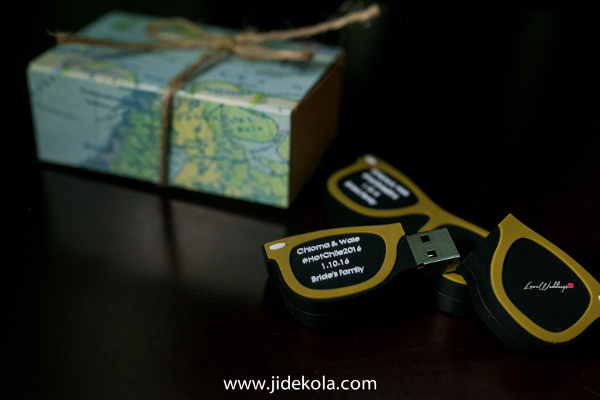 Access Cards: Chioma said she wanted something different that her guests could also keep as souvenirs. It also had to be small and match the theme of the after party! (Glow in the dark). After much brainstorming, she decided to go with these mini bulb cards that fit into your wallet/pocket, which guests can use long after the wedding! Talk about functional, multi-purpose, and creative plus we hear it's also very affordable too.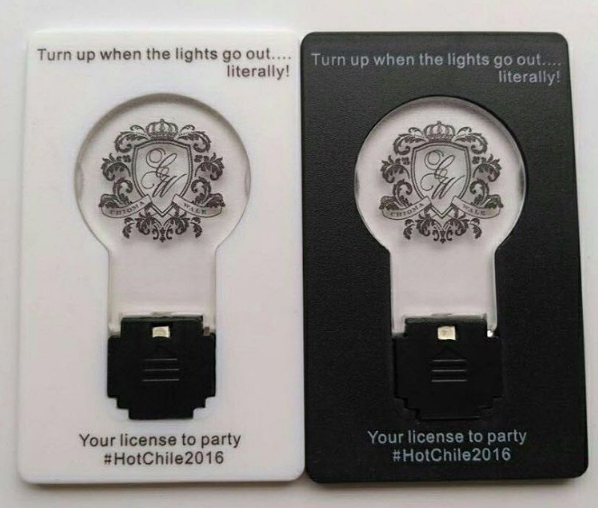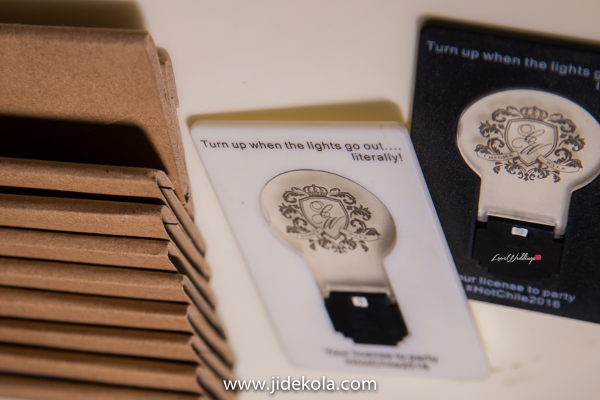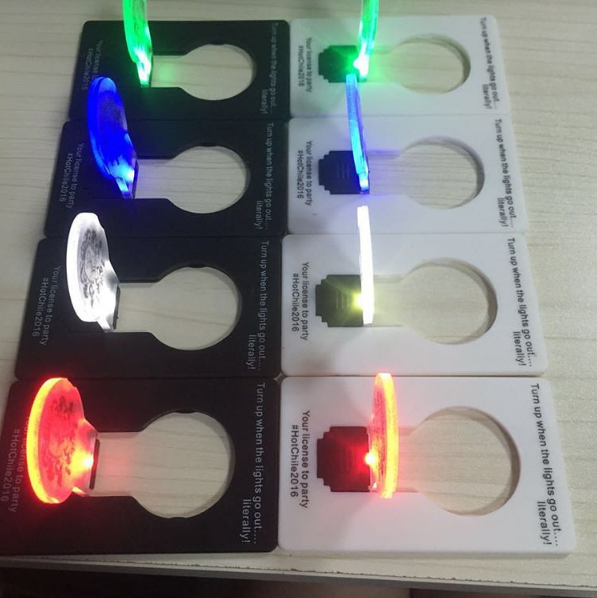 The Decor: Chioma & Wale's wedding decor for the reception was simply stunning and extremely classy. We'll let the pictures do the talking!!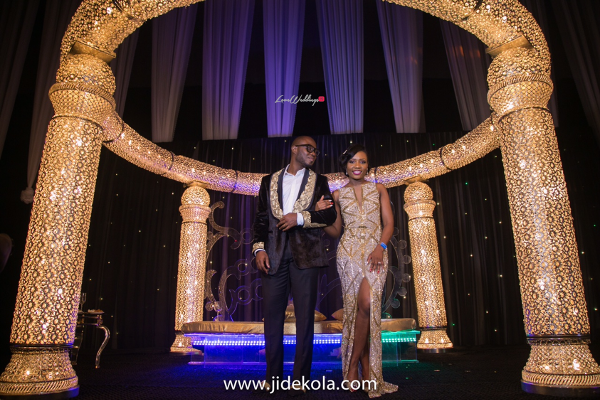 The venue also played host to Club Hot Chile, which was the bride's idea. Victoria F Events set it up and worked with props & glow in the dark by Swish Ideas, LED furniture by KFA Rentals, LED shisha by Scshisha, LED bars by Bonix Drinks and the Club Hot Chile signage provided by Megavision Lights NG. Guests were admitted into Club Hot Chile with the access cards we loved and described earlier.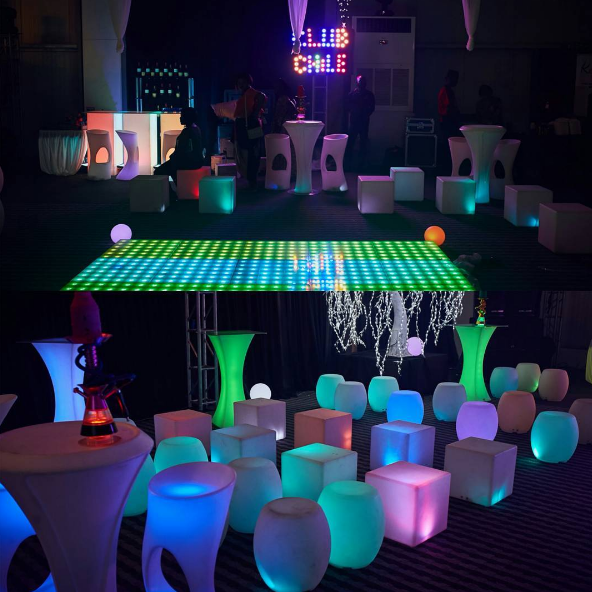 Wedding Cake: Chioma & Wale's black wedding cake with white sculpted roses & accents of gold was simply breath-taking. It also featured their logo designed by Ceci New York. Their cake was baked and decorated by Lizzies Cakes & Crafts.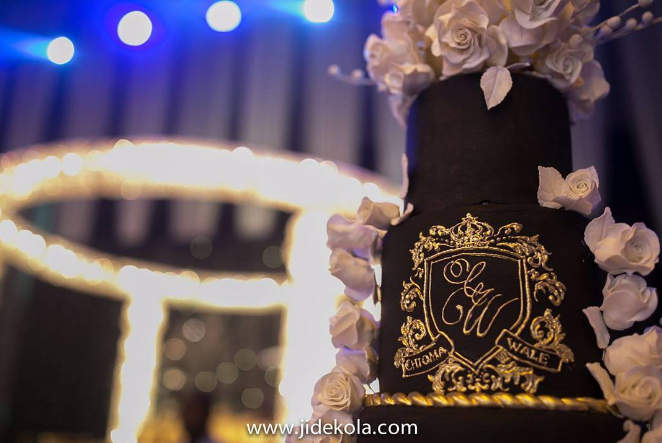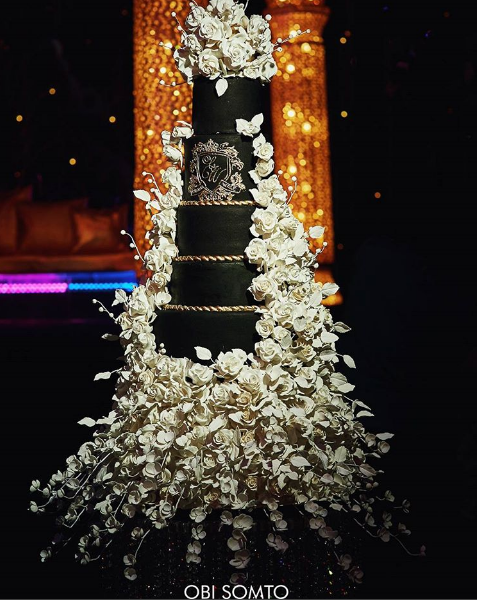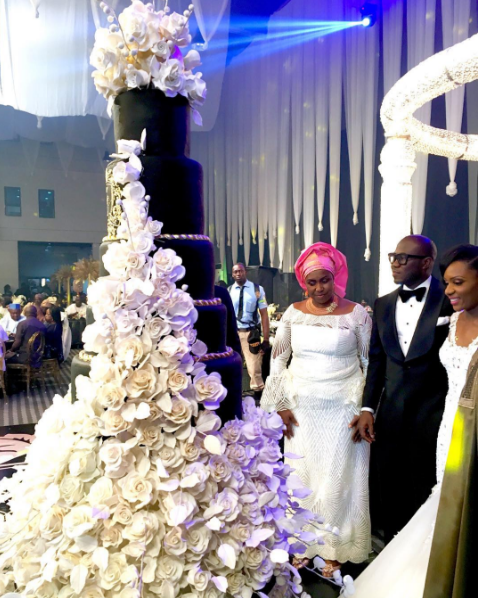 Champagne Dome: This is the first time we've seen this at a Nigerian wedding. Bonix Drinks came up with this exciting and innovative idea where waiters served drinks to guests from the champagne dome as they arrived.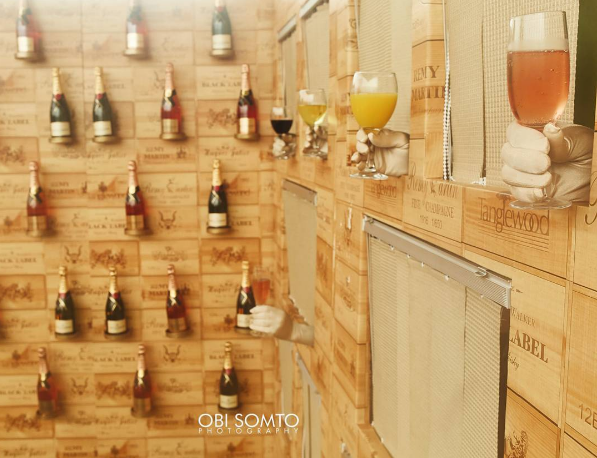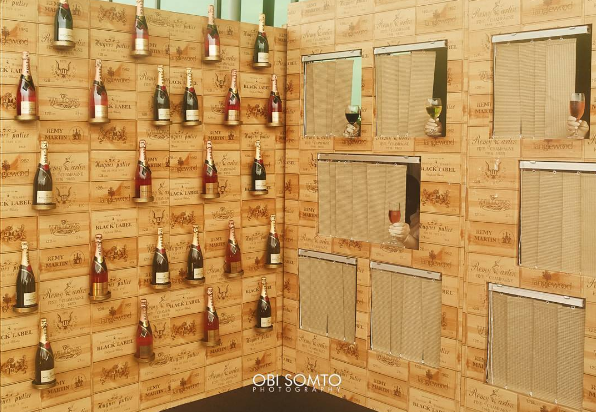 Sweet Station: The #HotChile2016 sweet station, which was set up and branded by Sweet Cravings Desserts  featured lots of goodies such as branded Coca-Cola, branded popcorn by So Yummy NG, candy floss and ice cream, frozen yoghurt by Sweet Kiwi Yogurt, branded M&M's by Swish Ideas, chocolate covered strawberries by Sweet Cravings Desserts.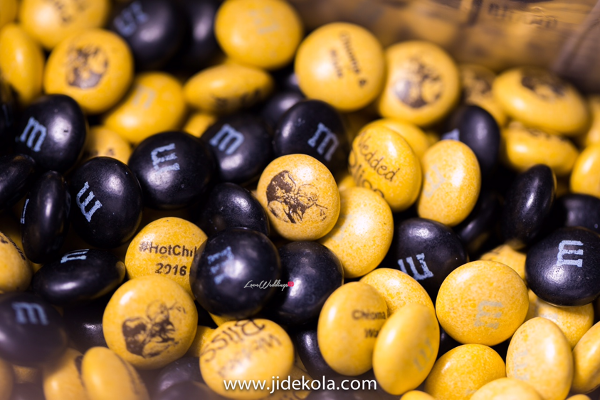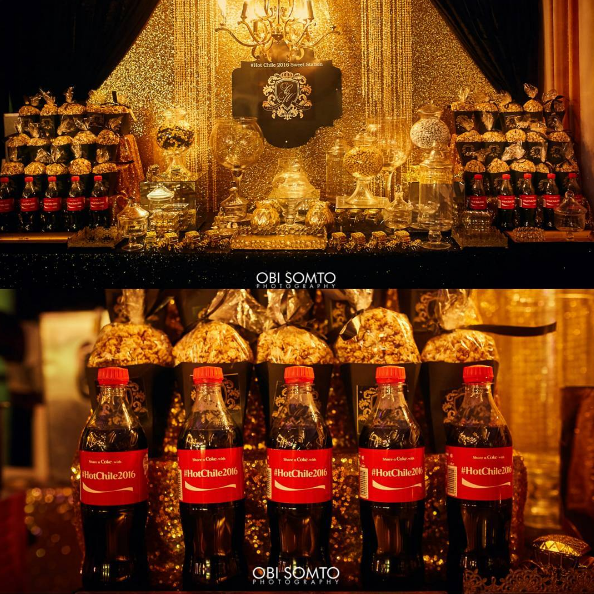 As always, we loved so many other things from #HotChile2016 like their pre-wedding shoot, the bridesmaids dresses, the smoke bombs by Innovate Media1 and more.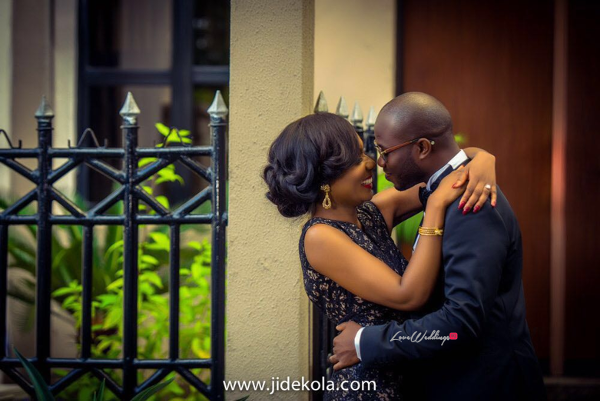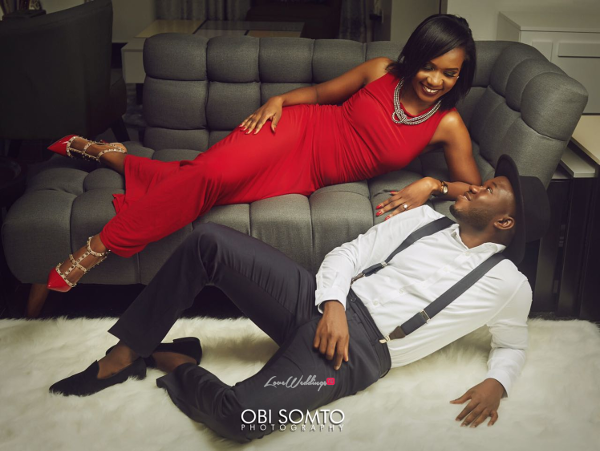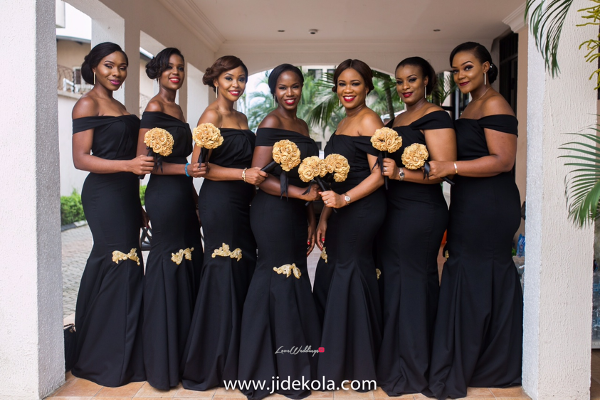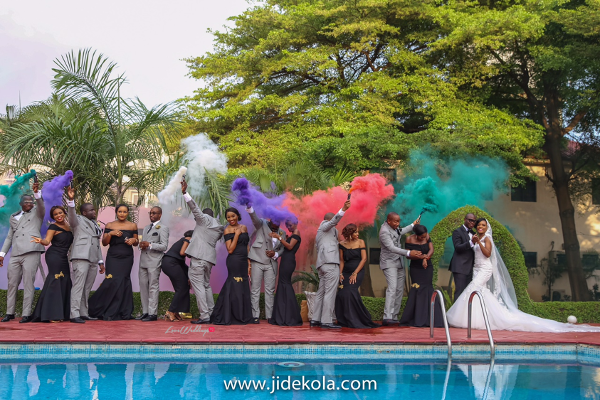 We wish Chioma & Wale a happy married life!!
For more Nigerian weddings we love, click HERE
Vendors