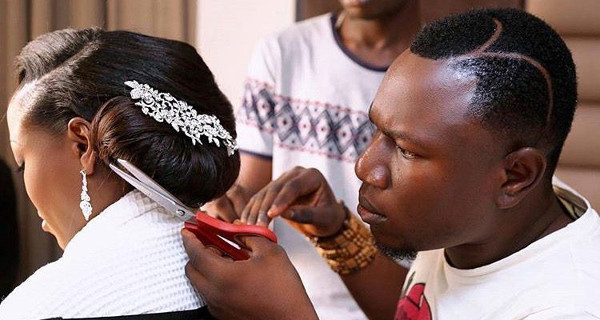 Its Thursday and time for another juicy story by a Nigerian wedding vendor. We launched this series last week with Banke Meshida of BM|Pro, catch up HERE if you missed it.
Today, we feature Tobiloba Emmanuel Ogunbiyi of TobbiesTouch, who recounts an unforgettable experience with a client, which goes to show why Nigerian wedding vendors insist on full payment before they start working on a client. Read below;
One sunny afternoon, a client called me to make enquiries and I asked her to buzz me on WhatsApp so I could send her an invoice, which I did. She went through my terms and conditions and accepted and made a 50% deposit into my account.

A week to her wedding, I called her to confirm the details such as the hotel and time and I asked for my balance, as per the terms and conditions. She said "No, I can't give you your balance because I don't know you. I've heard that Instagram vendors collect your money and deactivate their accounts. I don't want anybody to run away with my money." I tried to reassure her but she insisted and kept saying 'No'. I didn't want to create the impression that I was money conscious so I asked what the plan was and she said "When you come on Friday (the day before the wedding); after you fix my hair, I'll pay the balance" so I decided to give her the benefit of doubt and accepted.

I got to the place as agreed, I installed her hair and then asked for my balance. She said "Tobi, I am so tired I can't even find my token but don't worry I will do the transfer tomorrow morning" and and I was like "Tomorrow ke, on your wedding day???? I can't be asking you for money on your big day with all the rush, I would appear insensitive." She reassured me and said "Don't worry TobbiesTouch , I like your work, don't worry I will pay you. Trust me and just ask me in the morning" so I went to my room.

The following morning, while I was styling her hair, I asked for the balance and again she said "don't worry I will do the transfer once you're done." I finished styling her hair and she went on to have her photograph session. Afterwards, she said "Tobi I can't do the transfer now. I'm late for church. Don't worry I will do the transfer immediately after the wedding."

There was nothing I could do at that point, I couldn't hold the bride down so again I said "No problem." Even though the bride was a contact on BBM and Whatsapp; I didn't ask her that night because I wanted her to enjoy her wedding night. I noticed her location changed to Dubai on the third day; it didn't feel right to start disturbing her for her balance so I let her be.

Two weeks after the wedding, I figured she'd be back from her honeymoon so I sent her a message on BBM;

Tobi:Hey sis, how was your honeymoon.

Bride:Fine, thank you. Thank you very much Tobi for making me beautiful. God bless u…

I reminded her about my outstanding balance; she read the message but didn't reply. I tried to reach her to no avail; her number stopped going through, it was switched off and she blocked me from Whatsapp. Hmmmmm!!! At this point really, there was nothing I could do. I just called it bad business.

Three months later, I went to the mall to see a movie and guess who I saw – my beautiful bride looooooool. I truly believe in the saying "Everyday for the thief, one day for the owner" Emi gan gan ni owner?. I walked up to her, reintroduced myself and asked for my balance and asked that she makes the transfer immediately. She got angry and took offence; as much as I tried to remain professional, I couldn't help it. We created a big scene so people came round and I explained the situation and asked why she blocked me but she said her phone was bad (yeah right, I guess we all know the truth).

A good Samaritan went to the ATM withdrew the balance she owed me and gave it to me because my bride couldn't pay and they all apologized.

Morale of My story: You don't want to go through all of this hassle as a vendor. Wedding vendors, let's learn to be professional and firm – being firm does not mean you're rude. Let's learn to be firm.
See you next Tuesday for another interesting feature ???
Get in touch with TobbiesTouch

Dairy of a Naija Vendor, is an outlet for vendors to share experiences, tell stories, inspire, learn from and encourage one another. If you're a wedding vendor and you have any real, fun, behind-the-scene stories to share, please send a Whatsapp message/voice note to 08083225395 and we'll get in touch with you. Visit the website and follow Diary of a Naija Vendor on Instagram and Facebook.