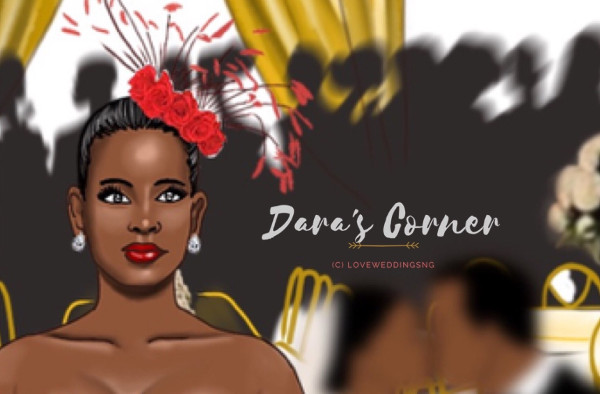 There is no such thing as a lazy Saturday in Lagos. There is always something to do and a place to go. On top of that, there is always a party to attend. Its quite common to crash weddings in Lagos with a friend who knows someone that knows somebody else's cousin who's getting married. If you decide to lock yourself indoors however, get on Instagram and Snapchat by stalking wedding hashtags and you won't miss a thing.
Basically, what I'm trying to say is there is no escaping the wedding fever which is usually very high on Saturdays. As tempting as it might be to attend that owambe this weekend, here are five reasons why you should save yourself the torture and do something different like spending some extra hours in bed or reading a book this weekend.
Most Nigerians attend weddings solely for the food and drinks: Well so you mean you cannot prepare jollof rice yourself. Eat and drink water and feel the love of your own cooking. And to those who can't cook; well there are a lot of recipes on the internet, thanks to YouTubers like Sisi Yemmie and co. If you try the recipes and don't get it right; remember it is your food, you cooked it. Who can possibly love your food more than you. Let go of party jollof or small chops! You will not die. I am rooting for you today. Stay strong!
Enjoy your own company today: You do not need all that noise today. At least we are single because we choose to evade drama abi? (At least that's what I like to tell myself). When you go out and people know you are unmarried, you immediately become the topic of discussion. People like Aunt Beatrice will remind you of how incomplete you are and why you need a man, bla bla bla. No matter how strong you are, these things get to you sometimes. Give yourself a break from the 'Association of People who will always remind you that you're single'
Make your absence felt: What's a wedding without single ladies gracing the occasion. Like it or not they need us to add color to the occasion, buy asoebi, be bridesmaids, fill the sits, grace the dance floor, catch the bouquet and the list goes on and on
Zero demons today: Since you've decided to sleep in today; every Tom, Dick and Harry that would have asked for your number won't. There will be no gawking – we all know some guys are too handsome for their own good. Save yourself the stress and heartache today.
Stay home this Saturday just for sleep's sake: Sleep needs you just like you need sleep. You have been working all week and you deserve it. When you are asleep, will any "Aunty" look at you with pity and say "don't worry you are next?" Of course not. Although you might see these Aunties in you dreams (they're persistent like that), you won't become the subject when the MC decides its time to crack a joke about single ladies. Sleep today.
If you read this up to this point, Hahahahaha (Let me confess) I really do not know what I am saying. Stay at home on a Saturday ke. Me that's on my way to my second wedding for the day.
Let me tell you how the first wedding I attended this weekend went. I ate party jollof rice to my hearts content. We all know there is something peculiar about party jollof. Party jollof is definitely an undisputed champion. Seriously if you decide to overlook the jollof today, the only thing I can say is more food for us then!!
I enjoy my own company but definitely not today! Yes your absence may or may not be felt. The bottom line is if you do not go, someone else will surely go and have a swell time. Someone like me!
Who knows you might probably find your demon turned angel today. Love is unpredictable so take a chance today. And No, I did not give my number to anyone (No one asked for it).
About the aunties that will tell you you are next. Well if they do not tell you today, they will say it tomorrow and the rest of the days till you get married. Just ignore them and move on! Guess who told me I am next today? No, not Aunt Beatrice, a five year old girl that sat next to me. She saw me admiring the couple and said in her annoying cute voice. "You're next in line Aunty".
You only live once ladies so just breathe and be happy. Of course, you can sleep when you get home or just lay awake and reminisce whichever is convenient.
Have a swell time my fellow wedding lovers. I'm off for round two; this woman's jollof rice is bahhddd!!
See you next Sunday.
Xoxo
'Dara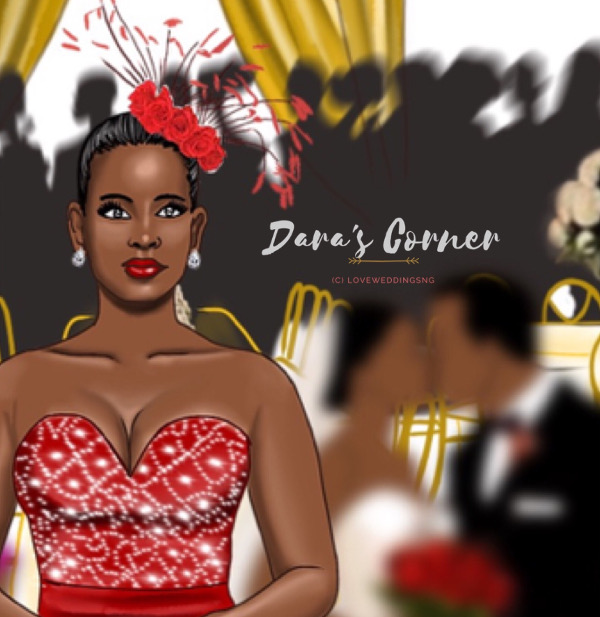 Dara is a fictitious name and character created for LoveWeddingsNG. This column is not a depiction of real life events. Names, characters, places and incidents and incidents are products of the author's imagination. Any resemblance to actual events or persons is entirely coincidental. 🙂