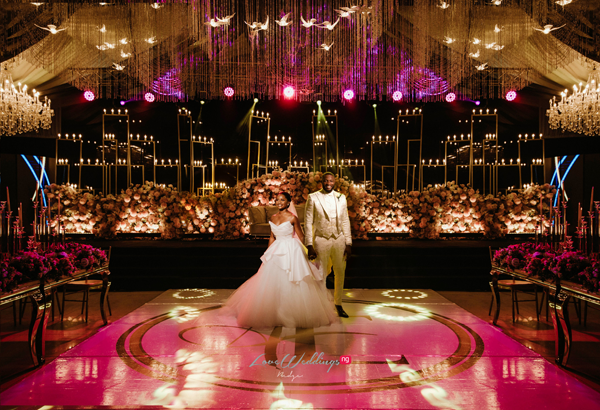 As you'll already be aware, Anita Adetoye and Emmanuel Ikubese said 'I Do' last weekend in Lagos, Nigeria, and their wedding looked like a dream. With so many memorable moments – a beautiful first dance, celebrity appearances from Tiwa Savage, Timi Dakolo, and Precious and so much more; we reached out to their wedding planner, A Flair To Remember Events (AFTR Events) who shared a low down on how the finale for #RoadToBae2020 went.
Enjoy!
The excitement, the fun, the love, the art, music, and all 5 senses were included in the journey of #RoadtoBae2020. Guests drunk celebrity favourite Luc Belaire bubbly and the delicious Bumbu Original Rum.  We had a lot of surprise performances by world-leading artists like Timi Dakolo and Precious, who sang their First Dance songs; Tiwa Savage, Shaun Tizzle, Orezi, and more surprised the couple and guests at the after-party. On the deck, we had DJ Sparrow and GMoney from Jamaica. The beautiful celebration was hosted by the one and only Kenny Blaq; the after-party hosts were, Buchi, I Go Save, Hynana and AJEBO. It was definitely a wedding to remember!
The bride and groom shared;
After 11 months of meticulously planning every detail of our wedding by the amazing Buki of Luxury event planning @aflairtorememberevent, we saw "heaven on earth". She created a beautiful symphony from concept, vision, and design and delivered over 2 continents with 60 vendors, 8 coordinators, over 1500 guests, 1 full week of incredible celebrations!

Being surrounded by all our family and friend has made such a difference to us. We have been overwhelmed (and many times moved to tears) by the outpouring of so much love towards us! You've surprised us, wowed us and honored us with your presence.

We want to thank all our amazing vendors (see list of vendors below) who worked tirelessly with Buki to deliver our dream wedding. We are forever grateful to you and your teams. Thank you for your efforts and support you have given to our dream.

We were two people now with one path and we are both grateful for all the people (too numerous to name!) that brought us to this union

Being pilgrims through the desert, storm drenched, billows overflown, we found love so regal and absolute.

Love beyond the tango of two heartbeats as one. Love embracing the rhythms, hushed not for lack of words to express it, but for the depth of emotion that compels it. Love that's deep, true and unruffled.

Rich, yet requires no silver, gold or precious stones, Love incorruptible, utterly trusting… Totally, completely, committed, devoted.

My wife and I had the most beautiful week of our lives. Thank you.
Now, let's show you what #RoadToBae2020 looked like in pictures by the amazing Bedge Pictures.
Vendors
Wedding planner and Design Concept: A Flair to Remember Event
Wedding coordinator: Tessallure Events
Decor: 524 Events
Special effects and lighting: Syden Interactive
Venue: Royal Oaks Centre
MC: Kenny Blaq
Hypeman: Buchi Comedian | AjeButter 22 | Mr Hyena
DJ: DJ Sparrow
Band: Eboni Band
Special performances: Timi Dakolo | Precious | Orezi | Tiwa Savage | Sean Tizzle
Photography: Bedge Pictures | Dexter Studios
Videography: Cinematics NG | Wealth Media House
Stylist: Dami Oke
Makeup: Makeup Queen Makeup for AnitaBrowsstudio
Hair: Charis Hair
Flowers: Flower Shop Cafe
Wedding Gown: Christopher Paunil
Bride's 2nd Outfit: Tope FnR
Groom's outfit: Taryor Gabriels
Groom's 2nd outfit: Jason Porshe
Bridesmaid's dresses: Alaine by Celine
Bridesmaid's gift: Craft Station by Dee
Bridal robes: Ravenna O
Lingerie: Sshhh Lingerie
Security: Chams Consult
Hostess: Merty Marcus
Luxury cars: Mayfairr
Wedding Fragrance: La Divine Frangrance Event Scenting
Catering: TDream Delicacies | Top Chef Venture
Small chops: 12 Baskets Foods Ltd | Larry Sprice
Grills: Good Vibes Food.co
Drinks: Drinkzified
Guest's drinks: Celebrity favorite- (Luc Belaire bubbly) | Belaire | Bumbu
Cocktail: Iceberrys Cocktails
Cake: Livvys Twist
Dessert and Gelato: Melting Moments NG