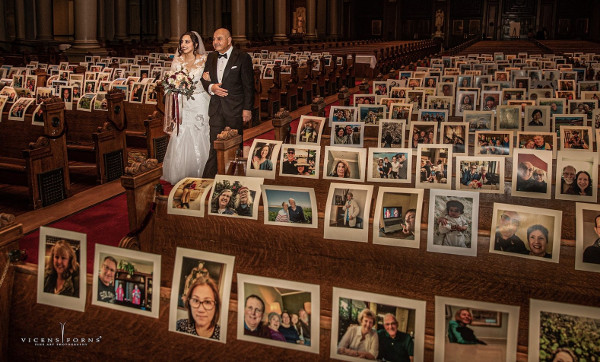 Last week, we witnessed a wedding like no other in San Fransisco, Nigeria announced the lockdown restrictions will be eased but what does this mean for social gatherings such as weddings. Here's all the wedding news you missed last week!
#EasingTheLockdown but restrictions on social gatherings remain! The Lagos state government announced in a series of tweets shared from the governor's handle.
Against all odds, I Do! Photographer, Vicens Forns Photography shared this image of a couple at their wedding in San Francisco. They couldn't have their loved ones present due to the current pandemic but they had printed pictures of all their wedding guests in their seats. He shared photos on Facebook with the caption; "The bride's entrance holding her father's hand, yesterday I was very lucky to be the photographer of this wedding in San Francisco, a different but especially emotional wedding, let's not forget that life goes on. Congratulations Emily & Parris !!! 
Would you like to win a dream wedding worth £100k? HELLO! Magazine and Bridelux have teamed up to offer a complimentary dream wedding for front-line key workers with industry luxury suppliers. Bridelux shared the news on Instagram with the caption; "We are teaming up with HELLO! to give away a dream wedding worth 100K! ​If you know an NHS key worker that deserves the most incredible wedding, we want to hear from you to recognize their hard work and to share our thanks. To nominate yourself, a friend or a family member visit this link for full details.
Happy anniversary Prince William & Kate! Can you believe their royal wedding took place 9 years ago now! How time flies! Their wedding held on the 29th of April, 2011 at Westminster Abbey in London.
Together forever till death! According to People, a couple (Wilford Kepler and his wife Mary) who had been married for more than 70 years died six hours apart in a Wisconsin hospital, just days after both were diagnosed with coronavirus. Their joint obituary states that "their beds were together at Froedtert and they were able to hold hands during their last days."
Happy anniversary Lord Sugar & Ann! The Apprentice host and boss, Lord Sugar shared that he and his wife, Ann were celebrating being married for 52 years. Daily Mail reports that the couple met when Alan was just 18, starting out as a businessman. Congratulations to the couple.
Picture credits: Instagram