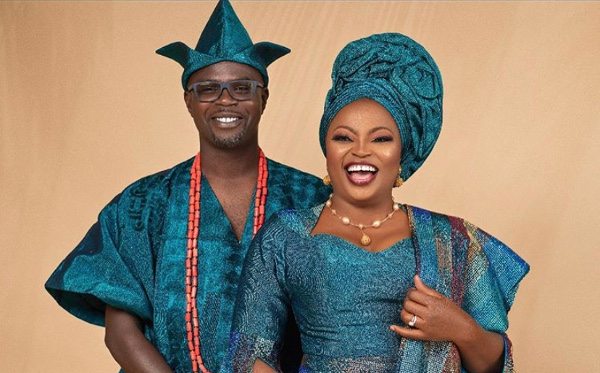 Last week, Nigerian rapper, Erigga announced his engagement to longtime girlfriend Morenike, Bishop David Oyedepo had two reasons to celebrate – his 38th wedding anniversary and his daughter's wedding. Nigerian actress, Funke Akindele-Bello and her husband, Abdulrasheed Bello (aka JJC Skillz) celebrated their 4th wedding anniversary and Dwayne 'The Rock' Johnson and his wife Lauren Hashian shared a wedding film in honour to mark their first wedding anniversary.
#NIGGA2020! Erhiga Agarivbie, popularly known as Erigga, and his girlfriend, Morenike are set to wed on the 3rd of October, 2020. He made the announcement on Instagram with the caption "#NIGGA2020 who is ready to chop jollof rice Oct 3rd?" The announcement was shortly followed by the release of his latest song 'Jollof Rice'
Double celebration for the Oyedepos. The general overseer of the Living Faith Church (aka Winners Chapel) Bishop David Oyedepo and his wife celebrated their 38th wedding anniversary on the 21st of August. Bishop Oyedepo shared photos of himself and wife on Instagram with the caption; "Happy Wedding Anniversary to my lovely wife @officialfaithoyedepo
The journey thus far has been awesome with you by my side. You have been the true definition of a virtuous woman. Myself, the children (biological and spiritual), and grandchildren all call you blessed indeed.
38 years gone, forever to go with you. I love you."
The Oyedepo's had another reason to celebrate as their daughter, Joyce Oyedepo got married to Abimbola Abodunrin on Saturday, the 22nd of August. We spotted photos of Bishop David Oyedepo and his wife walking their daughter down the aisle.
The Bellos are 4! Nollywood actress and producer, Funke Akindele-Bello and her husband, Abdulrasheed Bello (popularly known as JJC Skillz) celebrated their 4th wedding anniversary last week. The couple shared photos from a recent photoshoot, which Funke captioned; "All glory to God!!! 4 years and many more years to spend together in good health and wealth in Jesus name. I love you, My King, @jjcskillz"
Her husband, JJC Skillz shared; "To God be the glory ?? it's our anniversary ? May God continue to strengthen and uplift our hearts. The love and peace of God will never depart from us. Our children will be a blessing to this generation. I pray our union will continue to bear fruits of favor. I love you @funkejenifaakindele"
Nigerian music artist, Tiwa Savage shared pictures from the set of her latest music video, Koroba from her upcoming album titled Celia and we spotted one traditional bridal look we absolutely love by Deola Sagoe's House of Deola
Actor, Dwayne 'The Rock' Johnson and his wife, Lauren Hashian got married on the 18th of August last year in Hawaii. The couple shared a throwback video that showed beautiful moments from their proposal and intimate wedding. The actor shared;
One year ago today, on August 18, 2019 – I had the honor of marrying @laurenhashianofficial. Later that night she surprised me with this beautiful song, "Step Into A Love Like This" that she wrote and sang herself in honor of our marriage.

From the moment I heard the song's opening line, of "…every angel in heaven is singing for us today…" as tribute to our loved ones who've passed away and no longer with us – I got very emotional. As I still get emotional today when I hear those words and watch this wedding footage.

Lauren is a gifted and soulful songwriter who wrote every single word of this song (and her vows) to reflect our life and blessings on our wedding day.

I'm not a writer, so all I can do is speak from my heart and gut — and other than my three daughters being born — this is the greatest gift I've ever received.

Bottom line, I'm a lucky and grateful husband, father and man to have such an amazing woman by my side through this unpredictable, yet beautiful thing we call life.

Special shout to my extremely loving daughters, Jazzy and Tia for accompanying daddy as I got down on my knee to do the honors of asking for Lauren's hand in marriage. Technically, she never said, "YES!" as she just bursted out laughing and then ugly crying, BUT I'll take that response on the Hawaiian cliffs any day ??

We hope that you all enjoy "Step Into A Love Like This" and our wedding day moments – as much as we are privileged to share it with you all on our anniversary.

With love, gratitude and mana – DJ ?'