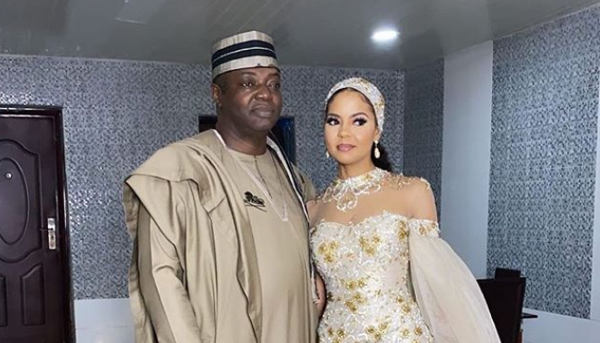 Last week, Adama Indimi & Prince Malik Ado-Ibrahim's wedding celebrations continued in Kogi State, small wedding receptions can now hold in the UK, Ghanaian musician, Joe Mettle got married and we read reports of President Muhammed Buhari's daughter, Hanan Buhari's wedding to Mohammed Turad. Here's all the wedding news you may have missed last week.
Hanan Buhari's wedding. According to Sahara Reporters, President Muhammad Buhari's daughter, Hanan is set to wed Mohammed Turad on the 4th of September, 2020. The groom, is a special adviser to former Lagos State governor and current Minister of Works, Babatunde Fashola. He is also the son of a former lawmaker, Alhaji Mahmud Sani Sha'aban, who represented Zaria in the House of Representatives from May 2003 to 2007.
The Prince & Princess of Ebiraland! Adama Indimi and Prince Malik Ado-Ibrahim's wedding celebrations continued last week at the Ohinoyi Palace in Okene, Kogi State. The groom's family and the people of Ebiraland, welcomed the newlyweds and the Indimi's to Kogi state. You'll recall that the couple had their Nikkah ceremony earlier on the 8th of August, 2020 in Maiduguri, Borno State.
Small wedding receptions in the UK can now go ahead effective from the 15th of August 2020. Gov.uk published a COVID-19: Guidance for wedding and civil partnership receptions and celebrations, which outlines guidance on activities such as dancing, speeches, throwing of the bouquet/confetti, use of guestbooks, and more. The guideline published on Gov.uk states;
From 15 August 2020 receptions and other celebrations for weddings and civil partnerships can take place, but only in a COVID-19 secure venue.

Such events should not take place in people's private homes (or adjoining outdoor spaces like gardens), given that these will not have the same COVID-19 Secure measures in place.

Capacity at a wedding or civil partnership reception or celebration (including the couple, guests, and third-party suppliers, but not venue staff or third-party catering staff) should be no more than 30 and safely accommodated with social distancing in a COVID-19 secure venue.

We will reassess guidance in relation to larger wedding receptions in line with the development of the scientific advice.
Ghanaian gospel musician, Joe Mettle and Salomey Selassie Dzisa tied the knot over the weekend. Joe shared pictures from their traditional wedding on Twitter thanking everyone who came to celebrate with them at their #Settled2020 wedding.
#SoMykonos17! Stephanie Coker Aderinokun and her husband David Aderinokun celebrated their 3rd wedding anniversary last week on the 12th of August. To mark their anniversary, Stephanie shared photos from their beautiful Mykonos destination wedding with the caption; "Marriage is a blessing, but it's also not a walk in the park. It takes a lot of understanding and I am so blessed to be with my soulmate. 3 years ago we lit up Mykonos and promised each other a lifetime of love, support, and understanding. I would choose you over and over again @daderinokun. For every failed marriage, there are a million fairytale endings. Here's to eternity my lover and best friend. Happy anniversary Lumi!❤️????"
George fabric redefined! Nigerian fabric supplier, George by Ruvero Designs launched their latest bridal collection, The Kamu collection last week. The collection exhibits 3D laces, Georges, and fabrics for northern Nigerian brides. Read more here.