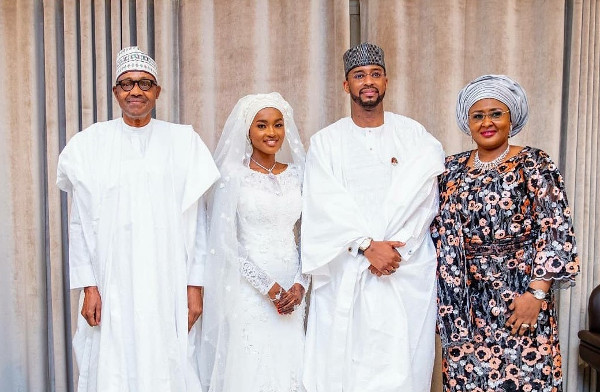 Last week, President Muhammadu Buhari's daughter, Aisha Hanan Buhari got married to Mohammed Turad Sani Sha'aban, we met the world's oldest married couple, Julio Cesar Mora Tapia and Waldramina Maclovia Quinteros Reyes, Burna Boy's parents marked their 30th wedding anniversary, bridal couture brand – Kosibah marked its 29th anniversary and so much more. Here's all the wedding news from last week.
#HamadForever: President Muhammad Buhari's daughter, Aisha Hanan Buhari, and Mohammed Turad Sani Sha'aban said 'I Do'. The wedding took place at the Presidential Villa, Aso Rock in Abuja on Friday, the 4th of September 2020. Her Excellency, Nigeria's first lady, and the bride's mother, Aisha Muhammad Buhari shared photos from the wedding with the caption; "Today is a great and happy day for my family as we witnessed the wedding of my daughter, Aisha Hanan Buhari to Mohammed Turad Sani Sha'aban. I am overwhelmed by the outpour of goodwill and support from family, friends and well-wishers. Let me use this opportunity to thank everyone that graced the occasion with their presence and those that could not, for the understanding that at this time of a global pandemic and the need to strictly adhere to the advice of our health authorities necessitated limited gathering. We appreciate your prayers for a blessed union, for the couple as they begin their marital life."
Meet the world's oldest married couple. 110-year old Julio Cesar Mora Tapia and 104-year old Waldramina Maclovia Quinteros Reyes currently hold the Guinness World record title as the oldest married couple. The couple, who had an intimate and secret wedding celebration on the 7th of February, 1941, have been married for 79 years. The record title is measured by the highest combined age of the married couple – 214 years.
Congratulations to Julio Cesar and Waldramina, the oldest married couple with a combined age of 214 years!https://t.co/xcjYlEuRPp

— GuinnessWorldRecords (@GWR) August 26, 2020
The Federal Marriage Registry, Ikoyi has reopened. After being closed for months due to the COVID-19 pandemic, the Ikoyi marriage registry has officially reopened. Punch reports that the Marriage Registrar, Mr Adeyemi Adebayo explained that "the backlog of weddings through the lockdown was being cleared as the registry had made provisions that would enable it conduct 10 weddings simultaneously. In line with the COVID-19 protocols, only the couples with one witness each are allowed. We have provisions for hand washing and we tell the couples to bring their hand sanitisers along."
Ikoyi marriage registry reopens for weddings https://t.co/h0rHF1XqUX

— Punch Newspapers (@MobilePunch) August 31, 2020
Mama & Papa Burna celebrate 30 years together. Bose and Samuel Ogulu, parents of Damini Ebunoluwa Ogulu (popularly known as Burna Boy) marked their 30th wedding anniversary. Bose Ogulu shared; "My boyfriend for 32 years, My baby daddy for 29 years, My husband for 30 years and counting. Happy Anniversary to US".
Okey Bakassi & Zizi forever! Nigerian comedian and media personality, Okey Bakassi and his wife, Ezinne celebrated their 19th wedding anniversary. He shared; "We have been friends since the day we met in 1988… today we celebrate our 19yrs of marriage and building our family & destiny together. Thanks to my reliable team partner/wife/behaviour coach/etc. Zizi. May God continue to strengthen our lovely union. I love you till the end of time. Happy anniversary, Zizi".
The Wades are 6! Gabrielle Union and Dwayne Wade tied the knot six years ago, on the 30th of August in Miami, Florida. The actress shared a video from their wedding video with the caption; "I just reaaalllllly love you. And as much as I love you, I LIKE you even more. 6 down. A lifetime to go. Happy Anniversary bae ?? @dwyanewade".
Happy first anniversary to #TheJUnit: Nigerian blogger, Kemi Onabanjo–Joseph, and her husband Oluwapelumi Joseph celebrated their first wedding anniversary. The blogger shared photos from a recent shoot with a sweet anniversary message.
She shared;
"Yaaaaaaay, #TheJUnit is ONE!???????? I've been composing this message for weeks and as a rookie member of Shalaye FC, I'm still looking for the right words??

Life was good pre-PJ but in the last one year of being married to him, it has become wayyyyyy BETTER than I could have ever imagined!!?? Ecclesiastes 4:9-10 (MSG) is my experience:

It's better to have a partner than go it alone.
Share the work, share the wealth.
And if one falls down, the other helps,
But if there's no one to help, tough!

PJ, you were worth the wait! Thank you for being the BEST guy! I love you with all my heart??????❤️ , In fact, I love you more than I love dodo and puff puff combined(Can't you see it in the way I look at you?)??

Happy 1st Wedding Anniversary to us!???????????????? Here's to FOREVER ?

ABBA Father, we owe this to you. There's no US without your GRACE! Thank you for giving us plenty of reasons to celebrate! It has been an incredible year and #TheJUnit can't thank you enough.??????
Father God, honour the desire of everyone desirous of the gift of a blessed and happy marriage in Jesus name. I know You love to give such good gifts to Your children, so, over to You, Father! Thank you, Daddy, in Jesus name – Amen! ??

Anniversary photos: @ahamibeleme ????
Wedding photos: @jopstudios."
The Ibeleme's are 4! Wedding photographer, Aham Ibeleme and makeup artist, Tito Madu Ibeleme celebrated their 4th wedding anniversary with a family photoshoot. We love Aham's anniversary message; "Otito after four years I can comfortably argue that I am everything that you ever wanted in a husband…Tall, dark and handsome.. Not to mention hopeless romantic. You are everything that I ever wanted in a wife. I love being married to you and I will continue to be the Neo to your Vee so help me God! Thank you for blessing me with these two beautiful kids and being the best mum to them. Happy Anniversary boo! I love you more than you'll ever know. Here's to 96 more! @t.alamodebeauty
PS: And after 100 you can continue if you want. I'll be waiting for you in heaven ?❤️❤️
Kosibah is 29! Bridal and eveningwear label, Kosibah was launched in 1991 and the brand clocked 29 years on the 1st of September. The founder and award-winning designer, Yemi Osunkoya shared the news on Instagram; "Today is a very special day to me…..Kosibah is 29 years old today!!!!! A perfect time to share through a wonderful client of mine @titilolami I have achieved one of my goals: to have one of my gowns on permanent display in a reputable museum. A gown I made to Titi for her Civil Wedding in 2004 is now on display at Brighton Museum, Brighton, Sussex, United Kingdom.
I'm grateful to all my past clients, supporters, and well wishes for getting me/Kosibah to where the brand is today. There are still more achievements to attain and ventures to explore. I'll be making some announcements about these in the next few days. #kosibahat29 #kosibah #yemikosibah #nycbridaldesigner #londonbridaldesigner #couturier #brightonmuseum #legacy #bucketlistcheck #celebration #thankful #ilovewhatido #fashionexhibit"."