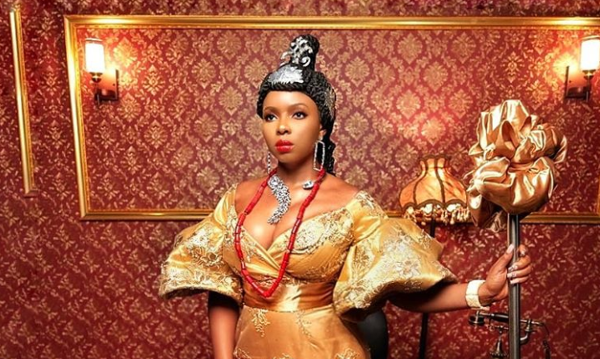 Last week, we spotted a lot of wedding inspiration on Instagram. From Yemi Alade's Ibibio/Efik traditional bridal outfit, Beyoncé's bridal reception look in honour of #BeyDay, Powede Eniola Awujo's wedding guest look to #TheKingAndI2020, a pretty wooden effect cake, a purple/lavender table setting for an intimate wedding and more. Enjoy!
Singer, Yemi Alade served Ibibio/Efik traditional bridal inspiration in a gold dress. The photos of the traditional look were from her new music video, True Love which premiered on the 1st of September, 2020.
#TheKingAndI2020: Nigerian bride, Ola Folami's love story went viral last week. She shared; "Swipe to read the super interesting way we got talking…
I remember when he sent that email – I shouted to my friend @Jibike "I have found my husband" ?meanwhile I had 2 boyfriends then so she didn't take me serious but look where we are today?. He watched my story and sent "you are so cool" I responded with thanks, he said he wanted to apply for the position of a friend and I told him to send an email, link in bio ? Which I wasn't expecting he would send but he did? Chai I remember giving him the gists of my boyfriends and where I was going, etc and he would patiently listen and even tell me what to do? so he was setting trap for me ??
I wouldn't choose anyone else to do life with, you be my Guyest Guy?
Civil wedding second look for #thekingandi2020″.
Style Crush Of The Week: We love how wedding guest, Powede Eniola Awujo turned up at #TheKingAndI2020; she looked stunning in a lovely dress by Diva Lukky and a fascinator by Visual Hats.
#BeyDay: On Friday, the 4th of September 2020, Beyoncé Giselle Knowles-Carter turned 39. The perfect opportunity to remind you of this stunning bridal reception look.
Bridal Beauty: Tomi's bridal look was perfect. We love her simple bridal hairstyle and nude makeup by Bimpe Onakoya #Goals
We told you rustic wooden cakes were back to Nigerian weddings! Well, in case you were still in doubt, here's a cake from Helado Delicia that confirms that two Nigerian wedding cake trends we've written about recently are here to stay – mini wedding cakes and rustic wooden effect cakes. Plus we love the colourful floral arrangement.
This purple-themed set up for an intimate wedding dinner for 8 guests by Nwandos Signature Events at the client's courtyardis simply goals. We love how simple and elegant it is.
#HamadForever: This was definitely the wedding of the week. President Muhammad Buhari's daughter, Aisha Hanan Buhari & Mohammed Turad Sani Sha'aban got married last week. The mother of the bride, Aisha Muhammad Buhari shared the couple's beautiful prewedding photos on the 'Gram
Still, on #HamadForever, we spotted these luxurious candles and gift boxes for the high profile wedding.
#MaskUp: Celebration curator, Chloe Cook Events showed us a different type of protective mask. We think wedding guests will love this one – fashionable but protected.
And finally and most importantly, make sure you follow us @LoveWeddingsNG on Instagram.