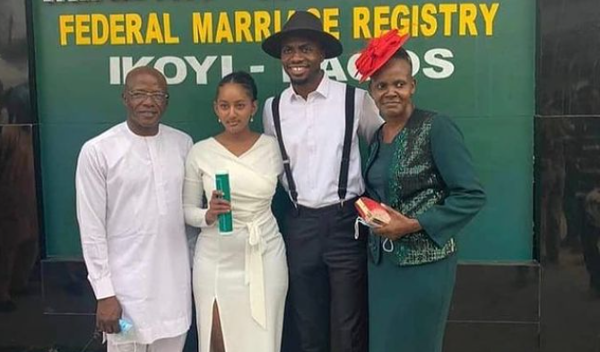 Last week, Lagos, London, and major cities around the world tightened restrictions on social gatherings to combat the second wave of COVID-19 cases, comedian Josh2Funny had his court wedding, Davido performed at his driver's wedding, Mama & Papa Eazi celebrated their 33rd wedding anniversary. Here's all the wedding news you missed last week.
More restrictions! Governor Babajide Sanwo-Olu of Lagos state announced measures to curb the second wave of COVID-19 cases. He provided specific guidance for event and wedding planners via posts on social media. In the post, he shared that all "Event Planners must obtain prior clearance from the Lagos State Safety Commission (www.lasgsafetyreg.com) for all events, and ensure that any planned gatherings do not exceed 300 people. Where the capacity of a Venue exceeds 300 and permission has been granted, the occupancy shall not be more than 50% of such a venue." Governor Sanwo-Olu also directed The Safety Commission to visit Event Centres and gauge compliance with the established guidelines stating "if there is evidence of lack of compliance at any Event Centre, it will be shut down immediately."
In London, the UK government announced tighter restrictions as the city moved into Tier 4 on Sunday, the 20th of December 2020. According to the guidelines provided on Gov.uk (at the time of publishing), "Weddings and civil partnership ceremonies must only take place with up to 6 people. Anyone working is not included. Where possible, these should only take place in exceptional circumstances, for example, an urgent marriage where one of those getting married is seriously ill and not expected to recover, or is to undergo debilitating treatment or life-changing surgery.
The Dangote-Waziri wedding: Aziza Dangote and Aminu Waziri got married last week. The bride is the daughter of Alhaji Sani Dangote, the Group Vice President and co-founder of Dangote Group of Industries and her groom, Aminu is the son of late Waziri Mohammed, the former Chairman of the Nigerian Railway Corporation. The wedding ceremony was attended by the bride's uncle, Aliko Dangote, and other dignitaries.
Aziza Dangote wore a beautiful ethereal embellished icy blue ultra mermaid silhouette dress by Deola Sagoe for her Nikkah ceremony.
Adebowale Adebola Seilat is married! The Yoruba actress and filmmaker shared wedding pictures last week on Instagram with the caption; 'Mr. and Mrs. Adeyemo'. Congratulations to the couple.
Miss Koikoi is married! Nollywood actress, Mary 'Miss Koikoi' Onyemena had her court wedding recently. Her colleague, Chioma Daniels shared photos on Instagram.
Josh2Funny weds! Nigerian comedian and musician, Josh Alfred (aka Josh2Funny) had his court wedding at the Federal Marriage Registry Ikoyi, Lagos, Nigeria last week. The couple got engaged in October 2019.
The Jubrils! Nigerian singer, Yakub Jubril (YQ) got married on the 13th of December, 2020. YQ announced the wedding news and shared pictures from the ceremony on Instagram last week.
#AdaadeRoyals2020: Nigerian actor, Samuel Ajibola (Spiff from The Johnsons TV show) got married to Sandra on Saturday, the 19th of December, 2020 in Lagos, Nigeria. The couple had their traditional wedding earlier this year in January.
#KessyDave2020: Lucy Kesiena Eruotor and her fiance's prewedding photos went viral last week. Their wedding DJ, Dorsu shared their love story on Facebook. He shared; 'Marriage of the year to end 2020. After 20 years of dating. They finally gon be one forever. I'll be on ma set as usual to make their day a great one. CONGRATULATIONS my special people 💐🍾🍷'. The couple are set to say 'I Do' on the 26th of December, 2020.
Davido's driver weds. The singer announced two weeks ago that his driver, Tunde was getting married and he was the best man. Last week, the Afrobeat superstar shared moments from Tunde's wedding on social media where he entertained the couple and their guests with a performance.
Ariana Grande is engaged to Dalton Gomez! The Positions' singer shared the news on Sunday, the 20th of December 2020 with photos of her fiance and her engagement ring. Dalton Gomez gave Ariana Grande a stunning diamond and pearl ring. According to the Mirror, the ring is reportedly worth $350,000 (£261,000).
Keshia Knight Pulliam is engaged! The American actress got engaged to actor, Brad James last week. Keshia shared; 'I said Yes!! ❤️💍 I LOVE YOU @mrbradjames !!!! This is my favorite photo from our magical engagement dinner. My desire is a lifetime and beyond filled with love & family. My heart is so filled with joy!! So excited to continue to choose each other & our family every day'.
Filmmaker, Ajifa Atuluku is engaged! She shared photos on social media with her fiance, Amara Nwankpa. They had their introduction last weekend.
#WilliamsGotTheOscar: Newlyweds, Brunella, and Williams Uchemba shared moments from their honeymoon in Dubai and Cape Town on social media. The couple tied the knot last month.
Mama & Papa Eazi! Nigerian singer, Oluwatosin Ajibade (Mr. Eazi) celebrated his parent's 33rd wedding anniversary last week. The singer shared a photo from his their wedding with the caption; 'You can see in this picture that As for us Ajibade Boys, Na fine Girls dey Rush Us like Hot AMALA!! Haha! Happy 33RD Yr Anniversary to My Mum & Dad! Thanks for all the love & Sacrifice 🙏🏿 sending you Love & Light'.
Nigerian activist, Aisha Yesufu shared a post on social media celebrating 24 years since she met her husband. She shared; 'On this day, 24 years ago (13-12-96) I set eyes on the man that will later be my husband & fell in love with him from that moment. I call him my 23rd birthday gift. I have been in love with him for more than half of my lifetime. My husband has given all of himself for me to thrive'.
The Kokos are 21! Nigerian actor, Yibo Koko and his wife, Kelechi Koko celebrated their 21st wedding anniversary last week.
The Adeolu's are 16! Nigerian filmmaker and actor, Funsho Adeolu and his wife Victoria Adeolu celebrated their 16th wedding anniversary last week. The actor shared; "We started some 24yrs ago not certain of our destination, we were just two friends who were fond of each other, after 8yrs, we started the real journey that has no ending, we became the fantastic 4 and God has been faithful cos for 16yrs, it has been fantastic and awesome and we are standing stronger cos we stand on the solid rock. We come with a thank ❤️ to God. Happy Wedding Anniversary to us'.
Brides published their annual list of the best wedding planners and best wedding photographers in America last week. Stanlo Photography, Photos by Reem, Samm Blake, Dure Events, Eva Clark Events, Bluebird Productions, and a number of vendors made the list.
Sudanese model, Ayuol Manyok shared photos from her first bridal photoshoot. The shoot was organized and photographed by Melbourne wedding photographer, Lei Lei Clavey and involved twelve vendors. We love the photos.