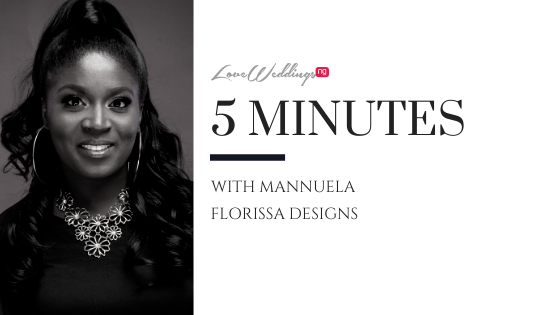 Mannuela Konan is the founder of Florissa Designs – an event decor and floral design company based in London, specialising in timeless and elegant designs. Although a creative at heart, having completed a Foundation Degree in Event Management and Floral Designs, Mannuela actually aspired to work within the travel industry until things took another turn. This gave Mannuela the courage to finally take the plunge in establishing Florissa Designs in 2014. When she is not designing gorgeous events, she enjoys travelling, cooking, and spending time with her family in France. Florissa Designs won the category of the Best Decor and Venue Stylist of the year at the UK African Wedding Awards in 2020.
My alarm goes off at… 4 am
Describe a typical day at work. I normally start prepping the flowers at least 2 days before the event date to allow them to fully open, so I can design all the floral arrangements. On the day, the team and I will meet at the venue as early as possible, to have a quick debrief on what needs to be done. We will go over the timeline to make sure everything is completed on time. We will then start the full set up and finish with all the small details, to make sure everything is picture-perfect, so our clients can enjoy the full reveal before the guests arrive.
Your brand in three words… Elegant, Distinctive, Timeless
The part of my job I enjoy the most… Being able to have creative license when designing for my
clients. I love when clients come to me with their vision but are happy for me to take their vision to
the next level, by creating something completely bespoke and unique to them.
What's the most difficult part of your job? The sleepless nights! To get the best out of every flower, I have to design them the day before or even on the day itself, because I specialise in fresh floral arrangements. I have many sleepless nights before each event, so I have to make sure I am super organised, and I delegate as much as possible to get everything ready on time. After each event I will usually spend days sleeping to recover!
My biggest accomplishment to date… Getting the opportunity to provide floral installations for the 2019 Town Hall Meeting with the Prime Minister of Barbados in South Kensington, London.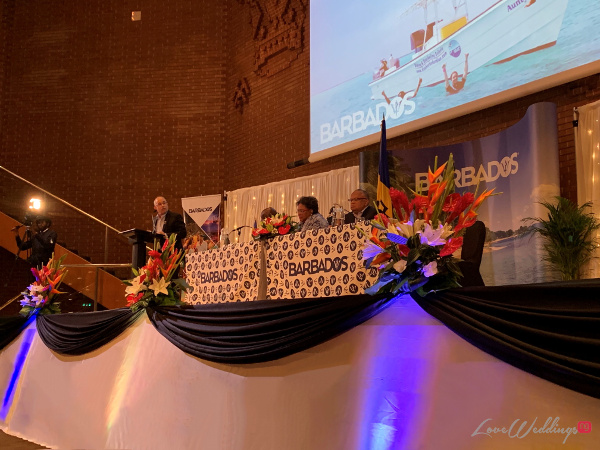 One quality every wedding vendor must have and why? In terms of qualities, I am stuck between patience and professionalism, but I think I will choose patience. Our jobs as wedding vendors can be very demanding and stressful because of everything that can happen last minute (traffic, accidents, miscommunications…), and without patience, it can be easy to lose your calm and let the situations get the best out of you, so definitely patience is key.
What's the best souvenir you've gone home with from a wedding you've attended/worked at? It is cliché but one of my bride's aunties gifted me a spoon that can also be used as a sieve. A really useful present. I was looking for one of these for ages and I still use it till this day.
Your thoughts on social media? It has its pros and cons. As a wedding vendor, your social media is the first thing a potential client will check before going to your website, so it has become a huge marketing tool. But it also requires a lot of discipline. Before you know it, you're watching the latest meme or scrolling on the Shade Room, when you're supposed to be posting content!
Your top wedding event styling tip(s) for couples… I cannot stress enough on this! Please choose a venue that will complement the vision for your décor. I have seen many brides having to compromise on their vision for their big day because of the wrong venue choice.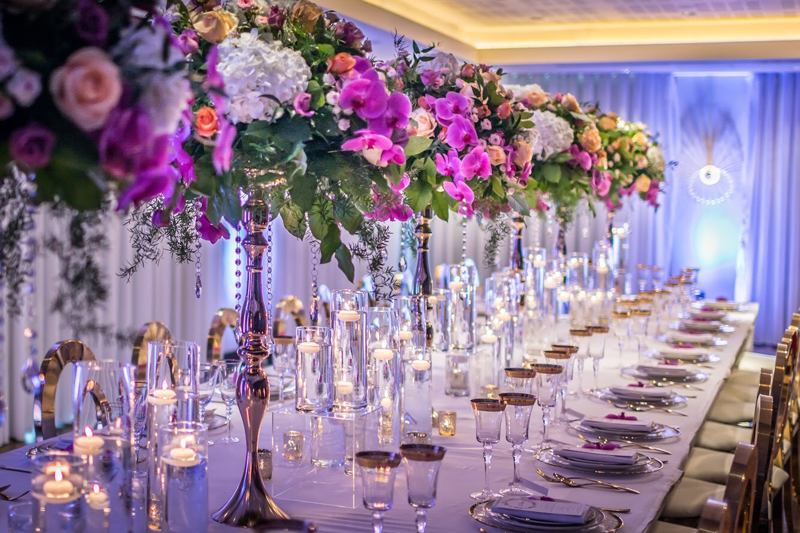 Interesting fact about you… My mum loves to retell the story of when she was about to give birth to me in Ivory Coast. She could feel that the baby was on its way so she quickly went to the hospital. Once she got there, the nurse told her that it was too early and that she should go back home. But as she was about to leave, my
mum's water broke and out I came. Funnily enough, I was not really moving or crying, so everybody started to panic. Our beloved nurses back home even gave me a few slaps and shook me a bit to try and get a reaction out of me, but nothing was working. Apparently, it took a big flying mosquito to bite me, for me to start screaming to show some signs of life.
Most embarrassing/awkward experience… During a consultation, I did a mock-up and used some candle holders that looked like drinking glasses with water inside, so when the groom arrived, I guess he was so thirsty that before he even got an opportunity to sit down, he grabbed one of the candle holders to drink and before I could tell him that it was not meant for drinking, he had already finished everything. That was a very
embarrassing and awkward moment but, in the end, they did hire me to design their wedding.
What makes you laugh? Conversations with friends and family, we always end up reminiscing on situations that will make me laugh for hours.
Does anything scare you? Not fulfilling my God-given purpose.
In my spare time, I love spending time at home, drawing, or doing something creative and crafty. If going out, a nice evening at the theatre is also something I enjoy.
Where do you feel most at home? As crazy as it seems I feel the most at home when I travel somewhere else than where I reside.
Best piece of advice Do not be fearful!
Your favourite emoji 😒
What would we find on your bedside table? My Bible, my notebooks, and my phones.
What songs are currently on replay? Congolese gospel songs
What was the last book you read? Fanatical Prospecting by Jeb Blount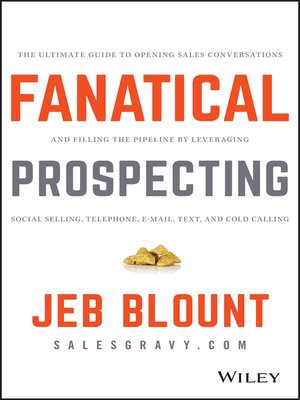 Your favourite movie? I am not really a movie person but if I do, I would go for anything wedding related to get some inspiration, so I would say, "Jumping the broom".
Favourite food? Anything with some Lamb or salmon. Oh, and some macaroons from Laduree, I could eat them all day.
What's your favourite item of clothing? A well-fitted midi dress with lace details and sleeves. I would pair it with a nice jacket and some heels. With this, I am ready for any consultations.
Call or Text? Calls, I am a chatterbox.
Cook or Be Cooked For? I love cooking for other people, I wish I could do it more often.
3 Guests for Dinner, who would they be? Anyone within the wedding industry that I can learn from or someone with a good sense of humor.
2021 will be … An Interesting year…