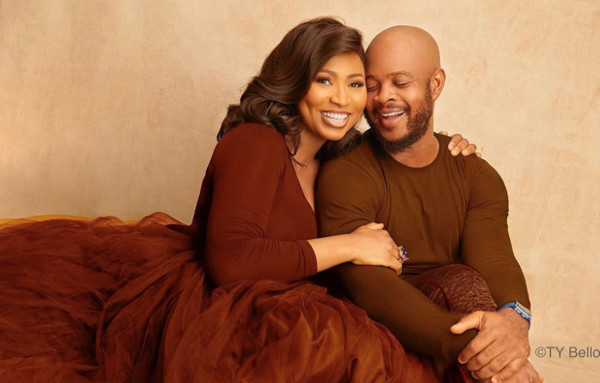 Last week, Nigerian fashion designer and businesswoman, Toyin Lawani got engaged, Paris Hilton and Carter Milliken Reum got engaged, Nollywood actress – Anita Joseph celebrated her first wedding anniversary and Nigerian TV presenter, Morayo Afolabi-Brown and her husband celebrated their 10th wedding anniversary. Is Lateef Adedimeji getting married soon? Well, Mama Rainbow has some news to share. Here's all the wedding news you missed.
Toyin Lawani is engaged! The fashion entrepreneur got engaged on Valentine's Day 2021 and shared the news on Instagram. In a post on her page, she shared how her fiance planned the surprise with her personal assistant and friend; "I was so surprised and shocked by @segun_wealth and @deeeunknown 🙆🏽‍♂️ didn't know when I beat him with the flower o 🤣🤣🤣🤣 me I felt they just brought vals gift o, until I saw uncle on the floor 😳😳😳😳😳😳 BUT I SAID YES 😭😭😭 Best Valentine's Day ever 🔒🔒. Officially Mrs. Adebayo 🌹 wouldn't have had it another way, cause he's my Best friend and Creative partner, we work so well together ❤️❤️❤️❤️❤️"
Namaste Wahala for real! Twitter user, @Gracebal0 shared the story of how her Nigerian father and Indian mother met. The very timely tweet comes barely a week after Bollywood & Nollywood rom-com, Namaste Wahala was released on Netflix. See the tweet below.
Most of you wanted to see the present pictures of my parents. Here you go! Very wholesome dressers & picture shy too 🙈🙏🏽❤️ Namaste Wahala (The aftermath)

Picture credits: Me 😆 pic.twitter.com/VZsaS5go5d

— Gracey 🦋 (@Gracebal0) February 18, 2021
Paris Hilton is getting married to Carter Milliken Reum: The American socialite and media personality got engaged on her 40th birthday. Paris announced her engagement to the author and entrepreneur on her website and on her social media pages. She shared; "When you find your soulmate, you don't just know it. You feel it. 💫 My love & I have been together since our first date, and for my birthday, he arranged a special trip to tropical paradise. 🏝️ As we walked to dinner along the beach, Carter led us to a cabana adorned with flowers and dropped to one knee. 💍 I said yes, yes to forever ❤️ There's no one I'd rather spend forever with. ✨… Here's to Love – the Forever Kind 💋 #Engaged #SheSaidYes"
The Olagunju's: Nollywood actress, Anita Joseph, and her husband, Michael Fisayo marked their first wedding anniversary last week. To celebrate, the actress shared a post on Instagram; "One year of saying I Do and almost 4years of Greeing for you😄 You so Lucky man 🙈"
Let's talk about Love. Artist, Sharon Adebisi @artbyadeisi shared this stunning arcylic on canvas piece tagged 'Let's Talk about Love' on her social media pages. She explained that the painting was long overdue and shared what inspired this piece; "My thoughts whilst I was painting it are… Last year I saw so many couples taking the plunge and planting rings onto fingers and it just made me think woahhhhh we're really adulting now. People are being intentional with who they are dating. Couples are seeking pre-marital counselling. I can't lie, it kind of freaked me out. In my past relationships, marriage felt like a long way… like a child in year 2 hearing the word 'university' and thinking it's a different world, unrelated to them. But now it feels imminent. Big girl decisions that will impact the rest of my life will have to soon be made. Bruhhhh"
My latest painting and me x pic.twitter.com/Lr1pinuWkt

— sharon (@artbyadebisi) February 16, 2021
The Afolabi-Browns are 10!: Nigerian media personality and TVC's Your View's Morayo Afolabi-Brown and her husband, Femi Afolabi-Brown celebrated their 10th wedding anniversary. Morayo shared photos from their wedding 10 years ago with the caption; "Happy 10th year Anniversary to my love and heartbeat @brown_kabiti. I can't picture my life and world without you. 10 years of peace, joy, counsel, priesthood, and love. We met each other in our raw state but God helped us to smoothen out the edges. I'm so grateful it is you I chose. God bless and keep you. You'll continue to be the head and not the tail. God will lift you up and make you great. Many more years to us. 🥰🥰🥰🥰😍🎊💃🏻🕺☹️🎈🎈🎊💃🏻💃🏻🎊🎊❤️❤️❤️❤️❤️"
Lateef Adedimeji's wedding date. Nollywood actress, Iya Rainbow (Mama Rainbow) may have some tea to spill on Lateef Adedimeji. She shared a post on Instagram saying 'I will post my son wedding date soon 🌹 just to answer you my followers ❤️'. Well, we can't wait!
To wrap up this week's news recap, let this groom's reaction to their first look and these two turnt brides give you all the ginger you need this week