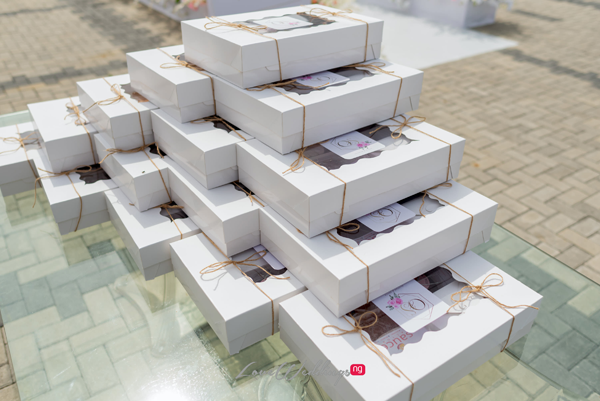 Wedding souvenirs are a big deal, especially at African weddings. Gone are the days of plastic buckets, scrubbing brushes, a single plate, and other souvenirs that ruled our parties. These days, modern guests want functional wedding souvenirs that are relevant to the day and the times we live in. So we've put together 10 wedding souvenir ideas your modern wedding guests will absolutely love. These wedding souvenirs are perfect for intimate weddings, especially after the COVID-19 pandemic.
---
Welcome gift pouches with gifts: Ghanaian gift brand, Lush n Lilies put together these welcome pouches for Sam & Millie's wedding in 2020, which had whipped shea butter and gold key rings.
⠀⠀⠀⠀⠀⠀⠀⠀⠀
---
For Uju & Chinedu's wedding, wedding planner Pink Nectar Experience put together these COVID Care kits, which had a face mask, a pack of Mentos, hand sanitisers, a pack of tissues in a welcome pouch. These were handed to guests as they arrived.
---
Celebration boxes: We saw a rise in this trend during the heat of the COVID-19 pandemic. Guests (including those dialing in virtually) received celebration boxes (a.k.a 'Owambe in a box'). These boxes would normally include a range of items from souvenirs, drinks, mini champagne bottles, sweets, chocolate, cakes, popcorn, and in some cases the 'Party Jollof'.
---
Personalised face masks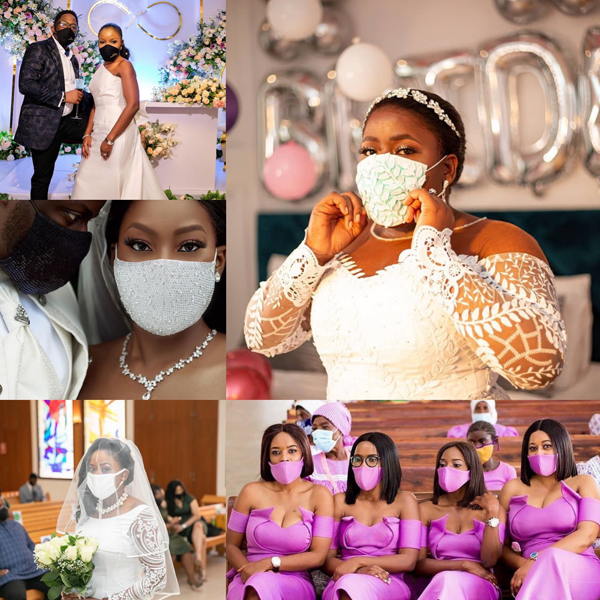 ---
A gift box with carefully curated items like this beautiful box curated by The Asoebi Box for #LesLaaros 
Hand fans that double as functional wedding stationery items like wedding programs and menu cards
Find more wedding ideas for your Nigerian & African wedding here